"Listen to me. Learn from me. I was not the best because I killed quickly. I was the best because the crowd loved me. Win the crowd and you will win your freedom." - Proximo, Gladiator
We have been on the sidelines with respect to Veeva (NYSE:VEEV) for the better part of the past six months. This had little to do with conviction in our initial short thesis, which has actually grown over this period. The always changing relative valuation landscape in SAAS, and the insight we gained in early August regarding Veeva's deployment of AstraZeneca (NYSE:AZN) (LinkedIn, Cafepharma, and job postings continue to prove invaluable for anyone involved in this stock) were the predominant factors that influenced our decision to stay on the sidelines. That being said, we have continued our extensive research on the name, and have been waiting for the right time to share some new thoughts. That time has finally arrived.
Veeva Management Puts Their Foot In Their Mouth On Sanofi
When you are shorting a stock, the failure of management to deliver on their own expectations is a very relevant catalyst for a re-rating in the share price. The market typically rewards the share price of a company where the management team underpromises and over-delivers, and typically punishes those that do the opposite. Veeva is no exception to this rule. Management has managed to over-deliver in 2014 by aggressively accelerating the deployment schedule of their global CRM implementation at AstraZeneca. This is something we factored into our modeling of Veeva scenarios for 2014, but not exactly something that had much of an impact on our core thesis. We generally have been willing to give Veeva 100% market share in CRM, and still be short the stock north of $25. Also, when dealing with a finite, shrinking, and highly penetrated market for a high growth priced stock; over-performance in one year is a major headwind for the next year. That being said, we have chatted with enough Veeva bulls to realize that longs in this name don't model down to the seat as we do, and are typically quite content to extrapolate some sort of typical gradually declining linear growth rate versus the high step function nature that is at the core of the Veeva model. For those that don't get this, consider that the 27,000 seats Veeva will have added at AstraZeneca accounted for nearly 20% of its installed base at the end of 2013. When you factor in the added service revenue boost associated with an accelerated global deployment of this magnitude, you can surmise that upwards of 30% of Veeva's top-line growth in 2014 will have come from this one customer win. Great news if there are plenty of these customers left out there, but decidedly bad news if there are few or none remaining.
Which brings us to the case of Sanofi (NYSE:SNY)...
Our initial 2-year Veeva financial model assumed that Sanofi, for the most part, would remain a Cegedim (OTC:CGMJF) customer. We allowed for some small seat wins by Veeva, but for the most part figured this customer was too critical to the survival of Cegedim's CRM business for the company to lose it outright, and we felt comfortable that the "French connection" nature of the relationship would ensure that such an event would remain a very low probability. The IMS acquisition of Cegedim cast some doubt on this assumption. With the Sanofi contract set to expire in early 2015 and Cegedim's CRM division now part of a typical acquisition process of regulatory approval, closing, and then integration, key-customer churn risk was now an elevated concern. Veeva management has a well-established track record of exploiting opportunities at their competitors, and thus has been getting plenty of mileage out of this opportunity with investors the past few months. In July, they added a Sanofi SVP to their BoD; and on the last conference call, they went out of their way to mention a recent senior hire from Cegedim. The message to the market has been that they will win Sanofi as a Global CRM client this year, and management has not been shy about communicating this to investors at every opportunity.
Here is what the CEO had to say about this matter on the company's Q2 call:
"For current Cegedim CRM customers, this acquisition, this disruption has caused their path forward to be unclear and that's really a good thing for Veeva.

So far, we have increased interest from some of Cegedim's larger customers. Over time, I believe, our win rates in that large enterprise and in the mid-market will increase. Now, to answer question, specifically that's not something we have seen yet in this quarter, but we are seeing interest and interest often leads to business over time.

The other area for that acquisition is on the talent front. Some of the great people currently at Veeva, they have come from Cegedim over the years and they are doing great things here and there are still some great people working at Cegedim, particularly in Europe and in Japan. These people have tons of experience, many years of experience in pharma CRM and they view Veeva as an innovative player in the industry. Because of this IMS acquisition, some of them are thinking it's a good time to come to Veeva."- Veeva CEO, Q2 CC
As you can see, Veeva management is not exactly pulling punches with respect to Cegedim. The fact that the "French connection" is broken, and that the company president has been spending all his time focusing on winning Sanofi was also a recurring theme at recent investor events. This, of course, has worked out nicely for Veeva, as IMS/Cegedim are incapable of talking about retention, strategy, or for that matter anything of note with regards to CRM business plans until their deal receives the necessary regulatory approvals and closes. This is all standard practice as far as M&A goes, but the more pronounced issue here is that the critical importance of Sanofi to Cegedim's CRM business is no big secret. We estimate Sanofi accounts for more than 40% of Cegedim's multi-tenant CRM users, and is even more relevant as far as a strategic large pharma client for IMS to retain a strong foothold at with respect to their plans to turn IMS One into a competitive industry offering.
This "Sanofi Situation" was a looming upside risk in the stock for anyone who wanted to be short. At 35k+ Sales/Marketing seats globally, Sanofi is around 30% larger than AZN, and thus would nearly single-handedly guarantee another very impressive top-line growth year. Again not relevant to our core short thesis, but knowing the longs dumbed down thinking in the stock, an immediate global CRM deployment of Sanofi a la AZ would delay the inevitable acceptance of vertical SAAS reality for one more year. This, of course, made for a pretty clear-cut trading situation. Basically, all you needed to do was wait for a Veeva PR on Sanofi, and then short the knee-jerk pop in the stock, knowing there are basically no other large global pharma clients left for the company to win. That, or simply wait for the shares to melt up with the rest of the SAAS space to the point that risk/reward will offset the potential headline pop. For us, that optimal no-brainer entry point was at around $35 a share. We had hoped this would all happen before Veeva's Q4 call, and thus, had been expecting to get short the stock again sometime in February. What we didn't expect was any material news out of Cegedim/IMS before then, and definitely no specific news on Sanofi from them.
So, you can imagine our surprise when we read this two weeks ago:
"Cegedim, a global technology and services company specializing in the healthcare field, announces the signing of an amendment to extend the Global Master Agreement it signed with the SANOFI Group on May 1st, 2012.

This agreement covers all services provided by Cegedim to SANOFI regarding the CRM activity. The Global Master Agreement was to set to expire in April 30, 2015 but it has now been extended until April 30, 2017. In addition, in April 2014 the two partners signed a global three-year contract for the OneKey database of healthcare professionals."
This brief press release is, in our view, the most anti-climactic resolution to an extremely relevant business development for a high revenue growth priced stock like Veeva. Even more surprising was the lack of any market reaction to it; Bloomberg, Yahoo Finance, Seeking Alpha, Fly on the Wall, Google Finance, and just about anyone you can think of did not pick up on this with respect to Veeva. Now it is no secret Veeva was working hard and expected to displace Cegedim here, so it is a bit surprising that this major news has gone under the radar. You'd also think that when a company that accounts for nearly 10% of the addressable market decides to renew with a competitor, that the analysts covering Veeva would chime in. Downgrades, estimates cuts, or at least a note or two discussing the potential impact of a highly relevant development for an extreme growth multiple stock is usually the norm. Even though past performance is no guarantee of future results, we thought the sell side would have upped their game after the work we put in over the past 12 months. Suffice to say, we have long since given up on expecting objective coverage out of this bunch. Not only was there no commentary after the news, but not a single question was asked about this on the Q3 conference call. Instead, the entire call was dedicated to discussing Vault. Kind of perplexing when you consider that a near-$40 million annual revenue opportunity at one customer trumps a business that is generating half of that across 100 customers (more on the Q3 conference call and Vault Later). The street's failure to hold Veeva accountable has proved to be a double-edged sword. On one hand, it's extremely dumbfounding how an entire group of analysts literally has their heads stuck in the clouds, but on the other, this is precisely what has allowed for the repeated market equivalent of a layup short position. Now, with the Sanofi upside risk gone, you can short the stock and sleep soundly at night. Since the sell side remains out to lunch, we will do what we always have done here, which is provide some detailed analysis of the name.
What Veeva's CRM seat penetration picture looks like without Sanofi
The Veeva LS CRM penetration problem going forward was already quite clear for anyone that had bothered to map out the addressable market, but the Sanofi news obviously provides a worthwhile reason to update the picture. Veeva management most recently put the company's penetration of the market at 45% as of September 2014. We still prefer to use our much more reliably mapped 400,000-seat estimate over their 450k one, which puts Veeva at 51% penetration. We also have the company ending the year at 55% penetration, or roughly 218k users in CRM. Now, doing the math, when you simply back out Roche (Force.com custom), Sanofi (renewed with Cegedim), and GSK (highly custom Oracle shop) from the market, that takes this number up to a whopping 73% market penetration in CRM. Remember, this is a highly concentrated market, with the top 20 global pharma companies accounting for 78% (310k reps) of the reps. The only top-20 flag of note still potentially available to Veeva once you make this adjustment is the 8k or so global reps at Novo Nordisk, which is still largely a Siebel customer. We cannot emphasize how relevant this is if you are looking to model organic seat-add driven revenue growth going forward. The 75k or so reps left for Veeva to chase are highly fragmented and dispersed across the globe. Not a good recipe for investors in a stock whose entire growth up until this point has been driven by massive phased rollouts within the top 20 global pharmas.
To put this in perspective, Sanofi alone is sitting on the equivalent of roughly 50% or so of the reps that Veeva has still available to it on the planet.
This is something we have pointed out before, but which the street and longs seem to be in denial about. Veeva may have 150+ customers in CRM, but only about dozen of them account for the majority of revenue. We went through this exercise ourselves, when we added up 50+ of the company's smaller CRM customers which we had mapped out, and those seats didn't even crack what Veeva has at Bohringer Ingelheim. Visually, this is what the pharma CRM TAM picture looks like as far as share of the big boys, and our estimates of Veeva's actual and effective total penetration of those seats.

And remember Veeva's penetration in the higher-ASP North American market is now pretty much complete. For those that need a clear picture of this, here is what the top-20 pharma CRM picture looks like in North America.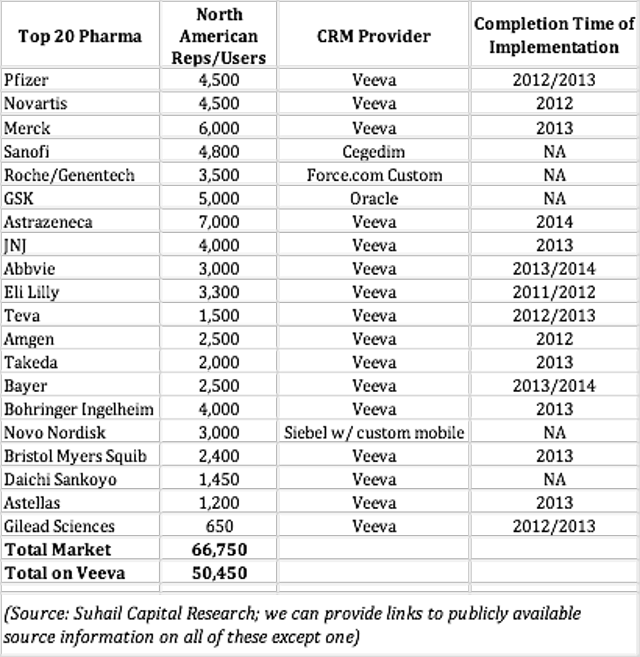 Note, AZ's 7,000 North America users are the largest in the top 20. This says a lot about the revenue upside contribution this accelerated deployment provided Veeva this year.
So, what you need to ask yourself here is, where is the risk?
The last customer win for Veeva in the top 20 occurred over a year ago. It also now has many top-20 customers who are fully globally deployed and have been with the company for a few years. Basically, the honeymoon phase is over, and the upside in the top 20 is effectively nil from a customer win standpoint moving forward. In fact, for some of the more mature customers, you can now even start to talk about retention risk. Now, we don't see this as a serious risk as of yet, but you can't ignore the fact that there is nowhere to go but down when you have reached full penetration in mega-pharmaceutical client land. All you need to do is walk through the math on what a Force.com custom conversion can save a large pharma, to fully comprehend this risk. The bottom-line is that Veeva's CRM business going forward won't be about adding large pharma clients, which has been the main driver of its operating model up until now.
Veeva's CRM Slowdown Evident in the Numbers and Conference Call
While we have gotten accustomed to Veeva's sell-side fanboy conference calls providing little substance for people who responsibly invest in stocks, the tone of this conference call really jumped out at us. To put it mildly, it was as if the CRM business no longer existed. 99% of the call was spent talking about Vault, and the language used around CRM was quite tempered. It was as if management was trying to condition investors/analysts for what is coming, by shifting the attention away from CRM. This is not exactly surprising when you consider that CRM subscription revenue grew 4%-5% sequentially in the quarter, despite a significant Q2 seat-add tailwind. Basically, seat adds for CRM in Q3 were anemic and the lowest contribution Veeva has seen out of the CRM business since it went public. This also explains the first sequential decline in deferred revenue in Veeva's history as a public company versus a trailing five-quarter average of 15.5% (last Q2 to Q3 was 11% growth). While the timing of subscription renewals and add-ons is a big part of this, there is no denying that the distinguishing factor between this year and last year was the lack of new CRM seat additions to offset this. Yet, all that the 8 analysts covering this stock wanted to talk about were the couple million dollars in incremental subscription revenue that came out of Vault.
Here is what an analyst would have asked if this were a real conference call...
"How should we think about CRM revenue growth in 2015 and beyond because it looks like you are going to go from a very breezy almost 50% growth rate to grind out 20% rate this year and mid to low-teens the year after that?"
Ahh, one can dream! If Sanofi and its 35,000+ reps didn't warrant a single question despite the announcement being no more than two weeks old, a CRM growth rate question would be tantamount to declaring war on management for these guys.
That being said, you don't need the sell-side's help to understand what is going on here. If you can perform basic arithmetic, you will understand that the pulled-forward AstraZeneca deployment signaled the end of a unique and very high step function-driven growth era for Veeva and its CRM business.
Thus, Veeva's focus in CRM will now be about driving up value per user, which we believe comes with the added drawback of forcing Veeva's largest, most IT savvy customers to take a long hard look at just what it is they are paying for.
Veeva Management Are In Clear TAM Denial Land
Before we talk about pricing dynamics in the space and what we have identified there, we'd like to remind everybody that after one year as a public company, Veeva management continues to boggle the mind when it comes to TAM. Yes, we disagree with them on rep count numbers, particularly since the Stifel initiation report on Veeva had management sizing the market at 400k, but even we are willing to acknowledge that 10% is immaterial for a high-growth stock (what that says about its integrity, we will leave to you decide). What we can't comprehend till now is how nobody has held the company accountable on ASPs, as this has been its solution for top-line growth. Even using Veeva's seat count numbers, the current ASPs imply a CRM TAM that is 72% below its $2 billion "bottomed-up spreadsheet" (we'd love to see that, by the way). Not exactly a big deal when you consider the $3 billion being attributed to Vault and Network is roughly 10x the annual revenue opportunity we see for them in this space, but at least those are new businesses that are less relevant to the current top-line. CRM is well established and well known across the industry, and we can assure you that no pharma CIO plans on paying $2,000 per global sales rep, let alone the $5,000 still being tossed around in sell-side reports. The platform cloud model has commoditized this software product. So, why does Veeva's CEO keep calling this a $2 billion TAM? Especially when Veeva's president was out at a Morgan Stanley hosted event, saying that realistically, the company's goal with add-ons is to "double the value per user." $2,500 in revenue per seat times 450k seats still works out to roughly half what its simple "bottomed-up spreadsheet" is saying is worth $2 billion. Did somebody click a wrong cell in Excel when they added this all up? Anyway, no surprise here, but this ambiguity won't be tolerated by the market forever. Which brings us to what we think is one of the more interesting sections of this report.
Veeva's Pricing Conundrum Going Forward
With its penetration where it is now, Veeva's revenue growth in CRM is going to hinge on driving up average revenue per user. This shift in focus from winning seats to cross-selling introduces some very interesting elements that have largely been ignored up until now. The first of which is Veeva's position on pricing in a market where it has significant market share; but at the same time, this share is largely concentrated across a small group of customers made up of a dozen or so mega-pharma companies.
At the Pacific Crest Conference earlier this year, Veeva's CEO was asked about pricing and whether the company was considering pulling that lever.
Here is what he had to say:
"Well, I think we could. There's no doubt about it. But we never will. It's just - we're in it for a partnership for the long term with these people. You could turn it up because it's sticky. But, boy, talk about a way to be - to spoil your customer goodwill. That would be a way to do it. Right? If they ever feel like, well, we've got you. You can't move anywhere else. We're raising the rent. That's not a good way to go. And I think you've seen that overall in cloud software, especially sticky cloud software. It's just--I don't think the economics support raising prices. That's my personal opinion. I think it's short term, for sure, but I think you'll lose shareholder value in the long term. It's not something we ever plan to do and haven't." - Peter Gassner, Veeva CEO
We found this response and question quite interesting, because it is no secret that Veeva's TAM implies global ASPs that are 4x what they are today. So Veeva will NEVER raise pricing, but plans to sell add-ons that in sum equate to 3x its current product's ASP? Is this the future of industry cloud? Has Veeva structured some newfangled "resale guarantee" like the one Mr. Musk is offering Tesla owners so customers can get their money back? If add-ons are going to double or quadruple what I am spending, then shouldn't I start to wonder what it is exactly I am getting in the core product? See, what we have known for a while is that Veeva's CRM product is essentially plain-vanilla call reporting. Yes, it was a lot cheaper and simpler to use than old on-premise and abandoned Siebel, but in today's environment, it is actually really expensive for what it provides. Little thought has been given to that yet, because most pharmas were more concerned with simple ROI that SAAS provides when you are continually cutting reps or integrating with other players, as well as the immediate savings and the general IT trend to shift to the cloud. However, $1,000-$1,500 a year per user is no joke, especially when you account for what you'd be paying if you built a custom solution on Force.com. At $15 per user per month, there is $80-$120 in savings per user a month that a mega pharma could put towards building and replicating the Veeva back-end on its own. Think about that for a second. A company like AZN, with its 27,000 users, is probably spending $30 million a year on CRM subscription fees, at an assumed average cost per global user of $1,100. Assume that the company simply cuts that cost in half, that's $15 million a year in savings, or $75 million over five years. Even a very expensive custom Force.com conversion would cost a fraction of that amount, so the ROI here jumps out at you as a no-brainer for any mega pharma, as they have ample in-house IT resources for such a project, and plenty of system integrators and consultants who are capable of doing this work.
So the real question is, why not custom-build? We see three potential reasons against going this route.
Veeva's CRM product offering is cutting-edge and feature-rich, and very difficult to replicate.
All of the mega pharmas are happy with the speed of deployment of the out-of-the-box offering, and have no desire to customize and control the product roadmap.
The system integrators and in-house Force.com development resources needed for customization are prohibitively expensive.
Well, as far as the product offering being feature-rich and difficult to replicate, you don't need to talk to too many people in pharma IT to understand that this is not an issue. You also simply need to listen to Veeva management talking about 20+ potential add-ons to understand what is in fact missing here beyond a dressed-up Salesforce.com (NYSE:CRM) call reporting tool. As for the issue of customization, Veeva management recently pointed this out at the company's Analyst Day as one of its major headaches in mega-pharma land. We found this interesting, as we made this point over a year ago, which begs the question - Why drastically overpay if you are going to end up demanding a lot of customization? Apparently, we are not the only ones who see things this way.
From a LinkedIn group titled "Veeva vs. Salesforce - which is the better starting point?":
"If you are looking for standard OTB SFA processes and faster time to market then I would recommend Veeva though it is going to be expensive. If you want to leverage force.com platform flexibility to build solution to differentiate then I would recommend customization of Salesforce.com.

One of my customer who took the first option then later replaced with custom solution on salesforce.com. Veeva is is built on Salesforce.com only benefit you get going to Veeva is faster deployment.

I would strongly recommend taking customization on salesforce.com platform as it is cheaper, flexible and customizable. Ability to customize is very important given the pace of change which is happening in the industry while meeting regulatory requirements."
Seems this LS Cloud Consultant has the same view we do. So, if customizing on Force.com is what pharma wants (7 markets in the AZ implementation are on a customized configuration versus the standard out-of-the-box being used for the rest of the 60+ markets), it's much cheaper subscription-wise, then this simply must be an ecosystem problem. Pharma can't find the in-house Visual Force/Apex talent to make this work or pharma-specific system integrators to put it all together. Well, that is also not true; it's not 2008 anymore. Force.com now has a massive developer ecosystem, and there are plenty of system integrators out there who can handle such a project. We have spoken to a few of them, and in one case, they even had a large pharma request a quote on what it would cost in terms of man days to migrate to a custom back-end solution from its existing Veeva system. The answer was less than 45 man days. Essentially, a large pharma could spend 25x that amount and still justify the ROI on a migration. This, of course, should come as no surprise for anyone who remembers how little capital it took Veeva to get going. White labeling has its drawbacks, and that is something investors and Veeva are going to have to think about going forward.
Which brings us back to the conundrum that Veeva is facing in CRM. The CEO is saying the company is not going to raise pricing, yet its president is out saying average value per user is going to double. This tells us that Veeva's biggest customers are going to be inundated with add-ons every six months, for which the company hopes to charge an additional 10-15% of the base CRM cost. This is when the customization Force.com migration issue is most likely to come up in the mind of Veeva's customers' CIOs. One of the major drawbacks of Veeva's model which it has so far played up as a key strength is that its revenue is highly concentrated at a small group of very large pharmas. Every one of the CIOs knows that if he were to leave Veeva and migrate to a custom Salesforce.com, such a shift would have a disproportionate impact on Veeva. Furthermore, all the small SIs out there can literally make their entire business model by supporting such a conversion and product development at $20-$30 spread per user a month. From a game theory standpoint, this is not exactly what you want to be facing when you are looking to cross-sell a light and expensive base product into something double and triple that amount, which is more functional. Thus, if we are one of these CIOs, we are probably expecting Veeva to deliver product innovation and new add-ons that are FREE. Wasn't this the point of SAAS in the first place? Otherwise, ignoring the huge cost savings implications of going custom are virtually impossible. Small pharmas don't have this choice, but then again, this is precisely why SAAS is an easier sell in that space. That is the irony of highlighting that it only took $4 million in capital to essentially put the whole company together from the start. The beauty of the Force.com platform is that every top-20 pharma can now build its own mini-Veeva if it chooses to. It's not like these pharma companies aren't already under pressure to focus on their bottom-line. But Veeva's challenges with regard to mature penetration in CRM are even more complicated than we have discussed here. We also believe high industry penetration drastically changes the dynamics of the relationship with Salesforce.com.
The Salesforce and Veeva Ships Are No Longer Sailing In The Same Direction
As long as Veeva was bringing plenty of new Force.com subscribers to the Salesforce.com platform, there wasn't a reason to allow anyone else to disrupt the land grab by confusing customers. That all changes now. Veeva's add-on revenue is not split with Salesforce.com. Furthermore, Salesforce.com is spending billions on R&D and acquisitions to develop product offerings it can then cross-sell into this customer base. Marketing automation, Big Data-driven CRM, analytics, and a whole lot more are on the Saleforce.com cloud offering list of things the company wants to offer the Pfizers, Mercks, and AstraZenecas of the world. Not exactly what you want to hear if you are a Veeva investor. The dollar value growth and future innovation is in those higher-value offerings, and yet, your platform provider is offering them. So, how many more bells and whistles can you add to your call reporting product before you are going to seriously need to butt heads with your platform provider? What about the pitch from Salesforce.com's end?
SFDC Rep: "Hey, we have this really amazing big data CRM tool you need to deploy across your enterprise"

Mega Pharma CIO: "Honestly, would love to have it but there is simply no room left in our budget for it right now"
Hmm, where do you think this conversation will go in the future? Was anyone paying attention to Salesforce.com's slowing subscriber rate last week? Which management team do you think is going to be the most aggressive driving up value per user? Veeva or Salesforce.com? What is saved for a customer on a custom Force.com CRM can be channeled into Salesforce.com higher-technology products.
Bottom-line, these two are competitors rather than partners from here on out. Both need to cross-sell, and both are competing for the same incremental IT spending pie. What was once win-win is now a lot more win-lose. Salesforce.com's Spring announcement of a new Vertical-focused business strategy is consistent with this shifting dynamic, and should be heeded by those sell-siders who keep asking about whether or not Veeva will expand CRM focus beyond life sciences. If your platform partner and the leading horizontal in the space has adopted a vertical focus, how do you compete in areas you are contractually precluded from selling into?
Industry Headwinds Are Not Going Away
On the Q3 call, Veeva President Matt Wallach was asked about consolidation in pharma and its impact on Veeva's business.
Here is what he had to say:
"We haven't seen the industry consolidation driving big reductions in the sales force size. As most of the acquisitions have been in complimentary therapeutic areas. Should we take an example of like Actavis. Actavis is the combination of Forest, of [Tellus, Watson] [ph], Actavis Warner Chilcott and then recently Durata Therapeutics. Those are basically all complimentary deals and so the size of that sales force is roughly the size of all of those combined.

And then if Actavis does close this Allergan deal that was just announced, that's largely complimentary as well. I think Actavis may have a small dermatology sales force, but the Allergan sales force is more highly specialized. So we just haven't seen the consolidation changing the market dynamics, changing the size of the market.

It's been a normal part of the industry since we started the company and it continues to be either neutral or even positive for Veeva."
"Neutral or even positive for Veeva"
Really, Matt? You are gonna cite Actavis as the normal example of what happens to sales forces in pharma M&A?
Pfizer + Wyeth= 151,000 employees 2006
Pfizer today... 77,000
Merck + Schering Plough + Organon= 114,000 employees 2006
Merck today... 76,000... with another 8,500 cuts coming
So, Veeva management, as usual, finds an exception to the rule and claims that it is the industry norm. The combined Pfizer/Wyeth North America sales force is 1/3rd what the two were on a standalone basis, and yet they cite Actavis/Allergan as the norm in consolidation.
Here is a question for Matt Wallach...
What happens to AstraZeneca's sales force if Pfizer were to acquire the company? Presently, more than half AZN's employees are in sales and marketing. This is double what the biopharma industry model now deems optimal. Brilinta/Elilquis and Crestor/Lipitor are nice drug overlaps, which we are sure were on Pfizer CEO's mind with respect to where costs can be cut in a merger, but we guess that is not something to worry about, right?
What is even more interesting here is that Gartner indirectly chimed in on this topic no more than a couple of weeks ago.
"Predicts 2015: Digital Business Accelerates Strategic Focus in Life Science"

By 2018, growth in multichannel marketing and digital engagement will reduce field-based head count by 20% and strengthen centralized functions.
What does this mean? It means that pharma will cut 20% of its sales force costs, because it can't get quality access to physicians this way. It will increase its non-field force expenses, but "net-net," there will be a saving. Plus, the spending on the other channels will not necessarily go Veeva's way at all. The real question for Veeva is - if you lose 20% of your sub-revenue, can you compensate that with other revenue streams. It will be a tough one - much tougher than sitting with your arms folded, waiting for vanilla CRM subscription revenue to roll in.
But Gartner only matters when Veeva management cites them for software spend numbers, and not when they forecast rep declines. So, industry consolidation and a shift away from share voice towards multi-channel both remain as downside risk for CRM users that the sell-side just seems to not care about, and which Veeva management is happy to spin as they see fit.
Our Thoughts on Vault and Network
We have never really understood what Veeva is doing in Network. Almost every single major Veeva CRM implementation we have come across is using Informatica Cloud for MDM. So, for management to cite the "old Siperian" being fully depreciated on the conference call as evidence that another legacy system is being taken out by the company's "cloud offerings" is very misleading. Informatica has a cloud MDM offering, and all you need to do is go through the top 20 Veeva CRM deployments to understand just how dominant it is. As for the reference database customer master, which is essentially what the Network business is all about, we remain skeptical, at best. Outside of the revenue it acquired through the AdvantageMS deal, this remains a very small incomplete data set that is now going to be going up against a global data lion in IMS Onekey. Building out a reference data set to compete against the market share leader may make sense from a brand equity standpoint for Veeva, considering its desire to be a one-stop Industry Cloud shop; but economically, it's not the most rewarding proposition. When you consider that IMS got OneKey, AggregateSpend 360, and 140,000 global pharma CRM users for $500 million, you start to wonder what all the hoopla is about here. Is a $100-$150 million business that needs to be built at the expense of an entrenched industry data monster worth it to a $4.5 billion company? Ahh, but vertical is the new horizontal!!
Unlike Network, we like what Veeva has done in Vault so far, but again, don't see it as anything remotely comparable to CRM as far as a business opportunity goes. There is no step function growth in this space. The typical contract values are a lot smaller, it's a lower-margin type of business, the total pie is also smaller, and unlike LS CRM, the space is filled with competitors who are not going away. That being said, we could see Veeva growing this into what could be a $300-$400 million market cap business over the next five to seven years. Our only major concern here is that Medidata Solutions (NASDAQ:MDSO) decides to make an acquisition in this space to expand its own Industry Cloud LS market opportunity, now that it is knocking on the door of a sub-20% top-line growth rate in its clinical cloud.
Valuing Veeva In A Post-CRM Step Function Growth Era
We decided to take a sum-of-the-parts approach to valuing the stock, now that CRM has achieved such high penetration, and will be following a much lower growth trajectory.
To do this, we took what we estimated to be Veeva's year-end subscription revenue business in CRM and annualized it. This worked out to $232 million. We then assumed a 40% EBITDA margin profile for this division versus the historical low 20% margin profile, and applied a 12x multiple to account for the extremely high penetration and mature vertical growth profile going forward. This works out to $1.11 billion, or $1.5 billion when you add back Veeva's cash. On a fully diluted share count of 147 million shares, this gets you a CRM+Cash value of $10.20 a share, or a little over $12 if you choose to go with 50% EBITDA margins or a 15x multiple. This is interesting. The recurring revenue in CRM and cash on hand add up to less than a third of the current market cap. This means that Vault, Network, and professional services revenue are worth a remarkable $3.2 billion!
Now do you understand why we are short again?
The business lines that will have contributed $100 million in revenue in 2014 are being valued at 32x revenue by the market. Pretty crazy when you consider nearly 80% of that is services revenue, which typically gets a 1x multiple. So, how do you value these businesses? Well, we are hard-pressed to give Network anything more than $100 million, and that is assuming everything works out great here. Vault is a little trickier. At a $20 million plus run rate, you could argue for a high sales multiple and try to extrapolate CRM type of growth going forward. But that really requires being someone who has zero clue about the space and just wants to spreadsheet model the business. We would not pay 30x Vault's current subscription revenue for this business. Assuming we did that, you still just add another $600 million (chump change right). Adding another $200 million for Network and Services revenue gets you to an $800 million market cap company, or another $5.40 a share. So you end up with $15.60-17.40 in your sum-of-the-parts valuation. We'd shave another $2 off this with a much lower Vault multiple, but either way you look at it, the stock has 40%-50% downside from $32/share, even with some very generous assumptions.
And what about relative value?
Veeva trades at an EV/Sales multiple of 11.6x consensus fiscal 2016 estimates. This is higher than Salesforce.com, Splunk (NASDAQ:SPLK), Cornerstone OnDemand (NASDAQ:CSOD), Medidata, Ultimate Software (NASDAQ:ULTI), NetSuite (NYSE:N), ServiceNow (NYSE:NOW), Zendesk (NYSE:ZEN), and Demandware (NYSE:DWRE). Only Workday (NYSE:WDAY), at 14x forward, is trading higher.
So this comp stack of 10 $1b+ market value SAAS companies that we track closely trades at 8.5x. That's a full 35% premium to the peer group, despite a consensus growth rate that is expected to be 850bps below the peer average of 33.5% for 2015. Veeva's expected y-o-y revenue decline is also a full 2700 bps greater than the peer average, and 800 bps more than the 2nd-biggest expected decliner being Zendesk.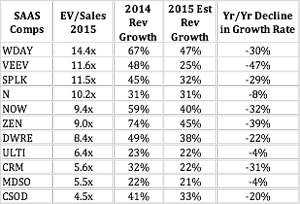 (Note to all those people who think shorting is some sort of dark art. We are delta neutral in SAAS, having recently added CSOD as a long at less than 4x sales. We are also long CRM and short WDAY. As an FYI, we were also long Concur Technologies (NASDAQ:CNQR) and Splunk up until recently.)
But the majority of these companies lose money, while Veeva is profitable, so is this a fair comp?
Our views on the unique nature of Veeva's profitability are well known. Essentially, white-labeling the Salesforce.com platform to go out and lock down a dozen or so 8-figure pharma CRM customers was maybe the most genius thing we have seen in startup tech land to this point. This profitability is a function of the vertical ISV model, and not some sort of special situation created by Veeva management's unique SAAS approach. It also comes with all the impossible-to-avoid risks we have discussed in this and previous pieces. If you want a high-growth comparable with fat EBITDA margins in tech to compare it against, you don't have to go far. Facebook has 44% EBITDA margins, will clock in 57% revenue growth this year, and is expected to grow its top-line 37% next year. It trades at an EV/Sales multiple of 11.8x and a forward P/E of 39x. Kind of puts paying 100x earnings at 75% effective CRM penetration in perspective for Veeva shareholders.
So who's on the other side of the trade here?
Veeva: A Quant Screener's Dream, Soon-To-Be Nightmare
One thing that caught our eye on Veeva early on was the BlackRock Global Allocation Fund's (MUTF:MDLOX) position in the name. As the largest single Veeva shareholder at the time, we were shocked to discover that this fund did not own a single one of the SAAS/Cloud comp base. No Salesforce.com, Workday, Servicenow, Splunk, Fireye (NASDAQ:FEYE), or anything else you would typically see from a portfolio manager that would have done their homework on the space and be willing to own Veeva. This was pretty surprising, considering the conservative profile of the fund, and the fact that they hold nearly 300 positions in US equities alone. How does a fund like this have a position in Veeva that is 7x Microsoft, 1/5th of Apple and Google, without owning a single other SAAS name? We scratched our heads on this for a while, and then realized that Veeva's margins and trailing growth rate allowed it to pass screeners that the bottom-line losing bunch couldn't pass at a fund like this. This is, of course, pretty encouraging news for a short-seller, because what you have is some very large shareholders in the name who probably have absolutely no understanding of what they bought into from an operating business perspective. This makes for an ideal situation going into 2015. If you were short this stock in late 2013/early 2014, you really had to do your homework and buy into our TAM argument, knowing full well Veeva would produce nothing but a series of beats and impressive y-o-y revenue growth over the coming quarters. That all changes going into 2015. The declining growth rate impact will present itself in quarterly results, and will be evident for all to see on Bloomberg. For large institutional shareholders that are not in the business of running SAAS mutual funds, this is typically what it takes for them to cut something loose.
Conclusion
Like we pointed out at the start of this piece, this trade was one we envisioned putting on in early 2015 at potentially a more bubbly valuation heading into Veeva's Q4 call. The real spark that changed that was the Sanofi news, and the fact that it has gone completely under the radar created a nice opportunity between the contrast in what is coming down the road and what Veeva would be reporting in Q3. The conference call was just icing on the cake, as our views on CRM are now becoming more visible in the numbers and in the tone/behavior of management. The fact that no preliminary 2015 guidance (every other SAAS we follow has provided such guidance recently) was provided and questions were asked about Sanofi or the CRM growth picture going forward is just further evidence of the lack of transparency that has been the norm here. You don't need to be an award-winning investigative journalist to figure out that the sell side is officially complicit in selling a very misleading and incomplete Veeva story to investors. We thank them for their consistency, and look forward to the institutional heat they will be getting on this name over the next six months.
As a reminder, this is a solid business with unique limitations, and that has played a huge part in making it a lot easier to short than a lot of very bad businesses. Stories that are very easy to sell to investors are the ones that usually intrigue us the most from the short side, because the liberties taken and work put in by those selling it actually adds to the opportunity.
DISCLAIMER
Suhail Capital Limited is an exempted company registered in the Cayman Islands ("Suhail Capital") is an investment advisor to funds that actively participate in the buying and selling securities and other financial instruments.
You should assume that as of the publication date of this report, Suhail Capital (possibly along with or through our partners, affiliates, employees, and/or consultants) along with our clients and/or investors and/or their clients and/or investors has a short position in Veeva Systems "VEEV" (and/or options, swaps, and other derivatives related to the stock), and therefore stands to realize significant gains in the event that the stock price of VEEV should decline. You should also assume that as of the publication date of this report, Suhail Capital (possibly along with or through our partners, affiliates, employees, and/or consultants) along with our clients and/or investors and/or their clients and/or investors has a long or short position in any other publicly listed company mentioned in this report (and/or options, swaps, and other derivatives related to these stocks) , and therefore stands to realize significant gains in the event that the price of any other company listed should increase or decrease.
Suhail Capital strongly recommends that you do your own due diligence before buying or selling any of the securities mentioned in this report.
We intend to continue transacting in the securities of issuers covered in this report for an indefinite period after its publication, and we may be long, short, or neutral at any time hereafter regardless of our initial recommendation.
This report expresses our opinion, which we have based upon generally available information, field research, inferences and deductions through our due diligence and analytical process. To the best of our ability and belief, all information contained herein is accurate and reliable, and has been obtained from public sources we believe to be accurate and reliable, and who are not insiders or connected persons of the stock covered herein or who may otherwise owe any fiduciary duty or duty of confidentiality to the issuer. However, such information is presented "as-is," without warranty of any kind, whether express or implied. Suhail Capital makes no representation, express or implied, as to the accuracy, timeliness, or completeness of any such information or with regard to the results to be obtained from its use. All expressions of opinion are subject to change without notice, and Suhail Capital does not undertake to update or supplement this report or any of the information, analysis and opinion contained in it.
Please refer to the below link for our Term of Use applicable to this report and any other publication issued by Suhail Capital:
http://www.suhailcapital.com/#!terms-of-use/cgpu
Disclosure: The author is short VEEV.
The author wrote this article themselves, and it expresses their own opinions. The author is not receiving compensation for it (other than from Seeking Alpha). The author has no business relationship with any company whose stock is mentioned in this article.
Additional disclosure: We are also long CRM and CSOD, and short WDAY.