The bandwagon effect is a phenomenon defined by the rate of which beliefs, ideas, fads & trends increases as they become adopted by others. This means that as more people come to believe something, others "jump on the bandwagon," regardless of the underlying evidence. Since the 1-year high of $107.73 in mid-June 2014, WTI crude oil made a precipitous decline, and actually was the largest decline since the financial crisis and the 3rd fastest decline since 2008, as seen below.
Table 1 - Post-Financial Crisis WTI Crude Oil Decline Rates
| | | | |
| --- | --- | --- | --- |
| Time Period | Number of Days | Decline (%) | Decline per Day |
| 6-June-14 to 1-Dec-14 | 161 | -40.5 | 0.248 |
| 30-Aug-13 to 1-Oct-14 | 397 | -18.71 | 0.047 |
| 3-Feb-12 to 29-Jun-12 | 119 | -30.95 | 0.260 |
| 11-Jul-08 to 19-Dec-08 | 161 | -80 | 0.497 |
Source: Bloomberg
Traders, investors, economists, analysts and other finance experts jumped on the "short bandwagon," including myself. However, as the recent decline became steeper and steeper, herd mentality and irrational exuberance began to permeate financial television networks and the internet. It was time to jump off the bandwagon and analyze the technical and fundamental data critically. A contrarian view is required as herd mentality and "bandwagonism" continue to develop.
Focusing on the price data WTI crude oil broke through several levels of support to form multi-year lows around the $64 level. Also the price movement extended through the Fibonacci targets of $77.70 and $71.17. A short-term bounce over the next couple of months is expected, with WTI eyeing $84 in March 2015. The Chart below shows the weekly candlestick chart over the last 5 years of WTI crude oil.
Chart 1 - WTI Crude Oil Weekly Chart Mar-08 to Dec-14

However, rather than a shift in trend the bounce may be more of an opportunity to jump back on the bandwagon as fundamentals suggest that while there is demand present, a world supply glut exists, emanating from the U.S. The ETF (NYSEARCA:USO) can be utilized to take advantage of these moves. Traders should consider a short USO position as WTI crude approaches $84, particularly around the $83.67 price level. A new multi-year low is anticipated as WTI crude oil fails to stay above 84. The $52 price level is anticipated in the 3rd quarter of 2015.
From an economic perspective while global output was revised lower, the revision is above 2009 world GDP levels. In October 2014 the IMF revised global GDP downward to 3% year-over-year for 2014 whereas for the global financial crisis, global output was below -4%. When we look at the period of the second largest decline in WTI crude from 2008, world GDP was 1.7%.
Chart 2 - World GDP (% Year-Over-Year)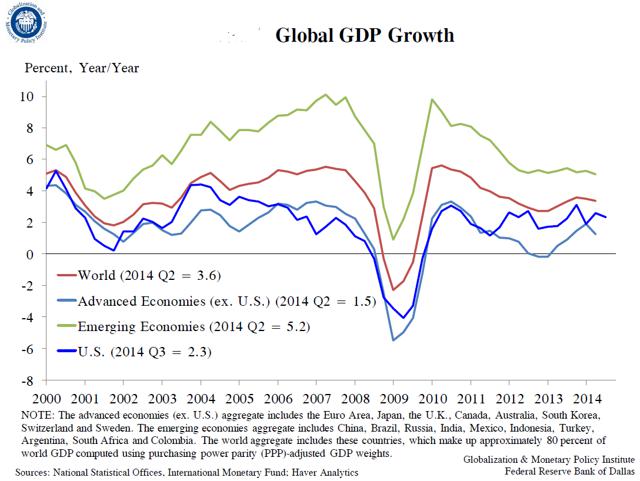 Furthermore Global PMIs also suggest a gradual recovery rather than a direction towards a recession. Global manufacturing PMI is at 52.2 in October 2014, unchanged from September 2014 and above the growth indicator level of 50.
Chart 3 - Global Purchasing Managers Index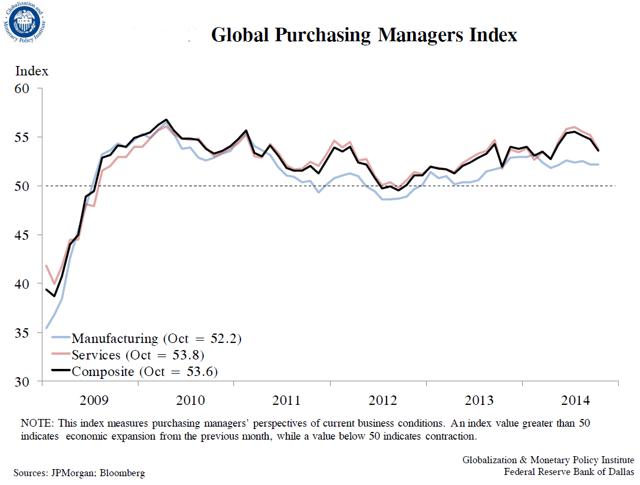 Hence it appears that the decline in WTI may not be attributed to declines in demand and output but rather an increase in supply, a proper reason to jump on a "short bandwagon."
The world has also seen an uptick in oil production from Libya and the U.S., increasing overall supply. Basic economics suggests when supply exceeds demand, the price falls. Emerging from previous disruptions, Libya's oil production reached 1Mn barrels per day (bbl/d) in October 2014, its highest production level since early July 2013. However Libyan production remains erratic and those levels may not be maintained. Nonetheless in the U.S., crude oil production has being growing strongly. Total U.S. crude oil production averaged 8.9Mn bbl/d in October 2014, and the monthly average production is forecast to surpass 9Mn bbl/d in 2014. Projected total crude oil production in the U.S. average 9.4Mn bbl/d in 2015. If realized, the 2015 forecast would be the highest annual average crude oil production since 1972.
As a result of improved crude oil production U.S. crude imports are down 16% YTD and 27% year-over-year October 2014. While U.S. crude exports were 10% lower than the previous year, the longer-term trend is improving.
Chart 4 - U.S. imports of crude and petroleum products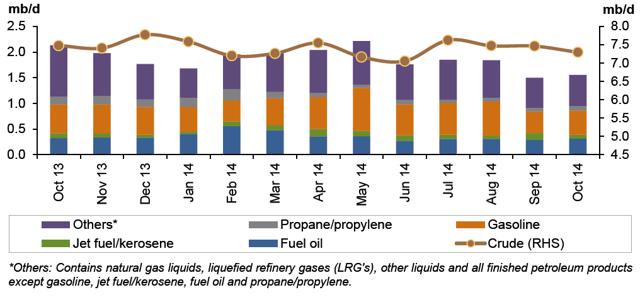 Source: OPEC Monthly Oil Report - November 2014
Chart 5 - U.S. exports of crude and petroleum products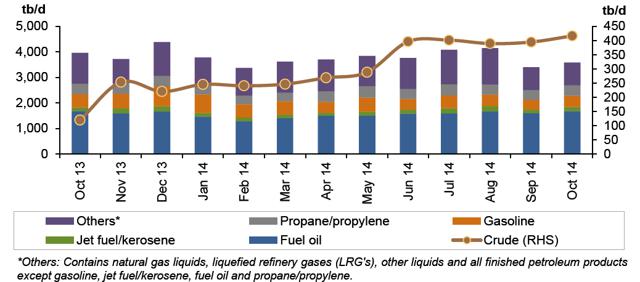 Source: OPEC Monthly Oil Report - November 2014
While world oil supply improved over the past year, demand for crude remained virtually unchanged.
Chart 6 - OPEC And World Oil Supply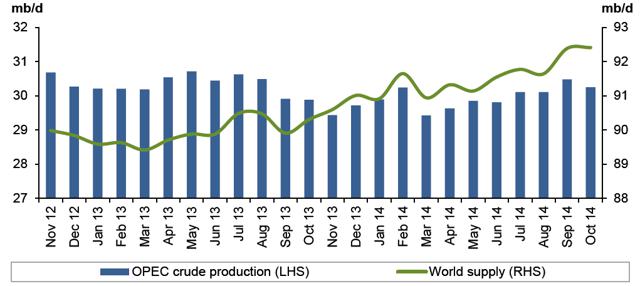 Table 2 - Summarized Supply/Demand Balance for 2014, md/d

Source: OPEC Monthly Oil Report - November 2014
With supply forecasts for 2015 expected to improve and demand to stay the same, WTI crude oil has the propensity to continue to decline for 2015, a rekindling of the 2014 "bandwagonism."
Table 3 - Summarized Supply/Demand Balance for 2015, md/d

Source: OPEC Monthly Oil Report - November 2014
In terms of speculative activity the shorts kicked the longs off the bandwagon as the net long positions declined rapidly with prices.
Chart 7 - Nymex WTI Price Vs Speculative Activity, 2013-2014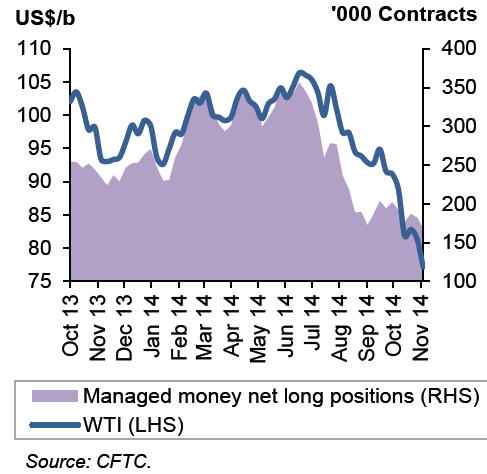 Source: OPEC Monthly Oil Report - November 2014
Looking at both the herd mentality (sentiment on oil) over the past 6 months, along with the price data, the view is maintained that the decline in WTI was too hard and too fast but structural changes in the oil market suggest that the supply in oil can easily outweigh the demand. As such, a short-term bounce is expected, giving time for traders and investors to re-enter shorts and hedge their energy positions.
Disclosure: The author has no positions in any stocks mentioned, and no plans to initiate any positions within the next 72 hours.
The author wrote this article themselves, and it expresses their own opinions. The author is not receiving compensation for it (other than from Seeking Alpha). The author has no business relationship with any company whose stock is mentioned in this article.