By David Silver
Fuel prices continue to rise, which shouldn't come as much of a surprise to anyone who has driven over the past month. (I started last month's review the same way, but it still fits). Auto sales during the month of May show a few dots that are slowly being connected. Higher fuel (and food) costs are eating into consumers' disposable income. So yes, going out and purchasing that more fuel efficient vehicle or hybrid may end up saving them a few dollars over the next five years, but many are saying they are unable (or just don't want) to take on that extra cost of a new vehicle now. Getting that new hybrid should pay for itself in approximately two years at today's fuel prices, but the premium may not be worth it for consumers.
To change gears away from the hybrids and fuel efficient, trucks have been an integral part of the recovery for automakers. Strong sales of the higher margin, higher priced SUVs and light trucks had helped to return General Motors (NYSE:GM) and Ford (NYSE:F) [and to a certain extent Chrysler] back to profitability and strength. However, that was not the case during May. Trucks were hit hard as a result of higher fuel prices. Yet, what should really frighten some is what the drop in light truck demand means for the economy. Light trucks normally go to small businesses, and if small businesses are running for the bunkers, the latest downturn of economic data could only be the beginning.
I know I talked about its truck sales being weak, yet Chrysler delivered one of the strongest months of any of the automakers. Sales during the month improved 19.2% year over year, while Korean automakers Hyundai (OTCPK:HYMLF) and Kia delivered 30.8% and 66.2% respective growth compared to May of 2010. Some of the strength for Hyundai and Kia came at the expense of Toyota (NYSE:TM) [-26.1% year over year] and Honda (NYSE:HMC) [-16.1% year over year] because of parts shortages. I personally don't think it has that large an impact. There are a few models that all options are not available on, but it seems more now that it is a lot of the media coverage that is forcing people away.
Auto makers sold around 1.09 million cars and trucks last month, down from 1.1 million a year ago, General Motors estimated. On a seasonally adjusted basis, annualized U.S. sales for the month were 12 million, down from 13.2 million vehicles last month but up from 11.6 million a year ago - (click charts to enlarge).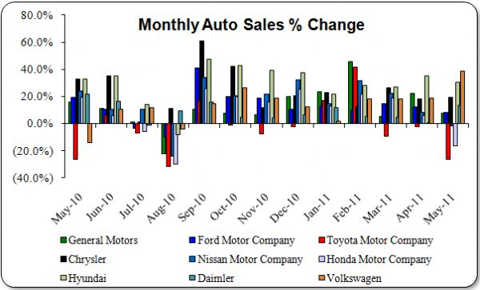 Last month marked just the second time in 18 months the U.S. auto industry reported a significant decline in monthly sales from the year earlier period. The prior time was August 2010, when sales from the year before were boosted by the government's "cash for clunkers" program. Auto makers and dealers sharply cut spending on sales incentives for the month. Japan's car companies cut discounts as they struggled to meet demand in the wake of the March earthquake that crippled many auto plants there. U.S.-based companies followed suit. The total transaction price for the average vehicle sold last month in the U.S. rose 2.1% to $29,817, the highest ever recorded, according to pricing researcher TrueCar.com. As a slight offset for this, GM saw its inventory level at dealers surge year over year and sequentially. Compared to April 2011, inventories increased 1.2%, while year over year, inventories surged more than 42%. That slight positive for the month is dimming in brightness.
Incentives were down during the month, which helps profitability, however, any benefit from the decreased incentives were offset by the fact sales were weak. Japanese automakers lowered incentives because of lower inventories, while GM and Ford lowered incentives to try to recoup some of the higher commodity costs. As I have been saying for most of 2011, the automakers aren't ready for $4.00 gasoline. Apparently neither is the U.S. economy.