Originally published on Nov 5, 2014.
The Baton stock-picking system is a quantitative model that determines when a stock is undervalued and worthy of investment. The following analysis is based upon that methodology and should only be used in conjunction with a similar system for identifying when to sell.
Summary: After peaking above $45 during the first quarter of 2014, Owens Corning (NYSE: OC) has fallen steadily, bottoming out below $30 in October. Though there are good reasons for its price decline, at this point OC has become oversold and represents a strong buy.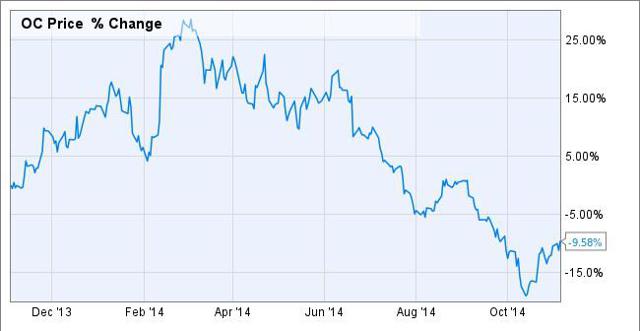 Analysis: Our methodology for evaluating stocks is based on formulas that follow specific investment strategies that have a proven track record of long term success. Owens Corning ("OC") earns a perfect score of 100% according to our quantitative model designed to mimic the investment style of Joseph Piotroski, the legendary college accounting professor at the University of Chicago's Graduate School of Business. Our formula examines 10 ratios designed to evaluate the financial strength of a company, as follows:
BOOK/MARKET RATIO - OC ranks in the top 20% of all U.S. stocks as measured by its Book/Market ratio, which is the inverse of the Price/Book ratio.
RETURN ON ASSETS - OC has a positive Return on Assets, meaning it is not financially distressed.
CHANGE IN RETURN ON ASSETS - OC passes this test since its most recent Return on Assets was an increase over the previous year's number, indicating growing financial strength.
CASH FLOW FROM OPERATIONS - OC had positive Cash Flow from Operations during the most recent year, meaning it did not have to draw down on existing capital to fund its operations.
CASH FLOW COMPARED TO NET INCOME - OC generated more Cash Flow from Operations than Net Income, meaning it had true positive earnings.
CHANGE IN LONG TERM DEBT/ASSETS - OC had a lower debt/assets ratio in the most recent year than for the prior year, meaning it is growing its asset base faster than its debt.
CHANGE IN CURRENT RATIO - OC had a higher Current Ratio in the most recent year versus the prior year, indicative of improving solvency.
CHANGE IN SHARES OUTSTANDING - OC had fewer shares outstanding in the most recent year than the year previously, meaning it did not have to issue more stock to finance its operations.
CHANGE IN GROSS MARGIN - OC had a higher Gross Margin in the most recent year than in the prior year, a strong sign that its profitability is expanding.
CHANGE IN ASSET TURNOVER - OC had higher Asset Turnover in the most recent compared to the prior year, meaning that it is not gradually accumulating inventory that it cannot sell.
Conclusion: Owens Corning operates in a highly cyclical market and is subject to overall demand for its products primarily from the housing and commercial construction sectors. Over the past five years Housing Starts have doubled, in large part due to the Fed's aggressive intervention to keep interest rates low. So far, concern over the deleterious effect that discontinuation of Quantitative Easing might have on the U.S. in general, and the housing and construction sectors in particular, have proven to be grossly overblown. Also, recent comments from the Fed regarding its intent to keep interest rates at current levels for the foreseeable future suggest that construction activity is not likely to abate.
Recommendation: Buy Owens Corning up to $34.
Additional disclosure: The author owns the Baton Marathon Portfolio, which consists of 10 stocks including OC.
Disclosure: The author is long OC.
The author wrote this article themselves, and it expresses their own opinions. The author is not receiving compensation for it. The author has no business relationship with any company whose stock is mentioned in this article.