In early April, Barron's Alan Abelson complained "Where Did All the Bears Go?" He's a happy camper this morning; his ursine friends are coming out from hibernation, smelling the buffet that has been set up for them:
The Citigroup Economic Surprise Index has been falling steadily since February, which explains why nobody was bullish on bonds.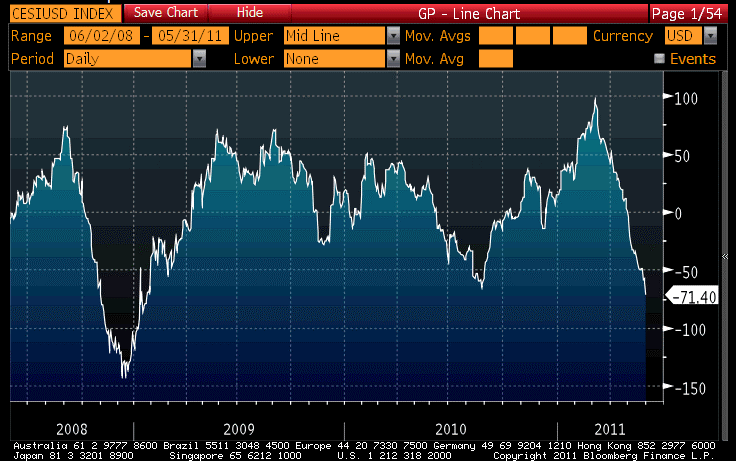 Anywhere one looks nowadays, be it in the US, Europe, China and Asia, we see bear feeds all over. The groundhogs, known and unknown, are popping out and equity markets are tripping on them.
Can earnings estimates hold now? Analysts are now estimating that quarterly earnings will accelerate throughout the year, rising $3.73, 16.5%, from $22.59 in Q1 to $26.32 in Q4. Strangely, EPS have only gained $0.66 or 3.0% between Q4/10 and Q1/11.
Interestingly, four key sectors had earnings decline last quarter: Consumer Discretionary (-8.3%), Consumer Staples (-7.0%), Industrials (-12.7%) and Information Technology (-9.6%). The problems impacting these important sectors may have to do with the reasons behind the earnings gains in Energy (+18.9%) and Materials (+45.6%) but I doubt that total earnings can grow strongly under continuing similar conditions.
And now that the economy is losing momentum, can earnings estimates hold? They did in 2009 and 2010, but that was in the context of rising margins from higher productivity. Most of this is behind us now. Revenues are key, and revenues are highly economy-sensitive.
Current 2011 estimates for the S&P 500 Index are $97.94, down somewhat from a few months ago but up 16.9% YoY. They will likely come down some more in the next few months.
What is the downside for US equities?
Trailing EPS are $84.80. Rule of 20 fair PE with inflation at 3.2% = 16.8 x 84.80 = 1425, 8% upside but walking in a field full of groundhogs. Undervaluation does not prevent equities from falling. Bulls also need feeding, and it looks like their diet will be lean in coming months. What is the downside if inflation does not get worse?
The current 200-day moving average on the S&P 500 Index stands at 1245, some 5% below current levels. That would be a 14.7x PE, a 12.7% discount (undervaluation) from fair PE.
Previous large discounts during corrections have been: August 2010: 23%; October 2006: 14%; December 1994: 14%; November 1988: 21%. A 20% undervaluation would be at 1140 -- another 14% drop which, added to the 4% correction from the recent peak, would give a 17% setback, almost another bear.
For now, given the poor seasonality (see the RBC Capital Markets chart below) until the fall, I think we could test the 200 day m.a. We will need to revisit then. Good time to go camping. No bottom fishing for now.
[Click to enlarge]


Disclosure: I have no positions in any stocks mentioned, and no plans to initiate any positions within the next 72 hours.