Retailers posted mixed sales result for May, as higher prices for gas and food crimped discretionary spending and inclement weather may have dented or delayed consumers' warm-weather apparel buying. While the rising tide of this retail recovery had been lifting all boats through the end of the first quarter, several chains are consistently outperforming rivals with better merchandise and customer service, and last month's performance really separated the winners from the losers.
Preliminary net sales for the 27 retailers we track (note that Walgreen's (WAG) figures are estimated as they don't report until tomorrow) increased 7.2% from a year ago to $32.6 billion in May, while same-store sales rose 5.5% on top of a 2.8% gain last year; this was the 21st straight monthly gain after 12 consecutive months of declines. For the four-month fiscal year-to-date period, preliminary sales have increased 6.9% and comparable store sales are up 5.2%, on top of a 4.3% rise in the prior-year period.
[Click all to enlarge]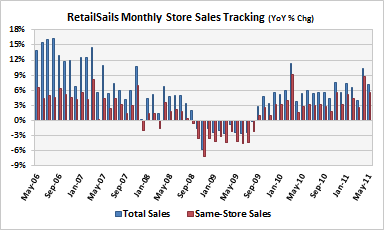 Luxury chains were the big winners in May, with Saks (SKS) (20.2% comp gain), Neiman Marcus (NMG-OLD) (+12.0%) and Nordstrom (JWN) (+7.4%) all beating analyst estimates. High-end retailers continue to fare well because their customers are more immune from inflationary pressures than shoppers at discount stores and mid-priced department stores.
Warehouse clubs Costco (COST) (+13% / +7% ex gas & f/x) and BJ's Wholesale (BJ) (7.4% / +3.0% ex gas) continue to be among the strongest gainers month after month as shoppers are cutting down on their shopping trips, spending more per trip and looking for the convenience and value these clubs offer. Both are using discounted gasoline to lure shoppers into buying memberships and benefiting as they take market share away from competitors in categories other than consumables.
Also seeing large gains in May were action sports retailer Zumiez (ZUMZ) (+7.8%), teen retailer The Buckle (BKE) (+8.8%) and Macy's (M) (7.4%), which has been the clear out-performer in the department store space on increased penetration of private and exclusive brands and the success of its My Macy's localization initiative.
On the other hand, chains such as Destination Maternity (DEST) (-8.6%), Bon-Ton (OTC:BONT) (-2.3%) and especially The Gap (GPS) (-4%) continued to struggle as cooler mid-month temperatures in the Northeast and elsewhere may have dented or delayed consumers' warm-weather apparel buying.
Discount and mid-priced department stores, such as JC Penney (JCP) (-1.0%), Kohl's (KSS) (+0.8%) and Target (TGT) (+2.8%) posted mostly disappointing results and retailers that cater to lower-income consumers are expected to struggle throughout the year, since their customers are more affected by unemployment and higher food and fuel prices than a recovering stock market.
As Gregg Steinhafel, chairman, president and chief executive officer of Target Corporation, said: "Our guests continue to shop cautiously in light of higher energy costs and inflationary pressures on their household budgets."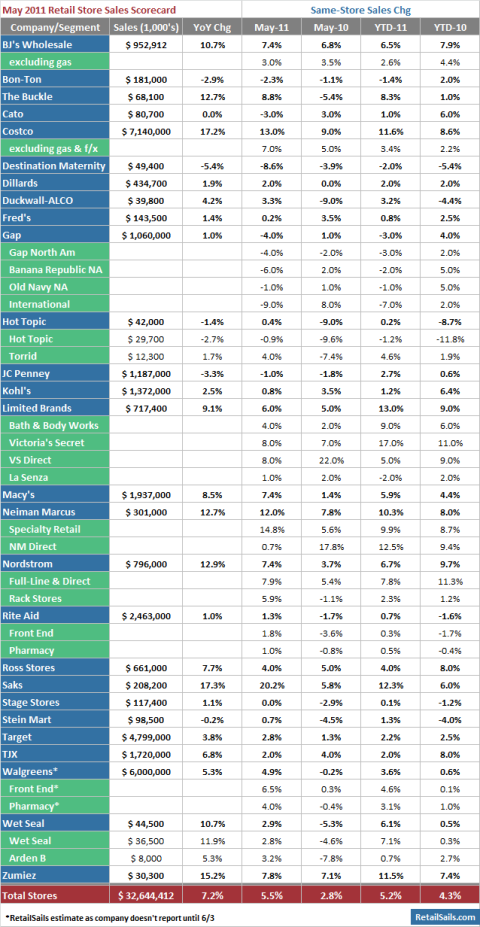 Gas prices have now retreated for three straight weeks, but a gallon of regular gas was still $3.79 on May 30, which was 39.1% higher than a year ago. While consumers seemingly shrugged off price hikes and kept spending throughout spring, higher food and fuel prices are "finally taking a bite and affecting sales," said Ken Perkins, president of research firm Retail Metrics. "It definitely raises the caution flag going into the summer."
As we approach second quarter earnings and the all-important back-to-school season, there are already worrying signs that revenue growth is slowing and higher costs are eating into margins. Most retailers are still uncertain exactly how much shoppers are willing to absorb price hikes, and the bulk of input cost increases won't come through until the summer. This was the first month in quite a while that there are clearly cracks appearing in the foundation of the retail recovery, and if commodity prices stay elevated for long it would not bode well for the growth story in the coming months.
Disclosure: I have no positions in any stocks mentioned, and no plans to initiate any positions within the next 72 hours.