In the last month we have seen Apollo Global Management's (NYSE:APO) share price dip below $23 after an underwhelming quarterly report, followed by a bump to $25 soon after (see graph below). I believe this volatility is the result of an overreaction to disappointing numbers followed by investors taking the opportunity to add to their position after the discount in share price. Though there are some traders who took their $.73 per share dividend and walked, keener investors recognized the potential that Apollo holds.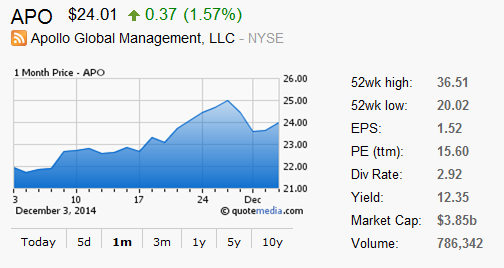 It is true that the LLC's economic net income did report a 90% loss from last year, and that headline was enough to scare off the fair weather investors. Even to the average investor that number is intimidating; especially when you see that APO's share price is down 30% since January. Many research analysts, including Zacks, stamped a sell rating on APO and ran. However the discerning investors are looking past those dismal numbers and seeing the value behind APO. It should not scare you either, and here's why:
One of the wise analysts still singing APO's praises is Morningstar Investment Research. They have set a Fair Value Estimate of the company's shares at $40 because they believe that APO has an ace in the hole. That ace is Athene Holding, a fixed-annuity provider that Apollo acquired around this time last year. The acquisition not only increased their assets under management by $60 billion, it also added an all star to their line-up who boasted adding an impressive $8.4 billion in investments at an average yield of 6.76% in just 12 months. The biggest benefit to adding Athene to their portfolio was that it increased the level of stability. Making up 40% of APO's portfolio, the money that Athene manages does not need to be returned to investors because it is a fixed-annuity and insurance firm rather than a private equity or real estate investment trust. Therefore the capital generated from Athene is cash flow and constant source of capital to invest into Apollo's own funds and credit investments that it excels in. In short, Athene is APO's cash cow that it is milking to fund its own investments. Pretty clever if you ask me. As a result, APO's distributable earnings only decreased 25% to $343 million during this past year. In the grand scheme of things, that's a $113 million loss on $163 billion that APO has under management. This shows that even though the headline reported a 90% plummet, the economic net income figure is only a tool to track market changes and should not be used to judge a firm's performance. Their actual realized loss was relatively low. Additionally, they were able to invest $1.8 billion more than last year. That's not the type of activity you typically see in a failing business.
Apollo is also very good at raising money in a hurry. In 2013 they created the largest private equity fund in the history of the industry, totaling $17.5 billion raised in just 10 months. They then invested that money into businesses that complement their portfolio. For example, they acquired Presidio, an IT services company, on December 1st, 2014. Not only is Presidio a smart buy because it is a market leading IT business gunning for an IPO, but also because it will augment Apollo's other businesses. Apollo's chemical, mining, agriculture, and tech companies will all benefit from Presidio's IT solutions while in turn giving business to Presidio. Their integrated approach to investing is what sets them apart from other asset managers.
Conclusion
When you see through the hype and examine Apollo's numbers, what you find is a pretty healthy company that had a bad year and is now undervalued. Morningstar has set a "Consider Buying Price" at $24 and I would have to agree. The dip has provided a buying opportunity, and I would consider selling around $30. This next year will most likely be a rebound year for Apollo as we begin to see the cash generation from early 2013 and the investments from all of this year come to fruition.
Disclosure: The author has no positions in any stocks mentioned, and no plans to initiate any positions within the next 72 hours.
The author wrote this article themselves, and it expresses their own opinions. The author is not receiving compensation for it (other than from Seeking Alpha). The author has no business relationship with any company whose stock is mentioned in this article.