By Max Magee
Google (NASDAQ:GOOG) was said to have "won" the search wars a few years ago when its market share grew so large that, aside from a few specialized players, most of the competition threw in the towel and shifted focus to other parts of the online world.
Alongside giant Google, competitors like Yahoo (YHOO), IAC/InterActiveCorp (IACI) (which owns Ask.com), AOL Inc (NYSE:AOL), and InfoSpace (INSP) are only very modest players. Microsoft (NASDAQ:MSFT), meanwhile, with its relatively young Bing product, has shown that a fresh approach and massive marketing campaign can make a small dent in Google's dominance.
The story of the next decade in search, however, may come from overseas. To help track this shifting investing trend, tickerspy.com has just launched the Search Engine Stocks Index.
[Click to enlarge]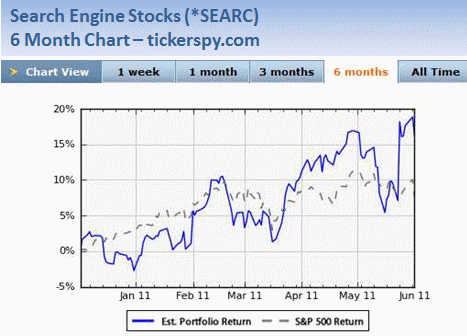 Challenged by government regulations (and, in many cases, censorship), Google has largely ceded its leading position in China to Baidu (NASDAQ:BIDU). The stock's incredible performance over the last five years and its nearly $50 billion market cap show how big the opportunity in China may be, particularly as the penetration of Internet access into China's massive population increases.
With the successful IPO last month of Russian player Yandex (NASDAQ:YNDX), a new way of looking at the search engine market may be coming into focus for investors. While Google maintains a high degree of overall marketshare dominance worldwide, opportunities may continue to emerge as local firms do a better job of catering to their targeted audiences than Google can.
This is a trend that may only solidify further as the idea of "local" search becomes more and more of a focus. What is a Beijing resident going to trust more when looking for a local restaurant recommendation, a result from home-town player Baidu or from far-flung Google?
Additionally, it's possible that select niche players in certain specialized markets could carve out business models. This is best seen in things like retail and travel search (think Expedia (NASDAQ:EXPE) and Orbitz Worldwide (NYSE:OWW) and the upcoming IPO for Kayak.com), but it could extend to an array of markets.
As the search engine market evolves, we will certainly adjust our Index accordingly. Are there any other stocks we should be looking at for inclusion right now?
Disclosure: I have no positions in any stocks mentioned, and no plans to initiate any positions within the next 72 hours.