W.P. Carey Inc (NYSE:WPC) operates in the triple net lease space. Although it's less than a quarter of the size of the industry's biggest players, it differentiates itself with a globally diversified portfolio. Add in a higher yield, and there's good reason for investors to favor Carey over giants like Realty Income Corp (NYSE:O).
Someone else does the work
One of the nice things about the triple net lease space is that the tenants take care of most of the costs of running a property, from maintenance to taxes. In fact, very often, a company sells its property to a triple net lease real estate investment trust (REIT) like Carey and then signs a long-term lease. It allows the tenant to retain control of what is likely a key property, but to get the weight owning the property off of their balance sheet.
Carey, the landlord, can then focus on financing its growth and fine-tuning its portfolio rather than building management. It's as close to a win/win as you can get. Some examples of recent Carey deals include buying a warehouse from Smucker's (NYSE:SJM) and an office building from France's Total (NYSE:TOT).
Carey owns nearly 690 properties in total, broken down among the office (29% of the portfolio), industrial (25%), warehouse (20%), retail (13%), self storage (5%), and "other" (8%) building types. Compare that to the industry's leading player Realty Income, where retail makes up over 80% of its portfolio. National Retail Properties (NYSE:NNN), another old hand in the space, has virtually 100% of its portfolio in, as you might guess, retail. While you can't argue with Realty Income's incredible streak of 68 consecutive quarterly dividend increases or National Retail's 25 years of dividend hikes, they clearly lack the same level of portfolio diversification as Carey.
However, industry diversification isn't the only place where W.P. Carey stands out. About a third of its business is foreign, with Germany and France accounting for about half of that. It has exposure to some 17 countries in all. Realty Income and National Retail basically are focus on the United States.
Diversification is really a key component of W.P. Carey's business model. And while Carey doesn't have the same dividend record as Realty Income or National Retail, it is happy to boast that it's increased its dividend every year since becoming a public company in 1998. That's none too shabby and well worth an income investor's time and effort.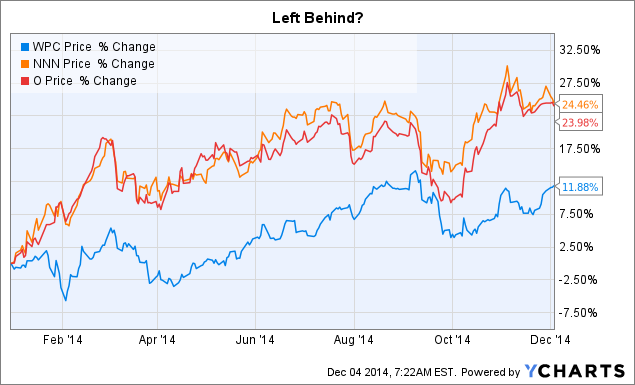 WPC data by YCharts
What's not to like?
The one piece of W.P. Carey that causes some confusion, perhaps consternation, is its asset management business. In addition to its own portfolio, Carey also creates and manages non-traded REITs. That's a somewhat opaque market that's been hit by the accounting issues taking place at American Realty Capital Properties (ARCP), another giant triple net lease player in the non-traded REIT space. While some investors like non-traded REITs, they are a "sold" product, meaning that brokers often push them instead of investors seeking them out. This and the fact that there is no meaningful secondary market (like a stock exchange for a public REIT), has led to close scrutiny by regulators. And rightly so.
American Realty's problem is that an accounting error has tarnished its reputation. Since trust is important when you can't freely trade something you just bought, this is a big issue. However, trust isn't a problem at Carey. Of course if the non-traded REIT industry should suddenly lose favor with investors (or regulators), Carey would find it harder to grow this portfolio of managed assets. That, in turn, would reduce overall growth. So even if you own Carey and not its non-traded REITs, this is an area to keep an eye on.
Is W.P. Carey the one?
I own Realty Income and, as a speculation, American Realty Capital Properties. I don't own W.P. Carey, yet. Part of the reason is that it only converted to a REIT a few years ago. Before that it was a limited partnership. I prefer the REIT structure. Since I already own a couple of triple net lease REITs, however, I'm willing to wait for what I consider a great price.
That said, W.P. Carey is probably the best combination of price, yield, and growth potential available in the triple net lease space right now. On the growth front, it's relatively modest portfolio means that small deals can still have an impact. That's just not true anymore at Realty Income, American Realty, or National Retail, which all have much larger portfolios. And with 15 years worth of history working in foreign markets, Carey also has more places in which to grow.
Yield wise, Carey's around 5.5% yield pales in comparison to American Realty's over 10% yield, but there's a good reason why the latter sports such a high yield. A REIT dealing with an accounting issue isn't a good comparison point. Realty Income with a 4.75% yield and National Retail Properties and its 4.5% yield are more appropriate to look at. Carey obviously wins on yield compared to these two similarly established triple net lease players.
With regard to value, the mid-point of W.P. Carey's projected 2014 adjusted funds from operations (AFFO) is $4.78. Based on recent pricing of around $70 a share, that leads to a price to AFFO ratio of about 14.5. At recent prices, National Retail Properties and Realty Income both sport price to AFFO ratios of around 18 based on projected AFFOs of $2.09 and $2.56, respectively. Again Carey winds up the winner.
If you are looking for a reliable dividend payer, any of the three REITs above will do just fine. (American Realty is a "special situation" only suitable for risk tolerant investors.) However, if you're looking for income right now, W.P. Carey is probably the best choice out of the triple net lease industry's oldest and most established players.
Disclosure: The author is long O, ARCP.
The author wrote this article themselves, and it expresses their own opinions. The author is not receiving compensation for it (other than from Seeking Alpha). The author has no business relationship with any company whose stock is mentioned in this article.