Managements can position their company's earnings growth strategy in way that will deliver long lasting results, which does not depend on the situations but take advantage of the situations, as it requires. The other way depends on the management's view of the conditions resulting to selective decision making. This does not include the long-term direction it wants to go; rather it chooses to take advantage of the prevailing conditions and alters its focus later, as it requires. Companies that follow the earlier way are few and they fetch greater returns to investors. One of these kinds of investments is Bank of the Ozarks (NASDAQ:OZRK), which has thrived in bad and good conditions very well in the past and continues to grow and deliver better returns to investors.
It takes something to post consistent and steady income growth every year, and even to sustain and post little growth that Bank of the Ozarks posted in the difficult times in 2008 to 2010. The discipline the management has instilled to influence its loan lenders for generating high quality loans is a distinctive feature, which describe the consistent growth of Bank of the Ozarks briefly.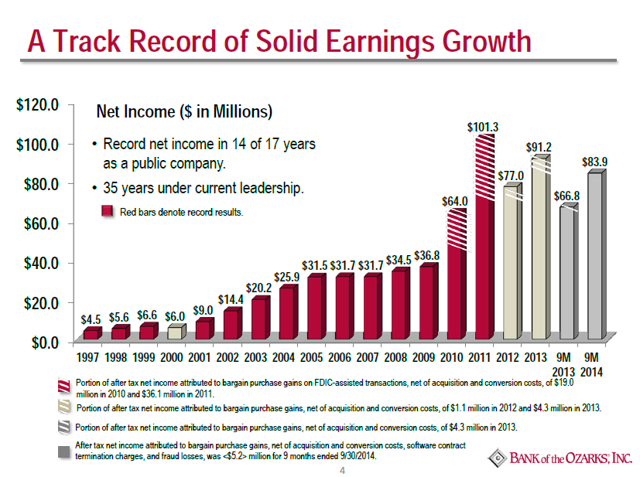 Who do not get tempted when opportunities are a step away, especially in the business world whose main pillar is capturing opportunities? How the management has positioned Bank of the Ozarks to combat this temptation? George Gleason - Chairman and CEO of Bank of the Ozarks describes in his own words, how they stop the temptation.
"Well our lenders get a pay-to-base salary and we have not been suicidal in nature. We seize to pay lenders for loan production many, many, many years ago because if you pay guys for production and even if you put a lot of safeguards on there, you're going to get production you don't want to get.

Even the most well intention lender when his daughter is going to college and the college tuition bill comes and he is going to think I got to generate some volume and I don't want my guys thinking that way.

So what we do is we pay base compensation to our lenders. We set that based on their proven historical track record of producing volumes of good quality, good yielding loans. We take into account quality and yield as well as volume when we set their base comp and the guys who do very, very well for us, get doses of stock options and if they really high level guys stock ramp and that's their incentive compensation.

Of course those options and grants vest in three years. So that provides them the incentive to think long-term not short-term and think well, I want these to be worth more in three years then they are today or in the case of options I want them to be worth something in three years.

So the stock has got to go up and if I make a bunch of bad loans, the stocks is not going to go up and I want to be here in three years to cash in on when they vest and if I make a bunch of bad loans, I won't be here in three years.

So that's the way we do it. A lot of other banks have -- and we compete with a lot of these guys every day where they pay their guys direct incentives based on production in cash immediately. They have a call back in a lot of cases where they get them back if bad things happen in the future, but calling back the guys come two years from now because he made bad loan is not a full solution to your problem.

So we try to do things that just avoid in sending people to engage in behavior that could be harmful to us and try them to incent them to engage in a safest possible highest quality behavior."
Bank of the Ozarks has maintained high asset quality (in its legacy loans) possible even in the worst environments like great recession and posted little growth, while most banks have posted significant decline in their net income due to high provisioning as a result of significant increase in bad loans.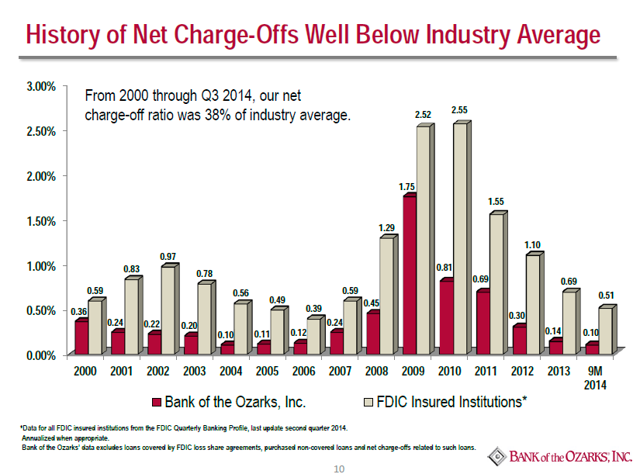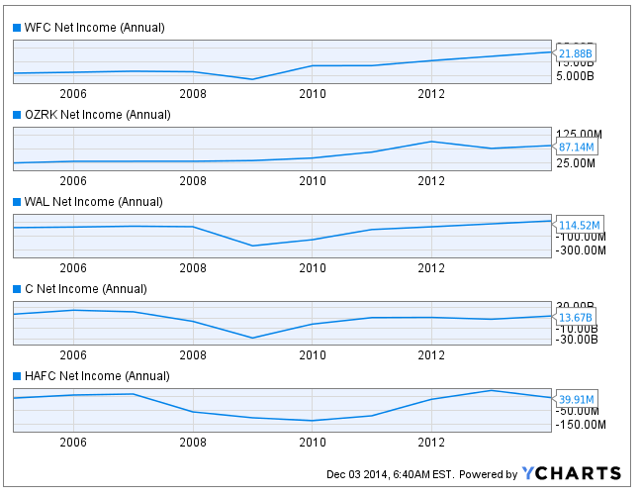 In the above chart, every company other than Ozarks has witnessed decline in net income during the great recession. Ozarks substantially improved from that position to become much stronger bank with higher capacity to tolerate any such kind of happenings.
Variable rate loans to total legacy loans improved substantially from 53% in 2009 to 69.9% at the end of third quarter this year, which significantly improves OZRK's ability to reap higher rewards in the rising interest rate environment and reduces the negative effect of low interest rates in the long term. As I mentioned above the asset quality of OZRK is top notch and it does not require any further mentioning.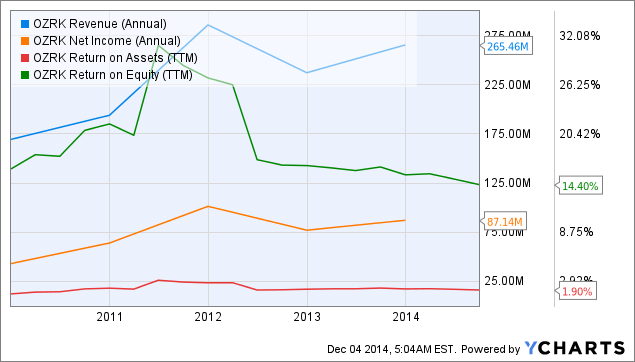 The above chart is sufficient to show the excellent growth that OZRK was able to achieve in the past five years. In addition to growing organically, Bank of the Ozarks took advantage of the opportunities available due to its solid position, completed 11 acquisitions since 2010, and has one pending acquisition that is expected to be completed in the first quarter of 2015.
Bank of the Ozarks management is steering the company in a direction that not only delivers good growth in the present but also in the long term. I mean the management is not short sighted, they intend to make sure that OZRK continues to grow in the long term.
Trading at 25.28X of earnings, 3.29X of book value and 18.44X of forward earnings, I would say the continued growth story and rewarding nature of the management makes this valuation a much deserving appreciation to the Bank of the Ozarks efforts. LONG
Disclosure: The author has no positions in any stocks mentioned, and no plans to initiate any positions within the next 72 hours.
The author wrote this article themselves, and it expresses their own opinions. The author is not receiving compensation for it (other than from Seeking Alpha). The author has no business relationship with any company whose stock is mentioned in this article.