Rackspace Hosting, Inc., (NYSE: RAX) provides cloud computing services and managing Web-based IT systems for small and medium-sized businesses and large enterprises worldwide. Founded in 1998 by three Trinity University classmates, the company is headquartered in San Antonio, Texas, with more than 200,000 customers and $1.5 billion in annual revenue. Rackspace is the largest managed cloud company, with technical expertise and their Fanatical Support team allowing companies to tap the power of the cloud without the pain of hiring experts in dozens of complex technologies. After being a technology stalwart in early years, the company's stock struggled before recently rallying. However, the stock might have reached its peak, and now could be the perfect time to sell.
Stock Struggles as New Competitors Enter Market
Rackspace thrived in the technology sector in the company's early years, but began to struggle when larger companies entered the cloud market. Amazon (NASDAQ:AMZN), Google (NASDAQ:GOOG), and Microsoft (NASDAQ:MSFT) all started their own public cloud services, and they had far more spending power and were able to grow much quicker. These companies invested heavily in the cloud market and drove industry wide margins down, as they were able to offer their cloud services for much cheaper than Rackspace. This caused Rackspace to have modest increases in revenues from dedicated hosting, which along with heavy spending on promoting its vision and expanding into new territories caused investors to be worried. As a result, Rackspace's stock suffered, losing almost 50% of its value in 2013.
RAX stock plummets

Figure 1 | Source: Money Morning
Rackspace announced in September of this year that they had terminated merger discussions. They had hired financial services firm Morgan Stanley to help evaluate offers to acquire the company, but after a four-month strategic review, they decided none of the proposals were as valuable as a stand-alone plan. Chairman Graham Weston asserted that maintaining financial flexibility was crucial in order for the company to drive their strategy forward. This announcement spent the stock price tumbling further downward.
Rackspace Differentiates and Rallies
However, since then Rackspace stock has begun to rally with a few strong quarters, even as their larger competitors continue to invest in the market. This is possible because Rackspace has successfully differentiated themselves from their rivals, calming fears that they could not compete in the cloud market. Rackspace CEO Taylor Rhodes wrote a blog post about this very idea. He contends that the market giants fight over the commoditized part of the cloud computing market, with massive scale and minimal customer interaction. Meanwhile, Rackspace focuses on the managed cloud market, offering exceptional support and expertise so companies can focus on their core business. The cloud markets show exceptional room for growth, and companies that create clouds will need help managing them.
Cloud Usage and Growth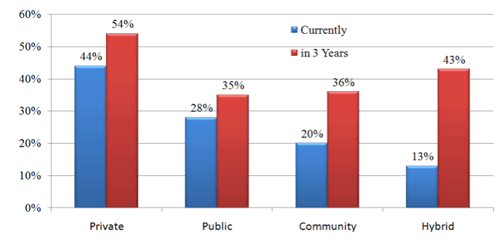 Figure 2 | Source: Sand Hill
Rackspace customers are willing to pay a premium, making it possible for the company to accelerate sales growth by 18.3%, the fastest rate in six quarters, and improve profit margins hit hard in 2013 in the third quarter while their competitors continue to cut prices. Rackspace also launched a $500 million stock buyback, the first in its history. The positive third quarter earnings report, which exceeded expectations, calmed fears that large competitors would eviscerate Rackspace's market share, causing the stock price to rally.
Algorithmic Analysis
I Know First is a financial services firm that utilizes an advanced self-learning algorithm to analyze, model and predict the stock market. The algorithm produces a forecast with a signal and a predictability indicator. The signal is the number in the middle of the box. The predictability is the number at the bottom of the box. At the top, a specific asset is identified. This format is consistent across all predictions.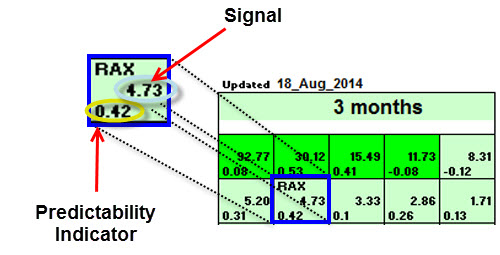 The signal represents the predicted movement direction or trend, and is not a percentage or specific target price. The signal strength indicates how much the current price deviates from what the system considers an equilibrium or "fair" price. The signal can have a positive (predicted increase) or negative (predicted decline) sign. The heat map is arranged according to the signal strength with strongest up signals at the top, while down signals are at the bottom. The table colors are indicative of the signal. Green corresponds to the positive signal and red indicates a negative signal. A deeper color means a stronger signal and a lighter color equals a weaker signal.
The predictability indicator measures the importance of the signal. The predictability is the historical correlation between the prediction and the actual market movement for that particular asset, which is recalculated daily. Theoretically the predictability ranges from minus one to plus one. The higher this number is the more predictable the particular asset is. If you compare predictability for different time ranges, you'll find that the longer time ranges have higher predictability. This means that longer-range signals are more important and tend to be more accurate.
August 18th Tech Stock Forecast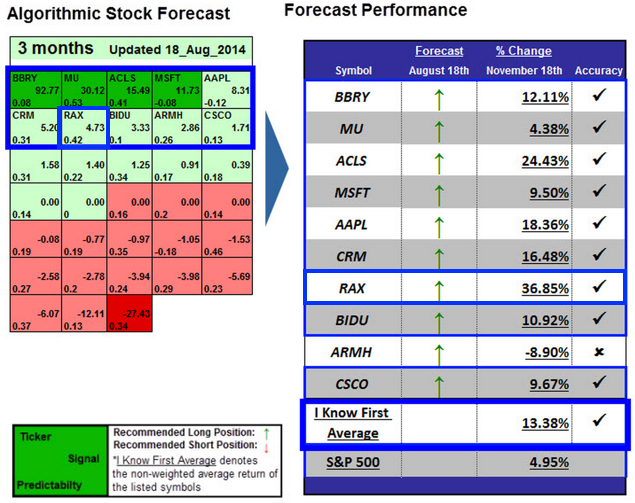 Figure 4 | Source: I Know First
The figure above is an algorithmic forecast for tech stocks made on August 18th, 2014 for the three-month time horizon. Rackspace had a signal strength of 4.73 and a predictability indicator of 0.42. In accordance with the algorithm, Rackspace stock price increased 36.85% over the next three months.
Future Outlook
Rackspace has put itself in a position to compete in the managed cloud segment. Their increased spending on advertising their vision in 2013 appears to have paid off, as third quarter earnings report showed room for further growth in the company and the stock has recovered as the company has effectively differentiated themselves from their competitors. They have also recently announced partnerships with Google and Microsoft, using their Fanatical Support team for managed IT support and services, and they plan to roll out more partnerships in the future providing even more room for growth. The most positive sign for Rackspace's positive future outlook might be their Chairman Graham Weston's purchase of an additional $5 million in stocks. A co-founder of Rackspace, Weston already holds a 13.2% stake in the company, and the additional purchase will not have a significant impact on his stake, but it shows confidence in the company's management and his belief that the company's performance and stock should continue to improve.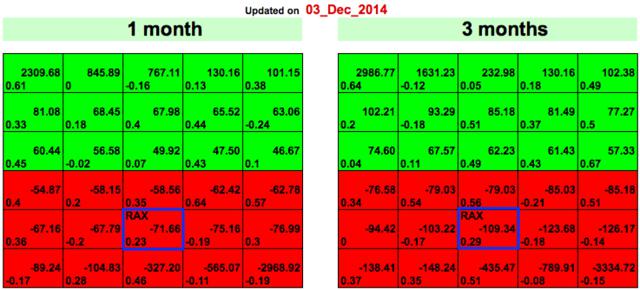 However, I Know First's algorithm has recently become very bearish for Rackspace stock. In the one-month time horizon, Rackspace has a signal strength of -71.66 and a predictability indicator of 0.23, and these measurements are even worse for Rackspace in the three month time horizon. Much of Rackspace's recent rally has been due to their positive third quarter earnings and their announcement to buy back stocks, including $200 million worth this year. While these factors have had a positive impact over the last few months, any negative news, such as less than expected fourth quarter revenue growth, could send the stock trading back at levels before the rally, around $35 a share. While Rackspace is currently succeeding as a managed cloud company, new market factors in the Internet services field are always possible. Their larger competitors are going nowhere and will only continue to cut prices and expand their services in the cloud market. As such, Rackspace might have peaked and it is a good time to sell.
I Know First Research is the analytic branch of I Know First, a financial startup company that specializes in quantitatively predicting the stock market. This article was written by Aaron Tallan, one of our interns. We did not receive compensation for this article, and we have no business relationship with any company whose stock is mentioned in this article.
Disclosure: The author has no positions in any stocks mentioned, and no plans to initiate any positions within the next 72 hours.
The author wrote this article themselves, and it expresses their own opinions. The author is not receiving compensation for it (other than from Seeking Alpha). The author has no business relationship with any company whose stock is mentioned in this article.