This morning I was screening on Barchart for high growth stocks that were having current positive price momentum and found Open Text (NASDAQ:OTEX) near the top of the list with a 100% Barchart overall buy signal. Its sales and earnings numbers are fantastic but what I like is the overall business plan: Instead of going head to head with the competition it has formed partnerships with SAP (NYSE:SAP), Microsoft (NASDAQ:MSFT) and Oracle (NYSE:ORCL). If you can't beat 'em, join 'em. Nice plan!
Click to enlarge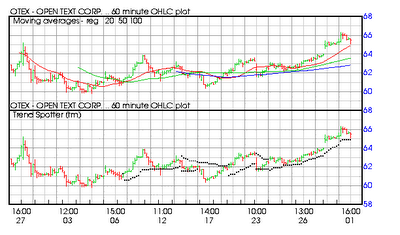 Open Text Corp. has pioneered the development of innovative intranet, extranet and e-Business applications. Since creating one of the first search engines to index the World Wide Web, the company has remained at the forefront of Internet-based technologies. Its solutions allow individuals, teams, organizations and global trading communities to collaborate on projects, share ideas and accelerate innovation to the fastest possible speed.
Factors to Consider
Barchart Technical Indicators:
100% Barchart overall buy signal
Trend Spotter buy signal
Above its 20, 50 and 100 day moving averages
Six new highs and up 6.90% in the last month
Relative Strength Index is 65.06% and rising
Trades around 65.40 with a 50 day moving average of 62.21
Wall Street brokerage analysts consider this a growth stock with three strong buy, eight buy and six hold recommendations published.
Sales are projected to increase by 13.50% this year and another 10.90% next year.
Earnings are estimated to increase by 31.90% this year, 13.30% next year and continue to increase by 16.50% annually for the next five years.
General Investor Sentiment:
This is not a widely followed stock by the Motley Fool readership but the 225 followers of the stock are positive.
CAPS members vote 147 to 24 that the stock will beat the market.
The more experienced All Stars are also positive with a 46 to 8 vote.
Summary: I think Open Text has several great pluses that deserve your attention. You want to own stocks that have double digit projections of sales and earnings growth. One of the biggest problems in the fast growing tech sector is competition and the company has solved that by forming partnerships with its biggest competitors. Lastly, the tape is positive and the stock is on a rise.
Disclosure: I have no positions in any stocks mentioned, and no plans to initiate any positions within the next 72 hours.