Many momentum names and retail beneficiaries of holiday shopping ran higher on Black Friday before the tally was reported, and yet, GoPro (NASDAQ:GPRO) shares declined in value. It was clear there was a company-specific catalyst at play, because the company that makes one of the hottest holiday items for sale this year sure should have been rising with the retailers otherwise. The excitement around the gear and the stock has been palpable, so what happened to raise doubts?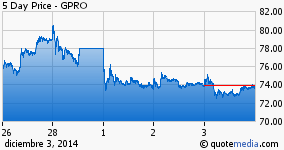 5-Day GPRO Chart at Seeking Alpha
GoPro shares fell 1.4% in Friday's abbreviated trading day, but the PowerShares QQQ (NASDAQ:QQQ) climbed 0.5% that day. Many other stocks recently showing strong relative strength were higher on the day as well, and retailer shares enjoyed gains on Black Friday. The SPDR S&P Retail ETF (NYSEARCA:XRT) was up 0.9% on the day. GoPro shares continued their slide on Monday in sympathy with the entire market, but were finding some support in Tuesday's trading.
The newswire revealed an important unofficial indication that GoPro is working on a line of its own proprietary drones, which could reach the market by this time next year. The drone market is clearly also a hot one, so readers are likely wondering why such news would prove detrimental to the company's shares. It is because the action taken by GoPro to launch its own drone line appears to be a competitive response.
The most important drone maker, DJI, is now providing remotely controlled aircraft with its own cameras onboard. Thus, GoPro is losing an important customer. While the company's drones would effectively meet and possibly beat such competition due to its brand strength, it will also be competing with other companies that are currently sourcing GoPro cameras for their third-party drones. So, GoPro could be effectively turning some partners into competitors in the process, and such action could drive some customers to develop their own drones with proprietary cameras or cameras sourced from other makers.
That is not entirely clear, though, as GoPro may be able to circumvent the risk of its customers becoming competitors by guaranteeing those partners its products will be offered at a higher price point, or at least at the same price point. Or it could acquire one or two of its drone-making customers. Or it may not prove to matter at all due to GoPro's brand strength.
It simply may be that this is something the company had to do. And we may later discover that the drone market was well worth pursuing in this manner, so that any lost business is more than overcome by a growing pie and GoPro's ability to gain market share of that pie. Take note that the only fact today is that DJI is making its own drones, so that when GoPro issues a press release indicating it is going to sell drones, it could be a positive catalyst against that negative fact.
The stock has enjoyed quite a run since its IPO, up approximately 137% since the close of its first day of trading in June. By some measures and accounts, its valuation had reached a point where news like this could do damage. GPRO trades at about 60x the analysts' EPS consensus estimate for 2015, though that estimate is likely understated at $1.24 per share. It's been on the rise, as the company has seen increasing demand for its products.
Over the last couple quarters, GoPro has beaten estimates by 33% and 50%. If it were able to continue to beat estimates by, say, 30% in 2015, then it could earn approximately $1.61 next year. Thus, the stock could actually be trading at 46x what next year's number could actually be. If the company beats estimates in this December quarter by 30%, then it would close the year with EPS of about $1.22. That means that next year's growth would project to 32%, giving the stock a PEG of 1.4x on those figures. Since there are a lot of new variables in play, GPRO's price has shown some uncertainty at this valuation.
This latest dip could prove an opportune time to have bought some shares, for those who missed the boat to this point. Analysts see about 38% growth for the company over the next five years, on average, but that was forecast before the drone news broke. New drone w/camera competitors are a step behind GoPro in terms of its social networking efforts and its brand appeal. The company's bigger plans do not seem to be factored in to the price much, either. GoPro also has more capital behind its business efforts than new competitors would, assuming Google (NASDAQ:GOOG) (NASDAQ:GOOGL) or others do not enter the business; keep in mind that they could do this by acquiring GoPro.
So, despite the bad taste I first felt about the risk of the move, I think that in the end it will have proven to have been a wise defensive posture that also scored significant offensive points for shareholders. Measuring PEG using my forward P/E estimate of 46x and long-term growth projection of 38%, at a 1.2X PEG, the stock certainly looks like a worthwhile risk here. So I think you can use this latest weakness to buy the stock, especially for aggressive growth portfolios. Because of the latest question posed, the shares may not participate as well in a Santa Claus rally as other momentum names until sales data leaks or indications of holiday sales are reported. Thus, investors have an opportunity for entry here at a value. I plan to cover GPRO more closely moving forward, and to pick up more coverage of stocks generally, so readers may want to follow my column.
Disclosure: The author has no positions in any stocks mentioned, and no plans to initiate any positions within the next 72 hours.
The author wrote this article themselves, and it expresses their own opinions. The author is not receiving compensation for it (other than from Seeking Alpha). The author has no business relationship with any company whose stock is mentioned in this article.