The stock of biotech juggernaut Gilead Sciences (NASDAQ:GILD) has stalled over the past three months. This has driven a huge uptick in the amount of inquiries I have received on the prospects on Gilead as I have been a long time bull on the company and the stock is the largest position in my own portfolio. I have also received myriad questions and comments that AbbVie (NYSE:ABBV) who looks to market new products into the hepatitis C space might be worth a look and/or be a better current investment than Gilead. Let me address both concerns.
First, some consolidation in the stock should have been expected. The company has almost quadrupled earnings on a better than doubling of revenue in 2014 thanks to the blockbuster launch of Sovaldi and now the approval and initial sales of Gilead's improved hepatitis C compound Harvoni.
One thing I have learned over the years is that any time Gilead stock price appreciation stalls or better yet offers a significant dip; it is a buying opportunity to pick up a few more shares. The simple fact is this biotech giant has been one of the best performing stocks in the market over the past half-decade and is likely to continue to be so.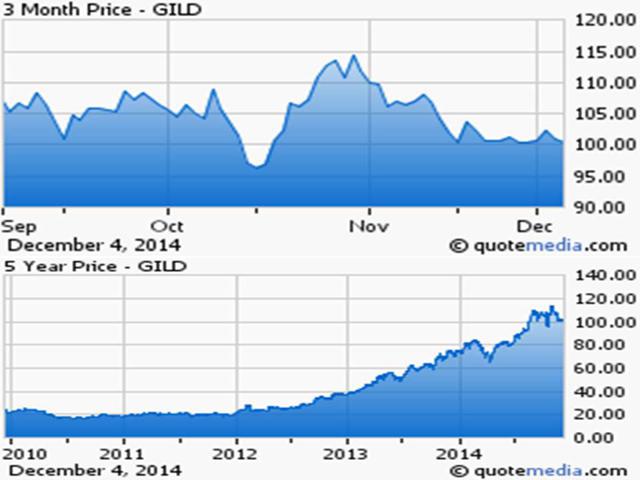 In contrast to the recent stock price performance of Gilead, the shares of AbbVie have done very well in the market over the past three months. Part of this rise has been driven by the recent decision by the The European Medicines Agency's Committee for Medicinal Products for Human Use in supporting approval of AbbVie's Viekirax (a combination of ombitasvir, paritaprevir and ritonavir) plus Exviera (dasabuvir), with or without ribavirin, for patients with chronic HCV genotype 1 infection and Viekirax only, with ribavirin, for patients with HCV genotype 4 infection. The stock was also boosted by a good earnings report after its failed mega-merger with Shire PLC (NASDAQ:SHPG) fell apart.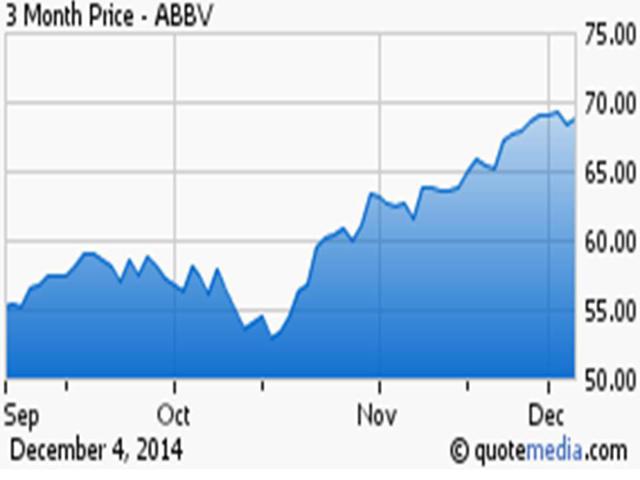 This compound is a direct competitor to Harvoni but I believe worries about intense competition in the hepatitis C space is overblown which I detailed to a great extent in this article in November. In addition, and as importantly the two stocks are not comparable from a valuation perspective; Gilead is the clear winner.
Let's start with the earnings trajectories of both of these drug giants. As can been seen from the chart below, this is not even a fair fight.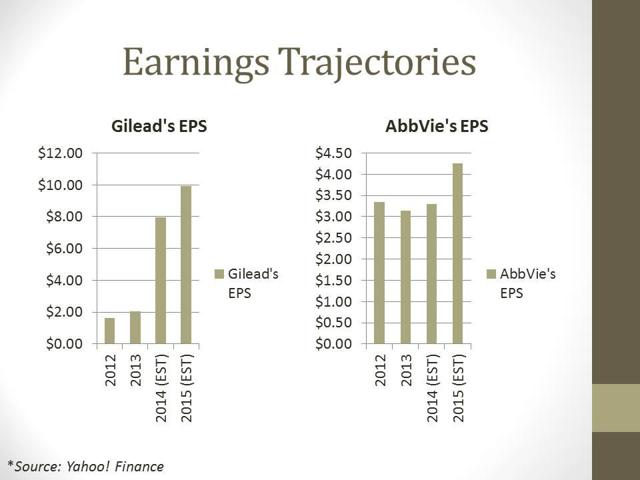 So what about valuation? If one looks at how both firms are valued on an earnings basis, again the clear winner is Gilead.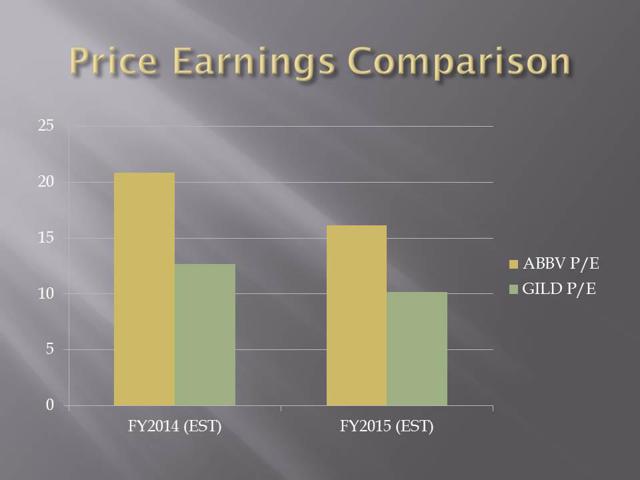 The one advantage I do see for AbbVie is it does pay a dividend yield of almost three percent. However, Gilead should have $10 billion to $15 billion in free cash flow in 2015, an increasing amount of which will be used for stock repurchases which is an efficient way to reward shareholders and take advantage of the low current price of the stock of this biotech juggernaut.
Gilead owns the HIV and hepatitis C space and Sovaldi/Harvoni sales are still just getting started in Europe and Japan with its one million hepatitis C carriers should come on line over the next six months. The company has a deep pipeline and a solid balance sheet as well.
Gilead is tracking to post earnings of just under $8 a share in FY2014. I believe the company easily gets to $10 a share of profits in 2015 which may prove conservative. Putting just an overall market multiple of 15-16 times that $10 a share in earnings in 2015 gets us to $150 to $160 a share, way above the ~$100 a share the stock is currently trading at currently.
AbbVie in contrast has not seen the same kind of earnings growth that Gilead has seen and is already priced near the $70 a share price target S&P has on it right now. It is also why Gilead will remain a Blue Chip Gem within my portfolio and I will pass on picking up any shares in AbbVie at this point in time.
Disclosure: The author is long GILD.
The author wrote this article themselves, and it expresses their own opinions. The author is not receiving compensation for it (other than from Seeking Alpha). The author has no business relationship with any company whose stock is mentioned in this article.