The iShares Core High Dividend ETF, ticker HDV, has many appealing qualities for today's dividend growth investor. While the fund does not specifically advertise itself as a rising income solution, its stock selection process does, to an extent, present itself symmetrically to core DGI methodology (elevated and growing dividends). Some of the main grievances that dividend growth investors typically have with dividend fund products, specifically low current yield and high fees, are overcome in HDV.
The Methodology
Currently composed of 75 companies, HDV generally derives its constituent equities from the Morningstar Dividend Yield Focus Index [MDYFI]. The index is compiled by applying two screens to a broad group of domestic stocks. The two screens, described directly in Morningstar's discussion of MDYFI are as follows.
The company's dividend must be considered qualified income; for example, real estate investment trusts are not eligible for inclusion in the index.
Companies must have a Morningstar Economic Moat rating of narrow or wide and have a Morningstar Distance to Default score in the top 50% of eligible dividend-paying companies. Companies that are not assigned a Morningstar economic moat rating must have a Morningstar Distance to Default score in the top 30% of eligible dividend paying companies.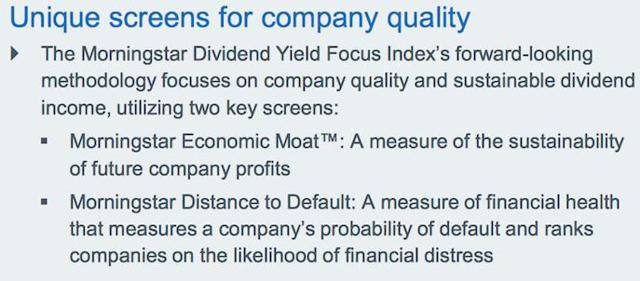 Source: iShares.com
After 75 companies meeting the above proprietary criteria are determined, constituent weightings are crafted via a dividend model that emphasizes market cap weighting. As Morningstar writes:
The Morningstar Dividend Yield Focus Index aims to maximize yield by using a fundamental, dividend- based weighting system. The index uses an available- dividend model that emphasizes company size as
well as dividends, which allows us to retain the primary benefits of market cap weighting (e.g., low turnover and scalable investment capacity).
Further constitution requirements affecting weighting include the following:
An individual stock's weight is capped at 10 percent.
Stocks weighing more than 5% each cannot collectively exceed 50% of the total index.
The fund is rebalanced and re-characterized on a quarterly basis.
Current Composition
The following is a current list of holdings constituting at least .25% worth of fund assets, downloaded from iShares' web site as of December 2, 2014.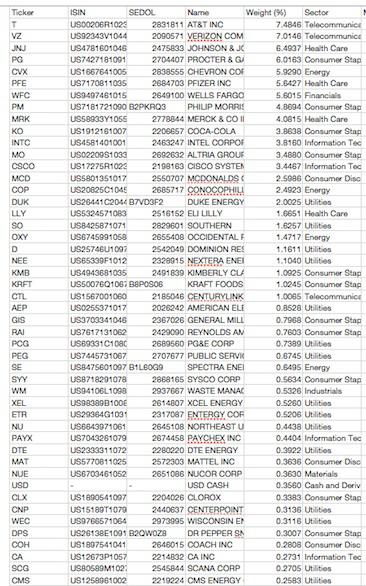 iShares summarizes the holdings, sector-wise, in the following pie chart: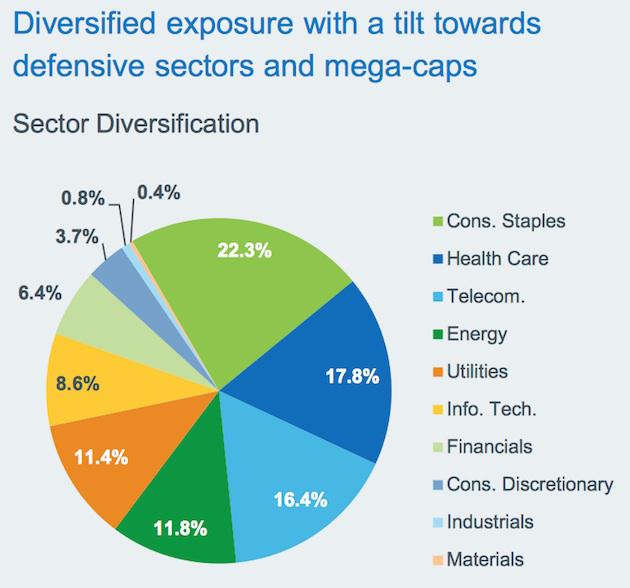 Dividend Growth And Other Critical Data
Although the fund is only about 3.5 years old, it has shown a propensity for growing the dividend. Here is a complete history of the fund's payout: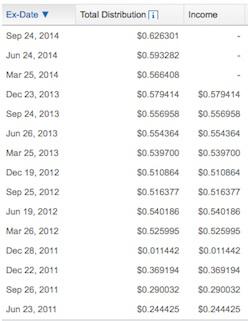 If we take the June-March period as a full year run rate for the dividend we can summarize as follows:
June '11 - March '12: $1.44
June '12 - March '13: $2.10 (45% growth)
June '13 - March '14: $2.25 (7% growth)
June '14 - Sept. '14: $1.21 (9% 6 mos. YOY growth)
I would consider the first year YOY growth insignificant, however, the 7% dividend growth seen from 6/13 to 3/14 and the 9% YOY growth seen for the comparable six months should be seen as significant to how this fund may perform going forward.
Based on recent trades of about $78.31, HDV yields almost exactly 3% based on a TTM dividend payout of $2.36 per share. And the expense ratio is a very reasonable 12 basis points, which means it is only eating away about 4% of the fund's gross yield. Other dividend funds touting themselves as dividend appreciation or dividend growth products commonly have fees that eat away 10% or more of gross dividend yield.
On a price level, HDV has returned 54% since its inception, March 28, 2011. This compares to a 58% price return for SPY. If we factor in a 100 basis point, per annum, yield advantage for HDV vs. SPY, we basically have a draw in total return performance. So for those that continue to opine that a focus on dividends is necessarily the "wrong" approach for achieving returns, I think this fund evidences the fact that that is not necessarily the case.
Analysis
iShares Core High Dividend ETF has a lot going for it: low fees, higher yield, and a list of holdings that seem to mimic the kind of stocks that purist dividend growth investors gravitate towards owning. While the fund's dividend growth data is certainly not extensive, one is certainly led to believe that it could be of a durable, predictable nature going forward.
Of course a prospective investor in the fund must be supportive of how the portfolio is constructed and quarterly managed with Morningstar's proprietary screening involving "economic moats," "distance to default," as well as the undefined generalized weighting system. Still, for most dividend growth investors who prefer mega-cap equities, the weighting system would seem to make sense, with emphasis on familiar names possessing predictable cash flows. HDV's beta, a commonly looked at measure of volatility, is advertised at .85 which means that the portfolio will likely pose less price fluctuation than the S&P 500.
If we examine the list of holdings further, we do find names at the top that seem to fall into a "gray" area insofar as dividend growth is concerned. Intel (NASDAQ:INTC), Wells Fargo (NYSE:WFC), Pfizer (NYSE:PFE), companies that have fallen into disfavor with investors due to near-term dividend freezes, make up a substantial portion of assets.
Also, the top 10 holdings of HDV make up over 50% of the fund. Verizon (NYSE:VZ) and AT&T (NYSE:T) the fund's two top holdings, make up nearly 15% of HDV's assets. I'm personally not a fan of either of those statistics. I'd prefer a fund where the top heavy, market cap weighting was not so pronounced, with more smoothed diversification amongst holdings. For some, the portfolio concentration could be an understandable deal breaker.
All in all, however, HDV represents an interesting consideration for dividend investors looking for a pooled asset product with above average yield and payout growth potential that is semi-actively managed. The major hold back here is the lack of a long enough record from which to draw a conclusion as to dividend growth sustainability from Morningstar's proprietary rules-based approach, MDFYI.
Dividend growth guru David Van Knapp provided an overview of HDV in an article in April of 2012 in which he came to a somewhat similar conclusion when comparing a variety of dividend-oriented funds:
HDV seems like the closest in spirit and process to what dividend growth investors typically do. It is more actively managed than the others. Unfortunately, it has no real track record yet. But it may be worth further investigation.
Two and a half years later we have better visibility as to how HDV may behave, yet it still does not seem enough data to draw a definitive conclusion as to suitability for dividend growth purists. Optimistically one might see this as THE one, realistically it should probably be given more time to prove itself.
Disclaimer: The above should not be considered or construed as individualized or specific investment advice. Do your own research and consult a professional, if necessary, before making investment decisions.
Disclosure: The author is long T, VZ, INTC.
The author wrote this article themselves, and it expresses their own opinions. The author is not receiving compensation for it (other than from Seeking Alpha). The author has no business relationship with any company whose stock is mentioned in this article.