There are several domestic REIT ETFs competing for investor dollars. Four of these funds have ten-year histories. They are iShares U.S. Real Estate ETF (NYSEARCA:IYR), iShares Cohen & Steers REIT ETF (NYSEARCA:ICF), Vanguard REIT Index ETF (NYSEARCA:VNQ) and SPDR Dow Jones REIT ETF (NYSEARCA:RWR). Three others have shorter histories: First Trust S&P REIT Index ETF (NYSEARCA:FRI), Schwab U.S. REIT ETF (NYSEARCA:SCHH) and PowerShares KBW Premium Yield Equity REIT Portfolio ETF (NASDAQ:KBWY).
Two of the oldest indexes are IYR and RWR. We'll compare IYR to RWR in order to show where IYR differs from other REIT ETFs.
Index & Strategy
iShares U.S. Real Estate ETF is the oldest of the group, issued in June 2000. It tracks the Dow Jones U.S. Real Estate Index. BlackRock, the fund provider and manager, uses a sampling strategy to replicate the underlying index. IYR had 110 holdings as of December 2. Generally, at least 90 percent of assets are in stocks from the underlying index. The remainder can be invested in other stocks, money markets, swaps, options and futures if they help the fund more closely track the underlying index. IYR has no restriction on its REIT universe; it holds everything from timber REITs and apartment REITs, to office REITs and mortgage REITs.
iShares offers a breakdown of IYR's REIT sectors on its website. Notice mortgage REITs are 6.25 percent of assets. Specialty REITs include non-real estate REITs such as timber.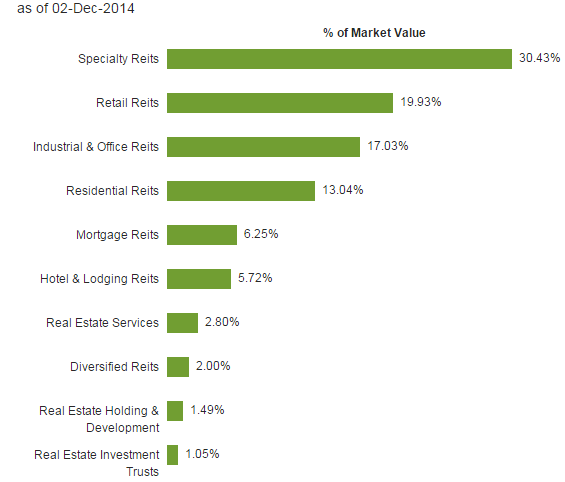 SPDR Dow Jones REIT ETF tracks the Dow Jones Select U.S. Real Estate Index. The key difference from IYR's index is what RWR doesn't hold: Mortgage REITs, net-lease REITs, real estate finance companies, mortgage brokers and bankers, commercial and residential real estate brokers and estate agents, homebuilders, large landowners and subdividers of unimproved land, hybrid REITs, timber REITs and companies that have more than 25% of their assets in direct mortgage investments.
SPDR also offers a breakdown of REIT sectors, but it uses different classifications.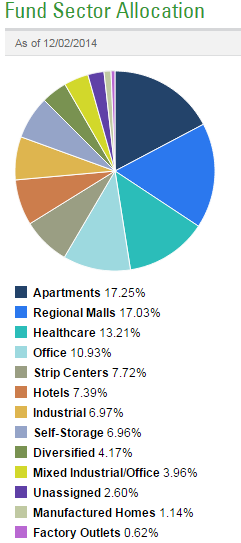 When comparing the holdings for these two funds, there is a large amount of overlap. IYR had 69 percent of assets (as of December 2) in the same holdings as RWR. Since RWR has the more restrictive criteria, its overlap is even greater, holding 93 percent of assets in stocks also held in IYR.
Performance
As this first chart shows, the performance of IYR and RWR has been extremely close. Discerning any difference is nearly impossible.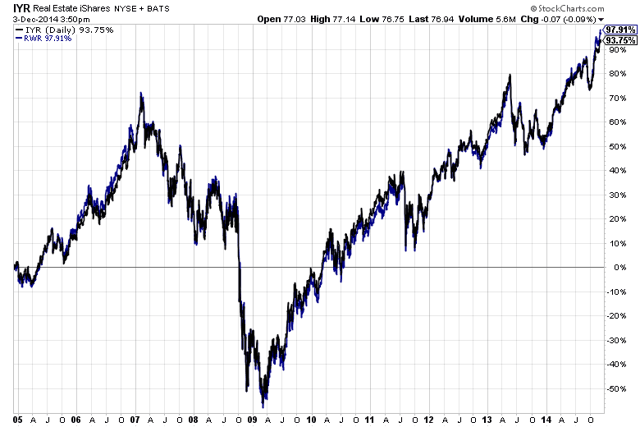 Using a price ratio, a clearer pattern of relative performance emerges. The comparison of IYR to RWR shows IYR outperformed strongly in 2008. The black line shows the relative performance of a mortgage REIT, iShares Mortgage Real Estate Capped ETF (NYSEARCA:REM), to IYR. This shows that the mortgage exposure in IYR has been largely responsible for the relative variation in performance.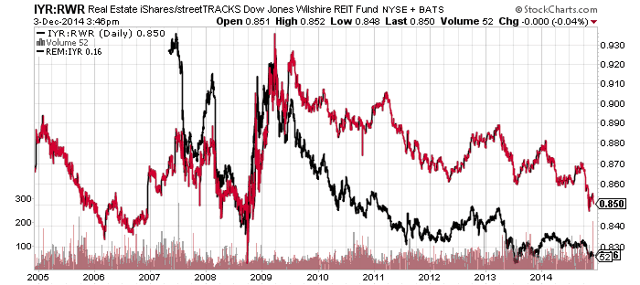 Expenses
IYR is the more expensive fund with an expense ratio of 0.45 percent versus the 0.25 percent expense ratio for RWR.
Income
Both IYR and RWR saw income suffer during the 2008 financial crisis and the aftermath. The chart below only covers the income payouts from these funds, not any capital gains.
Both funds experienced a period of rapid and volatile income growth prior to the 2008 crisis, but post-2009, the two have been on much steadier trajectories.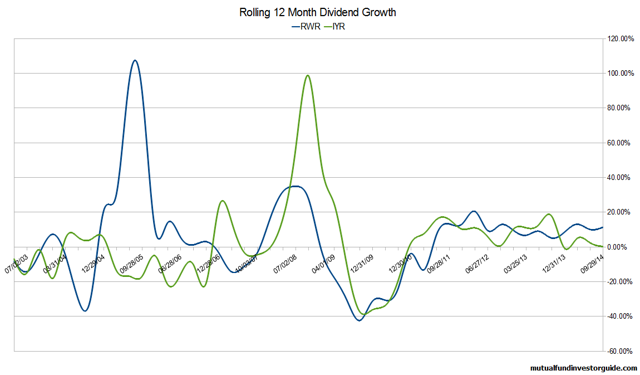 IYR had a 30-day SEC yield of 3.24 percent on December 2. RWR had a 2.98 percent yield as of December 1. IYR benefits from having exposure to the higher-yielding mortgage REIT sector.
Risk & Reward
Over the past 10 years, IYR has a beta of 1.13 versus 1.17 for RWR, both versus the MSCI ACWI Index. Over the past 5 years, IYR has a beta of 0.84 versus 0.86 for RWR. Over the past 3 years, IYR has a beta of 0.61 versus 0.58 for RWR.
IYR has a standard deviation of 12.57 over the past three years versus 13.57 for RWR. Over the past 5 years, the standard deviation of IYR versus RWR is 15.99 versus 17.07. Over the past 10 years, the standard deviation for IYR is 24.70 versus 26.36 for RWR.
Generally, IYR's broader portfolio resulted in slightly less volatility.
IYR holds REIT securities that are not traditional real estate REITs, but make use of the REIT structure. Timber ETFs, for example, are affected by conditions in the timber market. Mortgage REITs are highly sensitive to changes in interest rates. Investors who want real estate exposure would do better to hold RWR or another ETF that concentrates on real estate securities.
All REITs are sensitive to interest rates because they make use of debt financing. REIT ETFs suffered in 2013 when interest rates spiked in late spring and early summer when former Fed Chairman Bernanke mentioned the end of quantitative easing (the taper).
The risk of higher rates looks lower today than it did a couple of months ago. Although U.S. growth remains strong, U.S. interest rates are higher than in Europe and Japan. The Bank of Japan has already increased quantitative easing and the European Central Bank may step up their policies at the December 4 meeting. This has already created a strong U.S. dollar rally, and further intervention will keep U.S. treasuries attractive to global investors (if only for the currency gains) and act as a strong headwind to U.S. interest rate increases. Even if rates go up, if they rise along with a growing economy it need not be negative for REITs.
IYR is more expensive than RWR. An investor could hold RWR plus a small position in another ETF such as REM. An investor who held 95 percent in RWR and 5 percent in REM would create a blended yield of 3.29 percent, higher than IYR's yield. The blended expense ratio would be 0.26 percent, still lower than IYR's 0.45 percent ratio.
Conclusion
IYR is a solid fund with a long track record. As a single fund, it's a good option for investors who want to cover the entire universe of the REIT structure. It is mostly a real estate fund, as RWR's 93 percent overlap in holdings attests, but it is not solely a real estate fund. Investors can use other ETFs to create similar exposure at a lower cost.
Disclosure: The author has no positions in any stocks mentioned, and no plans to initiate any positions within the next 72 hours.
The author wrote this article themselves, and it expresses their own opinions. The author is not receiving compensation for it (other than from Seeking Alpha). The author has no business relationship with any company whose stock is mentioned in this article.