When it comes to investing for income, there are few places better than the great country of Canada. This booming economy to the north has a plethora of viable companies that provide investors valuable income streams. Many of the larger companies trade on the American exchanges and have made great inroads into the portfolios of American investors. For example consider energy related names like Baytex Energy Corp (BTE), Enerplus (ERF), and Penn West (PWE) that are widely traded on the NYSE. All of these names are heavily involved in the oil and gas industries and provide a great source of dividends. BTE and PWE provide yields of around 4.3%, while ERF generates a 6.9% yield. Investments in these companies over the past 2 years have provided some healthy returns in dividends and meaningful capital appreciation. Take a look at each table below for a detailed view of each.
(Click to enlarge)
But wait; there are many other great unsung Canadian companies that are hidden to most income hungry U.S. investors. These are the companies that are not list on the main American exchanges and are only available on the pink sheets unless you trade on the foreign exchange itself. Since most people are timid when dealing with pink sheets and leery about foreign exchanges, these companies fall by the wayside. This is really a tragedy as so much potential virtually goes by unbeknownst to the average U.S. retail investor. To bring just a taste of what Canada has to offer, I have picked four conservative equities that should interest most any income investor.
Superior Plus (OTCPK:SUUIF): Superior Plus is a company that engages in the distribution and retail sale of propane, refined fuels, propane consuming equipment and related services in Canada and the United States. Current revenue numbers for both the energy services and chemical segments of the company have increases as a result of the improved economy and the effects of the recent cold winter. For the first quarter the company reported revenue of C$1,138 million as compared to the C$966 million for the same first quarter of last year. The company has a history of consistent dividend payments and currently makes a monthly dividend for a yield of 10.4%.
Medical Facilities (OTCPK:MFCSF): Medical Facilities owns controlling interests in four specialty surgical hospitals located in South Dakota and Oklahoma, as well as an ambulatory surgery center in California. The company has just announced that it has completed its conversion to a traditional common share structure effective as of May 31, 2011. For the first quarter of 2011 the company recorded revenue of C$51.7 million which was up from C$51.4 million in the first quarter of 2010. The company's distribution comes from Income Participating Securities which are comprised of one common share and Cdn$5.90 aggregate principal amount of 12.5% subordinated notes. Distributions are have been consistently made on a monthly basis and currently yield 9%.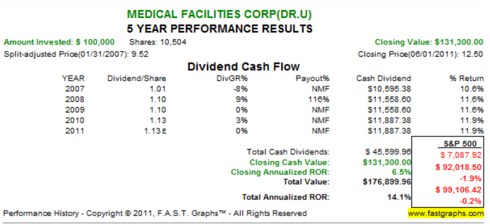 (Click to enlarge)
Pembina Pipeline Corp (OTC:PBNPF): Pembina transports crude oil and natural gas liquids produced in Western Canada. They also own and operate oil sands pipelines and have a growing presence in midstream and natural gas services sectors. When it comes to Pembina's financial status, they are doing quite well. Revenue, net of product purchases, for 2010 was C$519.9 million compared to C$497.4 million in 2009 and net operating income for 2010 was C$359.8 million compared to C$338.2 million in 2009. The company has made consistent dividend payments on a monthly basis which currently yields 6.7%.
Keyera (OTCPK:KEYUF): Keyera is a company that contracts with natural gas producers to gather their raw gas through our extensive network of over 3,400 kilometers of gas gathering pipelines for delivery to natural gas processing plants. Keyera Corp's first-quarter profit tripled, as the company gained from increased activity at its gas plants and a ramp-up of oil sands developments. First quarter earnings rose to C$84.7 million, or C$1.21 per basic share, from C$27.7 million, or 42 Canadian cents a share, a year ago. The company has a solid history of dividends and recently increased its monthly dividend by a cent. Its current yield is roughly 4.8%.
In conclusion, one can see that if you look to foreign markets you will find some great companies that provide nice income streams. Above is just a taste of some of the great Canadian companies that are available on the pink sheets if you cannot trade on the foreign exchanges. Of course much more research will need to be completed before you make that initial purchase. One final note, these dividends may be subject to a minimum 15% Canadian withholding tax that is withheld prior to any payments. This tax will have a negative effect on the yields mentioned above, but the final yield derived will still be very competitive within the markets.
Disclosure: I am long ERF, PWE.