Over the past couple of months, energy stocks have taken a beating as oil prices have declined. The selling pressure in this sector has been intense, especially in the small cap energy stocks. Many small cap stocks are down 20 to 50% in the past couple of months as investors dump shares and even see forced margin call selling as the shorts pile on. Because of the negative sentiment towards the energy sector, many new bargains have been created. This general downdraft in the energy sector has unfairly punished stocks that don't deserve it. There are a number of companies that have only a limited amount of exposure to recent oil volatility either because of strong hedges or because most of the production is based on natural gas. By taking a look at the charts below, it is easy to see that natural gas prices remain strong and have even been trending higher as cold Winter demand begins to kick in: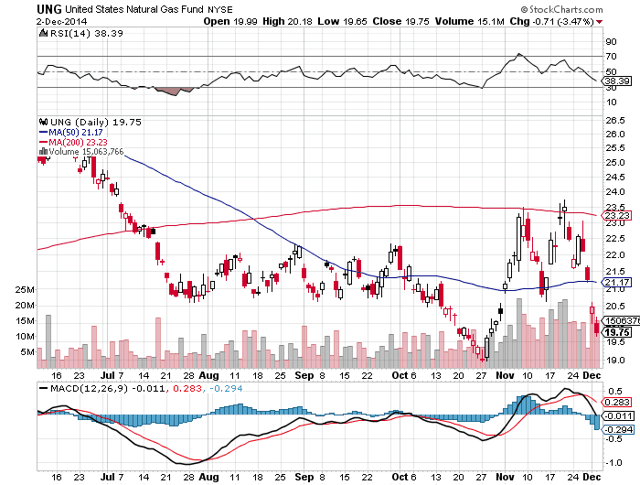 As the chart of the United States Natural Gas Fund (NYSEARCA:UNG) shows, natural gas prices have been relatively firm and could be poised to breakout above the 200-day moving average which is $23.34. By contrast, the United States Oil Fund (NYSEARCA:USO) has been trending lower as shown below: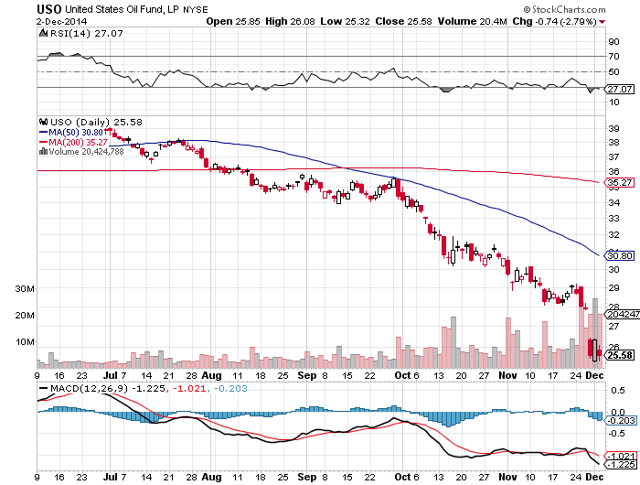 While many investors are fleeing this sector, I am accumulating a number of cheap stocks since I view this as a significant buying opportunity. Oil seems to be starting to stabilize and as noted above, natural gas is rising. Many investors are worried that oil will just keep going lower, but it would be wrong to extrapolate too much from the recent downtrend. Oil prices are just back to levels we saw in 2011, and investors who bought energy stocks back then did quite well over the next few years. Furthermore, there are a few factors that could cause oil to rise soon. This includes the fact that the past couple of months are seasonally a weak period for oil demand and now we are getting into a time that usually sees increased demand. Iran is coming up against a deadline on November 24th to come to an agreement over its nuclear program. With the Obama Administration continuing to look weak on foreign policy issues, and with Iran's track record, the chance of a deal coming together looks like a joke. The lack of a deal could increase the geopolitical risk premium in oil since concerns will grow over the possibility that Israel might eventually strike Iran's nuclear sites just as it did to Iraq many years ago. OPEC is scheduled to meet in Vienna on November 27, and if there is an agreement reached to cut production, this could cause a big move in oil. Even if oil prices drop a bit further, it is quite possible that energy stocks have already hit rock-bottom levels. Energy stocks that are highly hedged or have a significantly high level of exposure to natural gas could be poised to rally into year end as the cold weather season increases consumption. A number of analysts believe natural gas will hit $5 this Winter which would be a gain of about 20% from current levels. Some analysts and investors believe that natural gas is poised for a long-term "super cycle" as utilities increasingly shift from coal-fired plants to natural gas. These beaten down stocks could also be poised to rebound as tax loss selling fades in the last few weeks of the year which often sparks a "Santa Claus" or "January Effect" rally.
Investors looking to play this sector could consider Chesapeake Energy (NYSE:CHK) since it is a "go to" stock for many investors seeking significant natural gas exposure. Its shares have already started to rebound from the lows set in October. If natural gas continues to rise, this stock could be poised for a break out move above the 200-day moving average which is $25.16. This stock offers a yield of 1.5% and significant upside if it reaches analyst price targets of $27 (from UBS) and $30 (from Oppenheimer) which were set recently by those firms. Chesapeake Energy has been taking aggressive action to sell off non-core assets and use those proceeds to pay down debt. A $5.4 billion deal to sell Marcellus acreage should close this quarter which will increase Chesapeake's financial strength. Furthermore, it has been working to cut costs and increase operational efficiency which could continue to boost profits. Chesapeake Energy is well positioned to benefit from any natural gas "super cycle". I believe the recent move in Chesapeake shares can continue and also that this rebound could also be a sign that small cap natural gas stocks might soon follow. That is why I am accumulating shares of companies like Eagle Rock Energy Partners (NASDAQ:EROC) which trades for just under $3 and recently completed a $1.34 billion deal. This has transformed its balance sheet and allowed it to offer a payout that yields 9.3%. Eagle Rock's production is about 76% natural gas or gas liquids and only 24% oil. It also recently announced a $100 million share buyback which (based on the current market cap) represents enough money to buy about 20% of the outstanding shares. I recently wrote about Eagle Rock and the upside potential it has which you can read about in this article.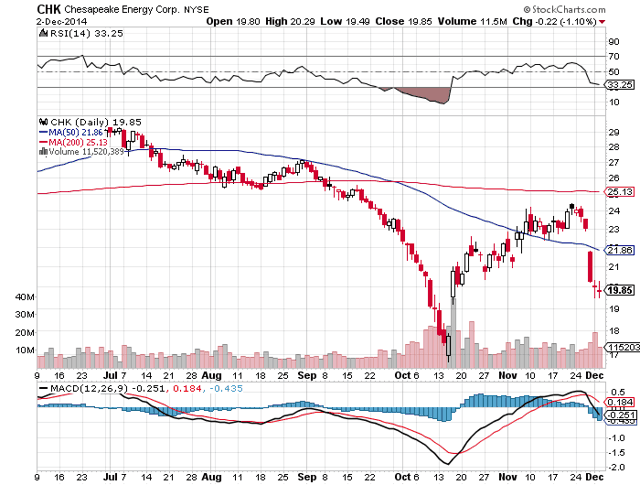 In the next couple weeks, I will be writing about beaten down stocks that could be poised for big gains as tax loss selling fades towards the end of the year. Many of these picks are likely to be oil stocks which I believe are poised to rally into January. Click on follow me above in order to hear about these stock picks soon.
Data is sourced from Yahoo Finance. No guarantees or representations
are made. Hawkinvest is not a registered investment advisor and does not provide specific investment advice. The information is for
informational purposes only. You should always consult a financial
advisor.
Disclosure: The author is long CHK, EROC.
The author wrote this article themselves, and it expresses their own opinions. The author is not receiving compensation for it (other than from Seeking Alpha). The author has no business relationship with any company whose stock is mentioned in this article.