Past and present, the natural gas industry has had a structural demand and supply problem not seen by other fossil fuel feed stocks. Coal and oil's supply and demand are fairly static and inelastic. Coal supply and demand does not vary much because it is used mainly for base load generation. Oil follows a similar trend for supply and demand and is used mainly as a transportation feedstock.
Natural gas has a structural mismatch; supply (production) is fairly static and does not change quickly, but demand is extremely cyclical and seasonal. In the winter, demand increases drastically with extreme cold weather, and in the summer demand surges due to extreme hot weather. On the cyclical side, when the US is in a recession, industrial demand can crash causing natural gas demand to decrease sharply regardless of season. In cyclical boom times, the demand for natural gas can increase also.
Energy policy makers, businesses, and entire industries need to budget and plan a minimum of 5 years into the future. Municipalities, utilities, and large energy consuming industries, need to have a degree of confidence what the price of energy will be in the future. The structural demand and supply mismatch makes this budgeting/forecasting process almost impossible, so making natural gas a difficult choice for a feedstock for many US based industries.
Recently the natural gas industry has been sharply increasing its use of horizontal fracking as a production technique. Horizontal fracking will help the issue of extreme cyclicality of natural gas demand. Since 2008 the US total marketed production has increased about 25%.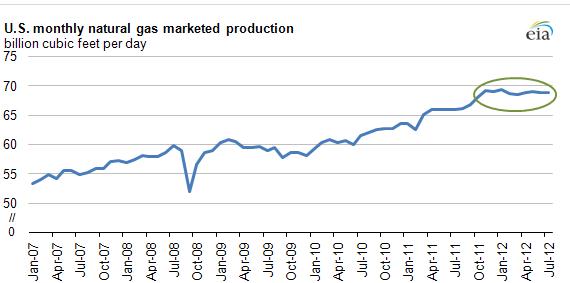 Figure - US Monthly Natural Gas Marketed Production (Billions of Cubic Feet Per Day) from the US Energy Information Administration
This significant steady increase in natural gas production has overwhelmed the demand for natural gas causing a sharp decline in natural gas prices:
Figure - Natural Gas Front Month Futures from Henry Hub - NYMEX
Looking at a longer term chart for prices of natural gas, the boom and bust nature in the natural gas industry is clearly illustrated: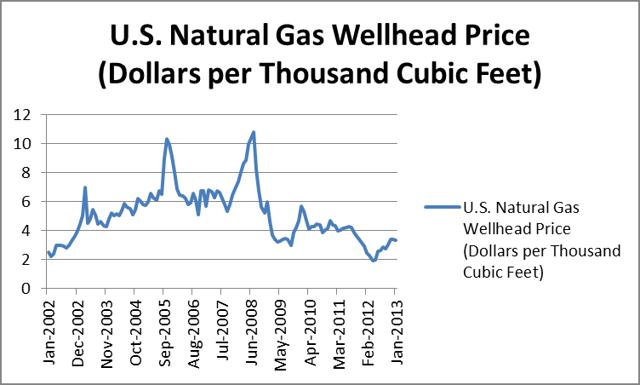 Figure U.S. Natural Gas Wellhead Price (Dollars per Thousand Cubic Feet) - Energy Information Administration
The 5 year period from 2004 to 2008 prices fluctuated between $6-12. This was very profitable to energy firms in the US. At these prices the main use for natural gas was as a peaking thermal feedstock (utility power plants), heating demand, and specific industrial uses. These sustained highly profitable prices spurred the use of fracking production in various formations in the US: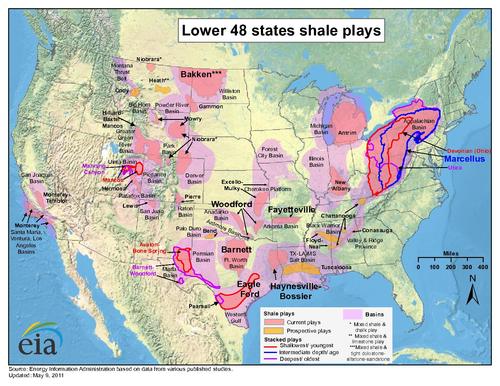 Figure Lower 48 Shale Plays from US Energy Information Administration
By the end of 2009 the shale gas boom started being delivered to markets. Natural gas production soared 25% soon after as the markets were flooded with supply. Prices adjusted and fell from above $6 to under $2 in just a few years.
This is a problem for energy policy makers, industrial companies and utilities. What will the price of natural gas be today, five years from now, 10 years from now? In just the past 5 years we have seen prices ranging from below $2 to above $10. The drastic increase in US production created natural gas storage levels of 30% above their 5 year storage averages. Since supply is inelastic and the lag times long, price action needs to be severe to have any change in production.
Figure Working Gas in Underground Storage Compared with the 5 Year Maximum and Minimum (Billion Cubic Feet) from US Energy Information Administration
The comparison of the US natural gas storage verses the past five year storage average is an important input in determining the current front month price for natural gas. Energy Solutions Partners has created a database of prices and storage levels vs. their associated 5 year averages and determined the price sensitivity index. This index will be an important variable in the natural gas pricing model.
Demand Responds to Low Natural Gas Prices
Industries in the US have seen cheap natural gas prices for the past 5 years, mainly between $2 and $5 a thousand cubic feet(NYSEMKT:MCF). For the majority of the ROW (rest of world), prices for natural gas are much higher. The discounted price of US NG in comparison to ROW has not been lost to many large international chemical firms such as Dow chemical's 4 billion expansions of its chemical operations in Southeast Texas.
Many other firms are locating large chemical plants in the US, due to the cheap price of natural gas in the US vs. ROW, and compared to the price of oil which has traditionally been used as the feedstock for these chemical plants. The typical conversion of prices for natural gas to oil has been 6 - that is you take the price of natural gas per MCF and multiply by 6 to get an equivalent price for a barrel of oil. At current (Dec. 2014) natural gas prices of around $4 a mcf, that would equate to $24 for a barrel of oil. Currently the price of oil is over 250% greater than NG on an energy equivalent basis.
The first part of my methodology was to estimate the amount of new natural gas demand from announced projects over the past 2 years. These multi-billion dollar projects will start coming on line this year, and continue for the next 5 - 6 years. These firms must be sure the US has a long term economical pricing structure for natural gas for the next 10-20 years.
I created a database of all these newly announced uses for natural gas. A majority of the new natural gas demand comes from large industrial plants (Chemicals: Propylene, ethylene, petrochemicals, polymers and building products), but also temporary and permanent coal to gas switching in the electric generation space. Over the next few years this coal to gas switching may have the largest effect.
Coal to NG power generation switching
We are seeing three main reasons for this. One is that natural gas can ramp up utilization to replace the more expensive coal. Secondly, natural gas generation will replace the retiring older coal plants. Thirdly, due to EPA regulation being enacted 2013-2017, we will see more coal to gas switching due to the levelized cost of energy (LCOE) increasing for coal.
According to Navigant1, about 51 GW will be retired 2011-2017, but 47GW will come from the eastern US, whereas only 4gw from the west (WECC):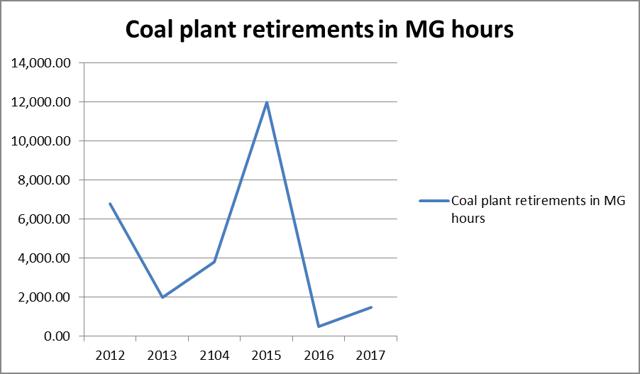 Most of these coal plant retirements will be in the eastern US for two reasons. First that's where the older coal power plants are. Secondly the mid-Atlantic, and south eastern states do not have easy access to the cheaper western coal (Powder River basin PRB), making the economics to switch to gas much more compelling.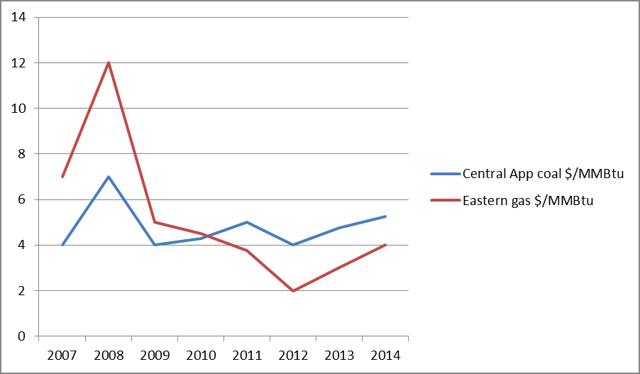 As we can see in the chart, eastern coal was much cheaper than gas before 2009. Now gas is much cheaper than coal. The main driver for these now lower eastern natural gas prices is the prolific Marcellus Shale formation in Pennsylvania. According to Zeits Energy Analytics, Two sweet spots - the dry gas area in Northeast Pennsylvania and the wet gas and dry gas area in Southeast Pennsylvania - have proven to be highly productive and solidly economic even in a depressed (sub-$3 /MMBtu) natural gas price environment.
In contrast the eastern coal mines have been mined for over 100 years and most of the easy to get and cheap coal is now gone. According the price of coal in the eastern US (where most of the US electric demand is), is now much higher the western coal prices: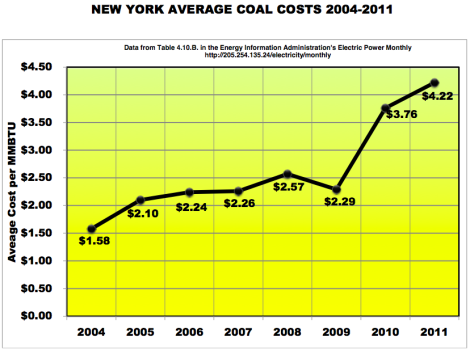 As we can see from the above data from the EIA, peak coal phase started in 2003-2004. Since then, coal prices have risen over 275%. This dynamic in coal mines , were western mines(mainly the PRB) still have some cheap coal, vs. the eastern mines where extraction costs are now becoming uncompetitive to eastern gas prices, is show in the projection of where the coal fired power plants will be retired.
New US natural gas demand drivers:
1) Diesel for transportation to NG
2) Heating oil to NG for home heating
3) Diesel used in Drilling and fracking replaced by NG:
4) Chemicals: Propylene, ethylene, petrochemicals, polymers and building products
5) Feedstock for Fuel cells
6) Natural gas used in Fertilizers
7) Direct conversion to Diesel
8) Natural gas used in: tires, carpet, antifreeze, lubricants, cloth, and many types of plastic
9) Direct feedstock for methanol
10) US industrial growth, cyclical demand(OTC:GDP), New residential, multi-family, and commercial building
11) Coal to gas switching
12) LNG exports
We may finally see a shift away from the unstable cyclical demand structure for natural gas. Since natural gas will mainly be taking market share away from coal or oil which demand parameters are stable, the demand parameters for natural gas will become more stable. This new paradigm will allow businesses, industries, and policy makers to feel more comfortable in planning long term uses for natural gas, without the worry of huge price shocks.
With these new non-weather demand drivers initiated 18 months ago, we are starting to see that demand will soon outstrip supply: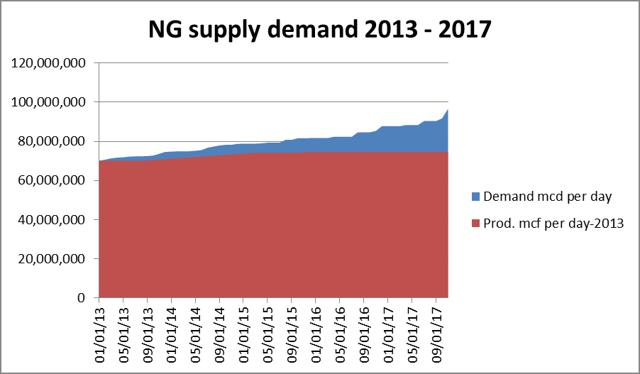 The natural gas supply estimates for 2013 are changing rapidly. The EIA and Bentek are predicting a 1.3% rise in production for 2013 vs 2012. More recent data shows that supply will be flat to down in 2013: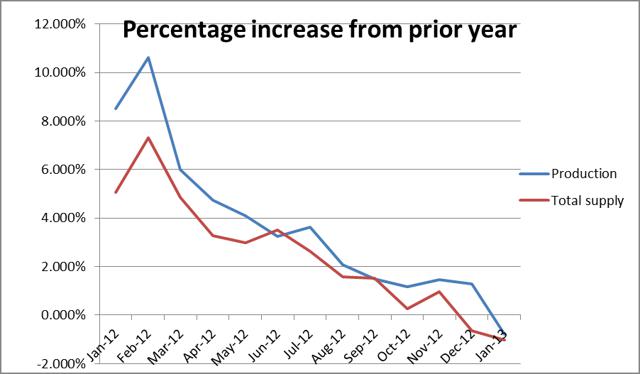 The natural gas pricing model 2013-2017
To be conservative I am using the EIA production estimates in the pricing model. As stated above my pricing model will estimate the actual storage levels in the future, based on future supply and demand. Both future supply and demand are influenced by the actual price of natural gas at different lag points in the past.
The actual price of future natural gas will be determined by future storage levels vs their respective lagged 5 year average. In January 2013 we are 12% above our 5 year average. This is the starting point. When actual storage is over the 5 year average it has an inverse effect on price. The opposite is also true, when actual storage is below where it should be, the price must jump up to spur more demand.
Ever month in the future will have a net change in supply and demand, which changes the actual storage level at that point in time. My model then calculates what the 5 year rolling average will be and does the comparisons.
future price curve out to 2017: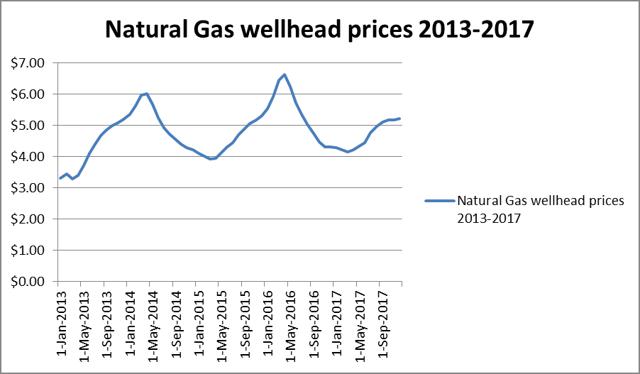 As one can see, we still have peaks and valley, but much less pronounced as in the past. The range is 4-6 mcf, which is close to the range most natural gas firms claim to be very profitable. Also this price keeps natural gas at the lowest LCOE of any other energy option. This is also the range the Navigant consulting see as sustainable2.
We can extrapolate beyond 2017, but we are starting to get into the unknown. As an example would be the politics, and economics of large scale LNG exports. This is a demand game changer for sure as these plants can process very large amounts (2-4 bcf/day) of natural gas per day.
Here is the list of possible LNG exports plants in the US:

After adding these plants to my database the 2013-2022 natural gas price curve looks like this: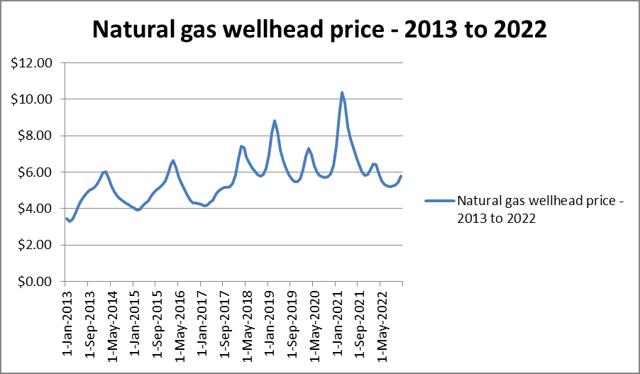 We can now see that the LNG export facilities shift the demand curve enough to see higher prices in the years 2017-2021. This new range appears to be $6-8 vs the prior year's range of $4-6. But as we can see even with this new surge in demand for natural gas, prices come back down again in 2022 - why? The reason is that production will ramp up again seeing these new higher prices, and cause prices to fall again.
Conclusions:
The large scale use of fracking for oil and gas production will fundamentally change the energy and industrial sectors. This change will enable the long term use of natural gas as a stable economical feedstock for many industries as it will displace oil and coal in the transportation, power generation, and chemical industries.
The new higher natural gas prices should benefit the natural gas industry as well as the solar industry as solar competes mainly with peaking power plants.
References:
Navigant consulting: Coal to gas switching - A Phenomenon
http://www.navigant.com/~/media/WWW/Site/Insights/Disputes%20Investigations/NG_Market_Notes_October_2012.ashx
Zeits Energy Analytics - Marcellus natural gas cost and economics.
https://seekingalpha.com/article/1074971-does-the-marcellus-success-condemn-natural-gas-prices
1
2 www.navigant.com/~/media/WWW/Site/Insights/Disputes/%20Investigations/NG_Market_Notes_October_2012.ashx
Disclosure: The author is long CHK, JASO, TSL.
The author wrote this article themselves, and it expresses their own opinions. The author is not receiving compensation for it (other than from Seeking Alpha). The author has no business relationship with any company whose stock is mentioned in this article.