Penn West (PWE) and Canadian Oil Sands (OTCQX:COSWF) are two of the largest producers in Western Canada, both turning out about 100,000 barrels of oil equivalent each day. The parallels are quite striking (Note the data is in Canadian dollars except where indicated).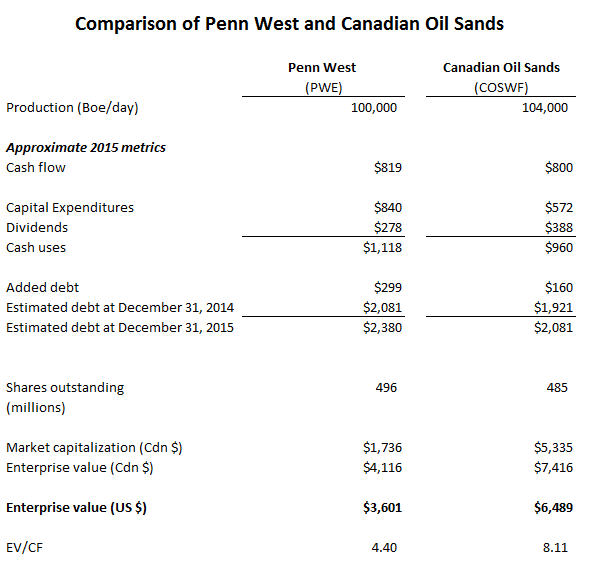 Source: Company filings
Canadian Oil Sands tumbled this morning when it cut its dividend to $0.80 per share from $1.40, a prudent move to keep the balance sheet from deteriorating while oil prices find their level in the wake of the current sharp decline.
Penn West has not yet cut its dividend but I expect it will. It certainly should.
Both companies have about $2 billion of debt. Both have large capital expenditure programs. Both pay dividends. Both are vulnerable to lower oil prices, although Penn West has a significant portion of its production in natural gas. Both have no material oil price hedges in place. Hedges may have been worthwhile a few months ago. Today, not so much.
Fear has certainly gripped the oil patch, demolishing share values for producers and drilling companies alike, much as I suggested the oil price outlook might do in an earlier article. I don't think we are at the bottom for oil just yet but I do think 2015 will see a return to stability.
The latest data show the rapid decline in oil prices in recent weeks has already led to a 40% drop in new drilling permits in the United States, with the number of new wells permitted falling by about 2,700. Fewer new wells means less oil coming on stream and a slowing in the growth of oil production.
The Energy Information Administration puts world supply in 2015 at 92.91 million barrels a day and world consumption at 92.5 million barrels a day, a "glut" of only 410,000 barrels a day.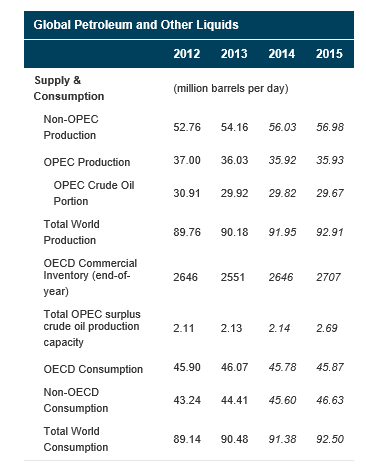 Source: EIA
The sharp decline in price is already hitting production plans. The average shale oil well in the Bakken produces about 85,000 barrels of oil in the first year and then experiences a decline rate of about 40%. Production of 85,000 barrels amounts to something like 230 barrels per day in the first year.
The 410,000 barrels per day world "glut" forecast by EIA is less than the first year production from 2,000 shale oil wells, compared to over 2,700 fewer wells permitted in the past month. Of course, not all of those wells are shale oil wells, but the point is pretty clear. The industry reacts quickly to lower prices. That reaction will result in lower production and with a high decline rate in the shale oil industry, feast will turn to famine quite quickly.
Penn West should follow Canadian Oil Sands and cut or eliminate its dividend right now. If it does, the stock will tumble further. That tumble could create a once in a decade buying opportunity for high-risk investors. The stock could easily fall below $2.00. With $2 billion of debt, there is always the risk of a liquidity issue and investors should consider that risk carefully. Eliminating the dividend does two things - it mitigates the financial risk and in parallel probably precipitates a lower share price.
I will watch this one carefully. If we see Penn West at $2.00 or less with no dividend, I will be front and center on the BUY side. Low oil prices have always cured low oil prices and I see no reason why this time should be any different.
I am long PWE. I sold my COSWF position at about $20 a share several weeks ago.
Disclosure: The author is long PWE.
The author wrote this article themselves, and it expresses their own opinions. The author is not receiving compensation for it (other than from Seeking Alpha). The author has no business relationship with any company whose stock is mentioned in this article.