Positive Top-Line RESTORE-CLI Data
On June 1, 2011, Aastrom Bio (ASTM) reported a glimpse of the final top-line results from the Phase 2b RESTORE-CLI trial. The RESTORE-CLI clinical trial assessed the safety and ability of ixmyelocel-T, Aastrom's expanded, bone marrow-derived cellular therapy, to restore damaged tissue in a lower extremity affected by critical limb ischemia (CLI). The results include the final analysis from all 86 randomized patients (72 of which completed 12 months) in the trial. The trial met its primary safety and efficacy endpoints, demonstrating a statistically significant improvement in the time to first occurrence of treatment failure (TTF) at 12 months. TTF is a composite endpoint that includes four components: major amputation of the treated leg, all-cause mortality, doubling of wound size from baseline, and de novo gangrene.
Management has not released the actual numbers or statistical significance. This is to preserve the data for presentation at a major medical meeting in the fourth quarter 2011 and publication in a peer-review journal. We understand that this may anger shareholders, but unfortunately this is becoming standard practice, especially in a potential blockbuster indication with a revolutionary new therapeutic platform like ixmyelocel-T. Management wants to enroll patients at the best academic and private centers around the country with the best key opinion leaders and clinical investigators available. Unfortunately, to get these talented people and top-notch centers, Aastrom needs to promise them recognition in the ability to publish and present the data. We expect to see the full data at the American Heart Association meeting in November 2011.
So What Did We See?
We remind investors that we have already seen about 90% of the data through two interim updates from this program, the first in February 2010 and the second in October 2010. Data from the second interim update was presented at the VEITHsymposium in November 2010 by the principal investigator, Dr. Richard Powell. This data included an analysis of all 72 patients that completed six months in the study and 62 patients that completed all 12 months. The final data will include only data from 10 additional patients in the final six months of the trial. If we look back at the primary endpoint from the 2nd interim update, we see the composite endpoint of TTF was highly statistically significant:
Individual components of the composite endpoint were also strongly in favor of ixmyelocel-T.
Conclusion: For the final results, on all 72 patients at 12 months, management noted that statistical significance increased between the ixmyelocel-T group and the control group, meaning we should see the final p-value of 0.0132 or better reported in November 2011. We think once investors final see this data they will finally feel comfortable with the outcome of the trial.
During the conference call, management noted that tissue loss (double size) and de novo gangrene are the two biggest predictors of future amputation. In fact, patients with increased tissue loss and gangrene are 5X more likely to experience a major amputation than patients with stable disease. It is clear to us that Aastrom (and the FDA) are looking at tissue loss as a key enrollment criteria for the phase 3 trial. The delicate balance for management will be finding patients that are clearly "no option" with confirmed tissue loss, but are not so far gone that amputation is a foregone conclusion. Aastrom must find "no option" patients that can be saved by ixmyelocel-T. This is the reason that the company will employ an independent steering committee of outside physicians who have direct experience with CLI programs to help oversee and monitor the phase 3 trial. Aastrom will also utilize a centralized review committee comprised of experienced vascular surgeons to monitor patients and set a standardized disease progression and amputation criteria.
Investors know the primary endpoint for the planned phase 3 REVIVE-NO trial will be amputation free survival at 12 months (AFS-12). This is a composite endpoint of major amputation and all-cause mortality. The phase 2b RESTORE trial was not powered for statistical significance on this endpoint. However, what management noted is that the outcome of the ixmyelocel-T group was consistent with what we saw after the 1st and 2nd interim update – represented by the black lines below. We expect the final AFS-12 numbers for ixmyelocel-T to come in around 75%. For the control group, management noted that the event rate (1 – AFS-12) was consistent with what has been reported in previous literature (~35%) and what was seen in Sanofi's (NYSE:SNY) phase 3 TAMARIS trial (~33%). This is consistent with what Aastrom saw in the 1st interim update represented by the dotted red line below.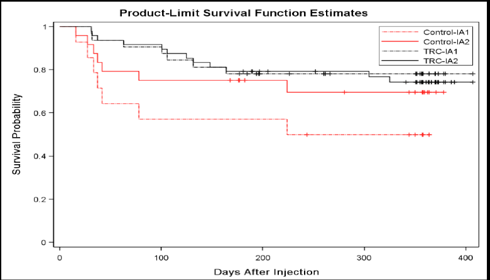 Based on what we have seen via the 2nd interim update, and management's guidance on the recent conference call, our estimates for the final data are as follows:

Conclusion: We do not know what the p-value for the final data will be. The trial was not powered for statistical significance on AFS-12, and with only 72 patients, the results will probably not be statistically significant. However, we remind investors that the phase 3 REVIVE trial will seek to treat 500 patients. If Aastrom can show this 10% difference between the treatment and control group in a 500+ patient trial, the numbers will absolutely be statistically significant. We note that Dr. William R. Hiatt, MD, Novartis Foundation endowed professor for cardiovascular research at the University of Colorado School of Medicine and president of CPC Clinical Research, who was the lead investigator in Sanofi's TAMARIS study, believes the results highly clinically meaningful.
As noted above, full final data from RESTORE-CLI will be presented at a medical meeting in the fourth quarter 2011, most likely at the American Heart Association meeting in November. We are expecting to see all the statistical analysis and number on each component of TTF and AFS-12 at that time, as well as subset analysis, including the differences between Rutherford 4 and 5 patients.
Although we are disappointed we do not get to see the final data until November 2011 at AHA, we are very pleased with the things management is saying regarding the final analysis. We are expecting Aastrom to announce it has reached a special protocol assessment (SPA) with the U.S. FDA for REVIVE "no option" phase 3 trial, within the next few weeks. The trial should start shortly thereafter. We remind investors that the U.S. FDA has granted ixmyelocel-T Fast Track development status for this program.
Phase 3 to Start
REVIVE-NO: This program will seek to treat 500 patients with severe CLI. These " no option" patients must have confirmed tissue loss and disease progression to qualify for enrollment. These will be primarily Rutherford 5 patients. We expect the primary endpoint of the program to be amputation-free survival at 12-months (AFS-12). Other endpoints will include major amputation, de novo gangrene, wound size, and all cause mortality. Management has taken a number of steps to improve the trial design compared to the phase 2b RESTORE trial.
Aastrom will employ an independent steering committee of outside physicians who have direct experience with CLI programs to help oversee and monitor the trial.

Aastrom will utilize a centralized review committee comprised of experienced vascular surgeons to monitor patients and set a standardized disease progression and amputation criteria.
Management has established rigorous entry criteria to help standardize the baseline characteristics of each "no option

" patient. This establishes a second layer of qualification beyond the treating physician.

To limit geographical variability and standard of care variability, the trial will be conducted at approximately 80 sites in only the U.S.
We expect this trial to begin enrollment around the middle of the year. We expect that Aastrom may need to screen as many as 700 patients in order to enroll (treat) the target 500 number. The trial should take 15 to 18 months to complete. Based on the outcome of the phase 2b RESTORE-CLI trial, we are feeling very confident in REVIVE-NO.
In late May 2011, Aastrom announced a collaborative agreement with CPC Clinical Research (CPC), a non-profit, academic research organization led by William Hiatt, M.D. CPC will provide services related to the execution of REVIVE. CPC will manage and oversee the activities of the Eligibility Review Committee, which will be responsible for identifying and confirming the eligibility of no-option and poor option patients for participation in the REVIVE clinical trials. They will also provide wound core laboratory services. In addition to his role as president of CPC, Dr. Hiatt is the Novartis Foundation endowed professor for cardiovascular research at the University of Colorado School of Medicine, Division of Cardiology, with a clinical focus in vascular medicine. He also serves on the editorial board of the Journal of Vascular Medicine, and has received many awards of excellence including the Julius H. Jacobson II, MD Physician Excellence Award from the Vascular Disease Foundation. Dr. Hiatt was a principle investigator in Sanofi's (SNY) Phase 3 TAMARIS study.
REVIVE-POOR: This program remains somewhat of a wildcard. We expect management will seek to treat 200 patients with moderate CLI. These "poor option" patients will have disease progression with a clear path toward amputation. These will be primarily Rutherford 4 patients. Conversations around the primary endpoint here are ongoing. We believe the FDA wants to see AFS-12 as the primary endpoint. Management is hoping to include revascularization or MALEFS (major adverse limb event free survival) as an endpoint. In the end, we expect Aastrom and the FDA to come to an agreement on a hybrid-AFS-12 endpoint that includes some aspects of revascularization or MALEFS for secondary analysis. We are not overly concerned about these negotiations. We fully expect a SPA by year end 2011.
In total, REVIVE will seek to treat (mITT) 700 patients total. That means the ITT number may be 100-150 patients higher. However, as long as the randomization between placebo and test group is in-place, it should have no effect on the statistical outcome.
Market Remains Wide Open
The total cost should be roughly $25 million, or $30-40k per patient. We note this is relatively inexpensive for a pivotal phase 3 program. The design and costs are more in-line with a medical device than a small molecule pharmaceutical. In late October 2010, Aastrom Bio signed a new strategic manufacturing partnership with ATEK Medical. ATEK will supply the disposable cassettes used during the cell therapy procedure. The relationship puts a more comprehensive and long-term supply agreement into place ahead of the phase 3 program. This should work to alleviate supply or logistic issues that could materialize during the program.
When to Partner
Aastrom will need cash to complete the entire REVIVE trial. This may come in the form of a dilutive offering later this year. Consider yourself warned. However, if Aastrom forms a development partnership, the risk of dilution is reduced. On the first quarter call, management noted being in discussion with several interested parties. Interest in the cell therapy and regenerative medicine area has been growing among larger specialty and pharmaceutical companies. We point to Cephalon's (NASDAQ:CEPH) $220 million investment for 20% ownership in Mesoblast and Shire's $750 million acquisition of privately-held Advanced BioHealing as two recent deals showing M&A in regenerative medicine is clearly heating up. Aastrom is looking for a partner with commercial development capabilities and market reach who can complement Aastrom's expertise in manufacturing and clinical development.
We fully expect Aastrom to initiate both Phase 3 trials in CLI alone. We are not expecting a partnership before both SPAs are in place. However, once these trials are underway, we believe the potential for Aastrom to partner ixmyelocel-T either in the U.S., outside the U.S., or both, is significant. We note that pharmaceutical companies seeking to partner with Aastrom can go under a "CDA" (confidential disclosure agreement) to view the full data analysis from RESTORE. We think the p2b RESTORE data is very attractive, and the changes and increased oversight that Aastrom plans to make for REVIVE only work to increase the likelihood of success.
Recommendation
We've first upgraded Aastrom Bio after the stock sold off hard following release of the 2nd interim update from the phase 2b RESTORE trial. At the time we believed the data was not representative of what the final outcome would be, and as it turns out we were right. The final data from RESTORE will look significantly better than the 2nd interim update that caused investors to flee the name. We think when investors see the final data presentation at the American Heart Association meeting in November 2011, the stock will soar.
In the meantime, there are a number of catalysts to continue to drive the shares higher, including the finalized SPA for REVIVE-NO, initiating enrollment in REVIVE-NO, final 12 month data from the DCM surgical study, interim 6 month data from the DCM catheter study, the finalized SPA on the REVIVE-POOR trial, and initiating the REVIVE-POOR trial should all still happen before the end of the year. That's a lot of catalysts; as a result, we think the stock moves higher. Our target is $6.
Disclosure: I have no positions in any stocks mentioned, and no plans to initiate any positions within the next 72 hours.