Barnes and Noble and Microsoft Cut Ties
On December 4, Barnes & Noble (NYSE: BKS) and Microsoft (NASDAQ:MSFT) ceased their business relationship collaboration on the Nook e-reader. Barnes & Noble stock, which has made gains this year due to optimism about decreasing losses, significantly declined after the news.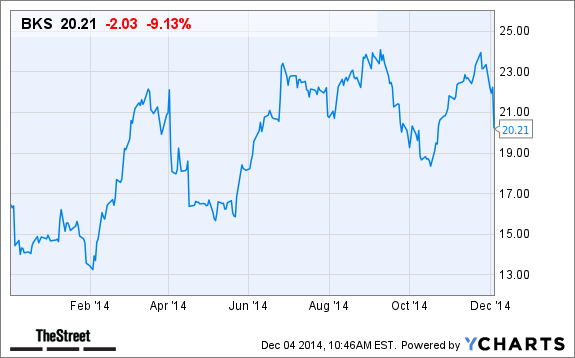 As Barnes & Noble faces collapsing sales and disappointing losses with the Nook, the firm also has separately decided to spin off the Nook brand by August 2015. Let's examine the reasoning behind both splits and the prospects for Barnes & Noble and the separate Nook entity.
Why the Splits Happened
Much excitement hyped up the Nook program when it was initially launched. The e-reader market was growing, and Barnes & Noble's new Nook posed legitimate competition to Amazon's (NASDAQ:AMZN) Kindle. But Barnes & Noble was unable to translate the hype into cold, hard cash, and the terms and goals of the deal were quite opaque to begin with. As Jared Newman of PCWorld puts it: "Microsoft and Barnes & Noble were always tight-lipped on what their joint venture-mysteriously known as 'NewCo'-would actually do…The partnership had ambiguous goals to begin with and has since become pointless, making amputation the only reasonable option." Without a solid business plan or much of a direction, the Nook program was almost doomed from the start.
With this in mind, now let's look at the other split between Barnes & Noble and its Nook segment. Barnes & Noble announced it would be spinning off the Nook business on the heels of the Microsoft news. According to the Barnes and Noble 2015 Q2 earnings press release, this move is proposed to give the company greater "operational and strategic flexibility." The spin-off is seemingly intended to help Barnes & Noble focus on its core business and be freed of pouring resources into a sector bleeding cash.
The Future for the Nook and Barnes & Noble
One time, when I stopped by a Barnes & Noble, I took a look at the Nook (rhyming unintended) and understood why the Nook has a limited reach. Although the hardware looked nice and ran the software smoothly, there was no reason for me to purchase the Nook e-reader to meet my reading needs. Consumers can get the benefits of a Nook and much more from purchasing a tablet made by Apple (NASDAQ:AAPL), Google (NASDAQ:GOOG) (NASDAQ:GOOGL) or Microsoft. While the Nook is much lower in price than a traditional tablet, a consumer gets much more flexibility and functionality with an iPad or Nexus. The Nook does not have much of a competitive advantage when compared to conventional tablets, and faces the specter of a rapidly shrinking e-reader market.
This can be seen in key statistics from Barnes & Noble's latest quarterly report as well as industry indicators. The Nook segment of Barnes & Noble saw year-over-year quarterly revenues decrease 41.3% from 2013 levels to $64 million. Device and accessories declined even more precipitously, dropping 63.7% from last year. If all of that wasn't bad enough, even Nook digital content sales dropped, decreasing 21.2% to $45.2 million. And e-reader sales numbers aren't helping, either. Forrester Research projects that 1.72 million e-readers will be sold in 2019, a free-fall of 65% from the 4.92 million expected to be sold this year.
For a long-term minded investor, the newly formed Nook business constitutes significant risk, with little potential upside. The New Nook company would have to create its own infrastructure to market its brand, as now the Nook won't be sold in Barnes & Noble's stores across the United States. Although Nook executives would be free to change their business model and operate on their own after the split, trends seem to indicate that the company faces significant challenges in the future.
Barnes and Noble is also an investment to stay away from at the moment. Although the split with Microsoft and the Nook spinoff are probably the best ways to cut losses, Barnes & Noble's core book business is struggling due to difficulties facing most brick-and-mortar retailers. Management's recent moves to increase store traffic, as described by MarketWatch, are commendable: "Barnes & Noble has also sought to inject excitement into its stores to combat the tepid store traffic that has plagued much of the retail industry. The retailer has gotten more creative with how it organizes its titles, added new displays and toys, and introduced big-ticket gifts like a $100 Crosley turntable ahead of the crucial holiday shopping season." But despite these efforts, Barnes & Noble continues to lose money and underperform in comparison to analyst expectations.
Conclusion
Barnes & Noble parting ways with both Microsoft and Nook is probably the best way forward for the companies involved. Both Barnes & Noble and Microsoft can cut their losses and refocus on more profitable areas, while the new Nook business can get a fresh start and make a go of it.
However, the prospectus for both Barnes & Noble and Nook are not favorable for either firm. I doubt Barnes & Noble will end up in a similar fate to bankrupt bookseller Borders. But unless Barnes & Noble and Nook undergo radical transformations and can successfully increase foot traffic and sales, I expect the aforementioned trends to continue.
Disclosure: The author has no positions in any stocks mentioned, and no plans to initiate any positions within the next 72 hours.
The author wrote this article themselves, and it expresses their own opinions. The author is not receiving compensation for it (other than from Seeking Alpha). The author has no business relationship with any company whose stock is mentioned in this article.