Ignoring Germany's Nuclear U-Turn
On Monday, Germany announced that it's going to shut all its nuclear power plants by 2022. What a difference a year makes. Because only a year ago, the country announced plans to extend the life of its nuclear power plants.
So what's up? According to German Chancellor Angela Merkel, "We want the electricity of the future to be safe, reliable and economically viable." And in her mind, nuclear power doesn't fit the bill anymore.
She's wrong. The truth is, nuclear power is safe, reliable, clean and cheap. And that's precisely why global nuclear capacity is going to keep increasing, by as much as 50% between now and 2020.
It's also the reason why the long-term investment thesis for uranium stocks remains compelling.
Don't Let Recent Events Mislead You
As humans, we have a tendency toward recency bias. In other words, we give recent events extra importance when making decisions. The recent radiation crisis in Japan is an example. I'm certainly not going to downplay the issue; the fallout from the earthquake and tsunami has been terrible and the loss of life is tragic.
However, believing that nuclear power is now suddenly unsafe is patently wrong. As the following chart shows, nuclear power is actually the safest form of energy production available. And if anything, the crisis at Japan's 40-year-old Fukushima Daiichi plant is only going to increase the safety precautions at existing and new nuclear power plants.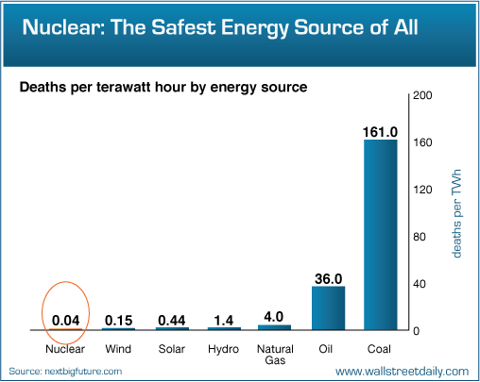 Not only is nuclear power safest, it also happens to be extremely clean. Nuclear power generation produces virtually no greenhouse gases. It's one of the most economical energy sources, too; it only costs about $0.04 per kilowatt hour (kWh) to produce electricity with nuclear power, compared to $0.08 per kWh for wind and more than $0.18 per kWh for solar.
Add it all up and Germany's knee-jerk decision to go nuclear-free makes no sense. Of course, Merkel believes that Germany could now serve as an example to other countries and be a global trailblazer for renewable energy. Please ignore such rubbish. That's not going to happen.
While Germany Pulls a U-Turn, Follow China, India and America

While Germany's nuclear decision made headlines this week, the positive future for nuclear power was underlined a few weeks ago when two of the fastest-growing global economies gave the industry a big shot in the arm. On May 12, China's Nuclear Energy Association announced plans to boost the country's nuclear power capacity as much as eight times by 2020. A day later, India's Atomic Energy Commission announced plans to increase production 13-fold by 2020.
And they're not alone. Although the United States didn't announce any specific growth plans, it's certainly not abandoning nuclear power production. In the aftermath of the Japan crisis, the U.S. Nuclear Regulatory Commission said it would scrutinize nuclear license renewals. But in April, the commission renewed the operating license for the largest nuclear power plant in the United States for another 20 years.
And as Jeff Eerkens, an adjunct professor at the University of Missouri's Nuclear Science and Energy Institute, estimates, the United States needs to quintuple its number of power plants to keep up with electricity demand.
Power Demand is Rising; We Need Nuclear to Meet It
In the end, don't pay any attention to Germany's latest announcement. Despite Merkel's ambitions, it's not about to usher in the end of nuclear power -- not when three of the world's largest economies, which are the clear policy setters, are doing the opposite.
Moreover, with global electricity consumption expected to surge by 75% to 35,300 terawatt-hours by 2035, we don't have much choice but to turn to nuclear to meet our power needs. It's one of the safest, cheapest, cleanest and most reliable options.
And as nuclear power production inevitably increases, so will demand for uranium. That bodes well for uranium miners like Paladin Energy (OTCQX:PALAF) and Cameco Corp. (CCJ) or a uranium holding company like Uranium Participation Corp. (OTCPK:URPTF).
This article was written by
Founder of Disruptive Tech Research – a technology research and advisory firm serving the investment management community. We provide registered investment professionals and qualified firms with independent, targeted research to support the generation of investment ideas. We focus on patent-filing activity to identify the most promising disruptive technology trends early. Then, we employ an original, bottom-up fundamental research approach to uncover micro- and small-cap ideas that are underfollowed, underappreciated and undervalued. Our mission is to provide clients with differentiated, actionable and thorough fundamental research at a cost effective price. We're 100% independent. That means absolutely no pay-to-play arrangements, no hidden agendas and no hype. Just solid research. And yes, we eat our own cooking.