When I first began self-managing my portfolio in 2012, the market was largely lukewarm at the time. Still recovering from the Great Recession, many stocks were still undervalued. Since then, the market has heated up and as a result, many stocks are overvalued and overbought. The current market conditions challenge those beginning or thinking about self-managing a dividend growth portfolio. Additionally, you may have several hurdles to get there.
When I first began I had to make several hard choices. The largest being rolling my 401(k) into a Traditional IRA and then into a Roth IRA. It took a lot of research and learning to arrive at this decision. Two main things influenced this move. The first being Seeking Alpha authors who taught me what dividend growth is, what it could be and how self-managing your portfolio is the best way to get there. The second being at the time I was in a position to be able to rollover my 401(k) as I was transitioning jobs. In addition, my father-in-law was educating me on the benefits of Roth IRAs. Nearing retirement, he saw benefits in them for himself and for me, though I'm not near retirement.
Reflecting on this move, I believe the larger my 401(k) had gotten, the more difficult this move would have been to make. Continuing with this scenario, had the market been overheated, I imagine it would have been increasingly difficult to part ways with my 401(k) and its mutual funds. At the time, I had little money invested compared to what I could have if I remained for many more years.
In this sense it may have made the decision easier for me to convert into a self-managed investor. Although potentially easier, it was still difficult because there is a comfort in mutual funds.
Although my situation is likely atypical, at some point in order to become self-managed, we must make hard choices. Whether newly retired, in the middle of your career or in a transition, you might decide mutual funds aren't for you and dividend growth investing is the better approach. If that's the case, you might want to become self-managed. This is because the art of dividend growth investing has yet to be found in mutual funds or ETFs. I believe personal due diligence is the best approach.
Since my portfolio is relatively is new, safety is a primary goal. This should be the case when we are building a dividend growth portfolio. This holds especially true for the new dividend growth investor, retirement years or not. From this perspective, my process of buying and selling stocks should be similar to folks who are retired, recently retired or are nearing retirement and have decided dividend growth is the better option for income.
Perhaps you have sold off your mutual funds and are now building your dividend growth portfolio. If not, before you do, develop a business plan. For help on this, Bob Wells provides an excellent framework here. Buying and selling decisions should be made on a solid foundation and based on a business plan. Everyone's personal and financial goals are different and as a result business plans will vary. The important part is to have one.
My mission statement is very simple: To sustain an income stream that is reliable, and accruing. An income stream as defined is steady income. Being risk-averse, I like the concept of something being steady. I added "reliable" because I want it to be sustainable and I added "accruing" because I want it to be increasing.
Next, I have several targets. I set an overall yield of 4%. I set a timeline with financial milestones. These milestones are achieved on a $500 monthly contribution, stock growth and dividends compounded at a target of 8.5%. My final milestone is $2,279,083.39, which would result in annual dividends of approximately $91,000. This would be a monthly income from dividends of approximately $7,583.33. I've begun with the end in mind because of my business plan.
If you are newly retired, you may already have a number and can begin earning monthly paychecks from dividends. Your number might not be in the millions but that doesn't mean you can't earn a substantial monthly paycheck from dividends. For example, if you are newly retired and have $500,000, a dividend growth portfolio with a yield of 4% would result in a monthly paycheck of approximately $1,666.
Returning back to that word "accruing." Even when I reach my final milestone, I still want it to sustain 8.5% compounded growth. As a result, I've decided to only invest in companies that have a proven track record of dividend growth. The best resource for this is Dave Fish's Dividend Champions, Contenders and Challengers found here. I set a minimum yield for buying at 2.5%.
Every month I download the dividend Champions spreadsheet and save a copy to a folder. This resource tracks additions, promotions and deletions among many other useful data points. Mainly, I use this to manage a separate watch list.
At first glance, the list is overwhelming but with parameters, we can find stocks that meet our specific goals. For this example, I'm going to look at the safest of the safe, the dividend Champions. These are stocks that have raised their dividends for 25+ years or more.
For December 2014, there are 49 stocks on the list that yield 2.5% or higher. I found this by dragging the column with yield and sorting it from largest to smallest within the excel spreadsheet. Next, I look at the "Chowder Rule" (Column BZ). This rule, named after its creator and Seeking Alpha author, is that the sum of the yield and the average 5-year DGR (dividend growth rate) should be equal to or greater than 12. Out of the 49 dividend champions, 7 meet this rule: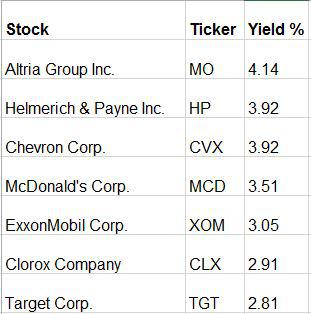 Now it's time to starting thinking valuation, which is one of my primary goals. I use S&P stock reports and Morningstar to identify valuation. After reviewing their valuations, none of these 7 are undervalued. Does this mean I now go to the Contender list and rinse, wash, repeat? Yes and no. It largely depends on your season of investing.
If you are looking for safety, I would recommend moving onto Contenders as valuation is one of the best margins of safety. However, you may feel you are at a place where you can substitute valuation for a secondary goal. I highly suggest your goals involve safety. For any stock I'm considering, I research financial strength, fundamentals, valuation and dividend trends. A few of my primary goals outside of valuation are no reduction in capital and building a portfolio of low-risk, financially strong companies. In my mission statement, the word "reliable" can only be made true if stocks are purchased on the basis of safety.
If you are at this point, you might be well on your way to developing a solid dividend growth portfolio. In the end we have to reconcile our goals with the reality of Mr. Market. However, if we have a solid business plan, we can first create and then sustain a dividend growth portfolio for years to come. The art of dividend growth lies in the business plan, due diligence, patience and willingness to learn.
Disclosure: The author is long CVX, XOM, TGT.
The author wrote this article themselves, and it expresses their own opinions. The author is not receiving compensation for it (other than from Seeking Alpha). The author has no business relationship with any company whose stock is mentioned in this article.
Additional disclosure: Although all figures are thought to be correct, no guarantee is expressed or implied.