Its been a tough quarter for oil and gas. Its been much tougher in the Bakken. There are several reasons, many shared by other unconventional plays and some that are not. The Bakken is known for its large resource. This resource has its costs. The wells are deep and the laterals are very long. Because of this, service can be difficult to get, and prices are climbing. All of the Bakken names have pulled back significantly, and some of the best names are on sale.
[Click all to enlarge]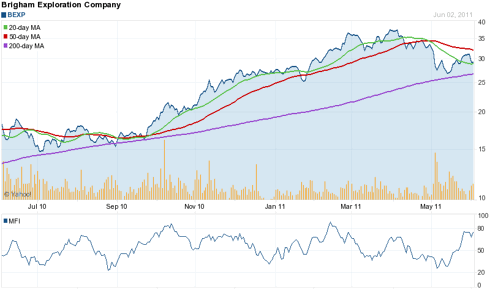 Brigham (BEXP) is a stock that I own. I believe Brigham has the best overall acreage in the Bakken. It sells for $29.37 per share, which is a large discount from $37.87 in early March. It has completed a total of 61 total North Dakota Bakken/Three Forks wells with an average 24 hour IP rate of 2880 Boe/d. Its Williston Basin drilling program is a de-risked 224,400 net acres. An $8.9 million current well cost and 600 Mboe EUR generates an estimated NPV per well of $9.9 million at the May 13 Nymex price. Brigham's average well has an IRR of 68% and undiscounted payback of 1.6 years. It recently announced an increase of rigs from seven to 12 by the first quarter of next year. Brigham recently stated its pressure-pumping costs are up 50% and 10% in drilling costs. It has two dedicated frac crews. The company believes it can compensate for increased costs through use of:
Pad Drilling
Zipper Fracs
Frac Sleeves (two different styles)
Brigham Pipeline
It recorded another record North Dakota Bakken/Three Forks IP rate of 5230 Boe/d, and a Montana record of 2962 Boe/d. Brigham announced that due to the difficult weather in North Dakota it had 14.8 net first quarter completions versus 16.4 net expected. Brigham beat earnings by 4 cents or 16% for the quarter. The quarter looked poor due to mark to market hedging losses of $36 million.
Brigham made a big move by increasing its 2011 capital expenditure program to $835.5 million. This was an increase from the previous estimate of $692.7 million. It also increased its total net acres in the Bakken to 378100. Brigham still looks expensive to some, but it is now trading for just 13 times forward earnings. It was upgraded by MKM Partners to buy on May 5. This. coupled with next year's estimated growth of 62.6%, makes Brigham very interesting. For more information check out an in-depth analysis from Steve Zachritz here. I recently wrote a detailed article here.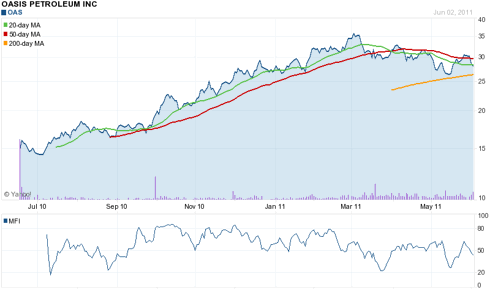 Oasis (NYSE:OAS) currently sells for $28.09 per share. This is well below its 52-week high of $36.15. It has 303,000 net acres in the Bakken. Oasis has seven rigs running in 2011. It has a 2011 drilling budget of $441 million. Oasis states its well costs are between $8.5 and $9 million. It has increased stages by 30% and Oasis believes this will increase EURs by 20 to 30%.
This company had significant trouble completing wells in the first quarter. Of the 18 gross planned wells, only eight were completed. Only 12% of the total estimated 2011 wells were completed in the first quarter, leaving Oasis with some catching up to do. It has 23 gross wells currently waiting on completion. Oasis expects its two frac crews to be busy now it's doing 36 stages as opposed to its standard 28. Oasis plans to add a third frac crew in the third quarter of this year, as it plans to work down its backlog.
The first quarter of 2011 earnings met estimates of 15 cents/share. On May 23, Oasis was upgraded by Tudor Pickering to accumulate and on the first of June was upgraded to overweight at Stephens. Oasis added 26,700 net acres in the fourth quarter of 2010 for $82 million. Oasis trades for 14.63 times forward earnings and has an estimated 111% growth for 2012. For a more detailed analysis of Oasis please read this article.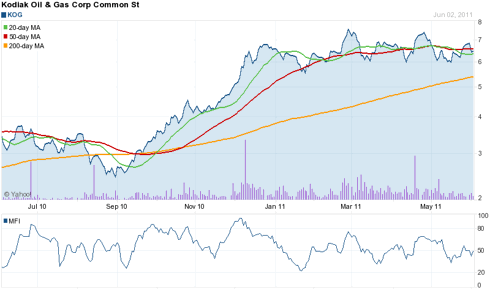 Kodiak (NYSE:KOG) sells for $6.30 per share and is a discount from its 52-week high of $7.70. It has 70,000 net acres in the Williston Basin. This was recently increased to 95,000 net acres after it bought leases for $85.5 million in McKenzie County. This purchase increased its operated rigs to five and one non-operated rig. Kodiak increased its capital expenditure program by approximately 15% to $230 million. It estimates well costs of $8 to $9 million and estimates EURs to be 750 to 850 MBO, which is higher then Brigham's estimate of 600 Boe.
A Kodiak long lateral with an estimated 850 MBO and $95 WTI/barrel and $8.8 million well cost will pay back in 17 months. It has six operated and two non-operated wells awaiting completion. Kodiak missed first quarter estimates by one cent. On June 1, Kodiak was upgraded to overweight by Stephens. Kodiak is the cheapest of this group, trading at 7.81 times forward earnings. Estimated growth for next year is 137.1%. For more on Kodiak, please read Kodiak Oil and Gas: Exponential Production Growth.
In summary, the Bakken names have been beaten up. This stands to reason as the entire sector has had problems. Many investors do not realize that the mark to market hedging losses are on paper only and may not end up costing these companies anything (or at least less then reported in first quarter earnings).
These are my favorite stocks in the Bakken and they should be on every investor's radar. There are several things happening in the Bakken/Three Forks that bode well. The first is the different technologies available to decrease time and money. Zipper fracs allow for more than one well to be fracked at once. Smart Pads allow for more wells to be drilled from the same location, which decreases time for mobilizing rigs. More mobile rigs are on order. Pipelines are also coming on line for water, gas and oil transport. This saves time and money in liquids hauling, plus allows for natural gas and LNGs to be sold creating additional value.
I believe these technologies will more than offset increased well service fees (pressure pumping has increased prices dramatically). More importantly, it is getting more difficult to gain access to these services due to backlog. All three have been active adding acreage and are increasing capex to get more wells producing. These companies have also been upgraded since posting earnings. Buy on pullbacks, as these names seem fairly valued.
Disclosure: I am long BEXP.