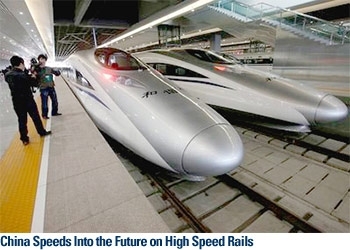 Frequent readers of my "Frank Talk" blog and the weekly Investor Alert should be familiar with the story of China's high speed rails. We've previously discussed how China is building the world's largest network of high speed rails at an incredible speed.
Since opening the first high speed line between Beijing and Tianjin in 2008, the country has laid down more than 4,600 miles of new tracks. This is three times more than Japan, where the bullet train was invented, and this is just the start. Once completed near the end of this decade, the high speed rail system will connect more than 250 Chinese cities, span 18,641 miles and reach roughly 700 million people.
Currently, the high speed rail network connects about one-third of China's cities. That figure is set to nearly double over the next two years. If current forecasts hold true, 100% of the China's cities will be connected through high speed rails by 2019.
Click to enlarge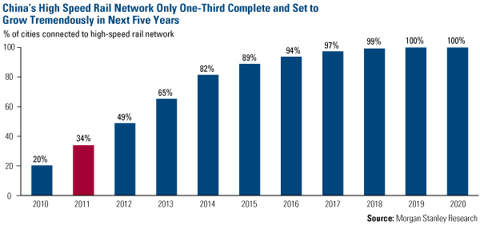 While linking megacities such as Beijing and Shanghai carries significance, connecting the urban East with rural areas of West and Central China is equally as important. This data from Morgan Stanley shows that the West and Central regions of China lag considerably in terms of GDP per capita, urbanization rate and property prices.
Click to enlarge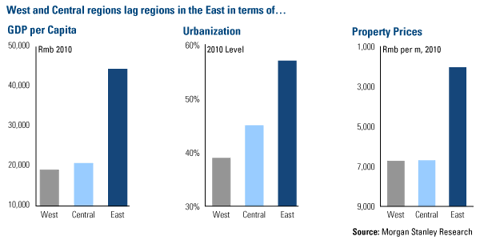 Many, including our investment team, believe that connecting these areas of the country could have a similar effect to what took place in the United States when Eisenhower's interstate highway system linked cities such as Chicago and Philadelphia with their counterparts on the West Coast including Seattle and San Francisco.
The effect this massive build-out can have on commodities is evident: thousands of miles of new track, hundreds of new stations and dozens of new trains will certainly boost demand for steel. But there's also a corollary effect that can expedite the transformation of China's economy. More people traveling across the country means there will need to be more places for them to eat, sleep and shop.
Take hotel rooms for example. Currently, the U.S. has just fewer than 5 million hotel rooms spread across the country; China has about half that amount. However, Morgan Stanley forecasts that the two are set to switch places near 2025 as China pushes to offer more than 9 million hotel rooms by 2039. Familiar names such as Wyndham (WYD), Starwood (HOT) and Hilton (NYSE:HLT) are planning major additions to their pipelines in China.
Click to enlarge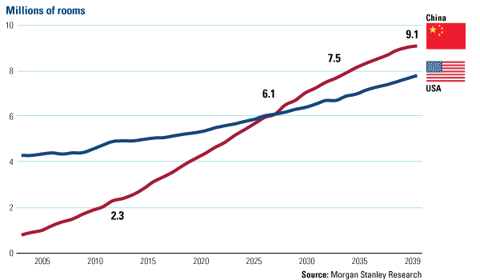 Morgan Stanley also says that the high speed rail expansion presents opportunities in areas such as consumer staples, car rentals and tourism. The latter is especially important because the average Chinese citizen is going to be able to explore culturally rich areas of the country that were previously too difficult or expensive to visit. A poll from CLSA's China Reality Research last year showed that travel remained a top aspiration.
Rail passenger traffic has a strong correlation with instant noodle consumption (79% positive correlation) and soft drink volume (86% correlation), according to Morgan Stanley. This means that chains such as McDonald's (NYSE:MCD) (1,300 stores in China) and KFC (4,000 stores in China), both of which are largely concentrated in the eastern third of the country, will likely follow the high speed tracks into Central and Western China.
These are all examples of how the dynamics of the Chinese consumer are forever changing. As investors, it's important to understand these intermarket relationships and how a development in one area of an economy can dramatically affect another seemingly unrelated area of the economy. Being able to spot these trends and developments before they bubble up to the surface is how active money managers can create alpha for their shareholders.
Alpha is a measure of performance on a risk-adjusted basis. Alpha takes the volatility (price risk) of a mutual fund and compares its risk-adjusted performance to a benchmark index. The excess return of the fund relative to the return of the benchmark index is a fund's alpha.
None of U.S. Global Investors Funds held any of the securities mentioned in this article as of 3/31/2011.
Disclosure: I have no positions in any stocks mentioned, and no plans to initiate any positions within the next 72 hours.