A few days ago I wrote an article, "Flight To Quality: 5 New Dividend REIT Challengers," in which I discussed 5 new REITs that will soon join the David Fish list of Dividend Challengers. As you recall, Fish's "CCC" list classifies publicly traded companies based upon their respective dividend growth history, based upon the following:
Champions: 25 or more straight years of high dividends

Contenders: 10-24 straight years of higher dividends

Challengers: 5-9 straight years of higher dividends
In my monthly newsletter, I include a REIT portfolio that I refer to as the 3-D portfolio - that stands for Disciplined and Durable Dividends. Many of the REITs included in the 3-D list are Dividend Contenders and Dividend Champions. At the end of each year, I always like to examine the performance of the portfolio to determine how it stacks up against the other REITs and broader indexes.
Numerous studies have shown that companies that raise dividends outperform those that don't pay dividends. Historically, the S&P Dividend Aristocrat Index has outperformed the S&P 500: Since inception in 1990, the Aristocrats have returned 901%, versus the S&P 500 which returned 469%.
Within David Fish's Dividend Contender list (10-24 straight years of higher dividends), there are currently 246 companies, of which 10 are Equity REITs. The list of REITs include the following:

Within the Dividend Champion list (25 or more straight years of high dividends), there are 105 companies, of which 4 are Equity REITs. The list of REITs includes the following:

It's important to note the differences between a champion, contender, and challenger. Obviously, the primary difference is the length of time that the company has increased dividends in consecutive years; however, as one reader/contributor (Mike Nadel) pointed out in my recent article:
... be cautious around new Challengers, as most of their dividend-growth policies have not been recession-tested... they are not companies that have proven they will grow their dividends through thin and thinner.
What the reader/contributor was referring to is the Great Recession. Since the challengers have a shorter (5-9 years) time frame for growing dividends, most of the companies did not experience the turmoil of one of the most difficult financial markets in history. So that means that the companies that are currently on the champion and contender list have been disciplined and committed to maintaining and increasing the dividend.
Focusing on Fundamentals
This year, I'm coaching my son's basketball team, and today was draft day. That means that all of the coaches got together to watch the kids practice, and during the tryouts, each coach took notes to assess the strengths of each player. After the drills, the coaches got together to draft the players.
Having played basketball in college, I was well prepared to judge the players, and my strategy was to focus on the kids with the best fundamentals. I was not looking for a showboat who could throw up 3's every time down the court. Instead, my mission was to build a team of players who know the fundamentals... That's also my mission in REIT-dom.
To put that in perspective, let's examine the group of players referred to as the Dividend Champions and the Dividend Contenders. As noted above, there are a total of 14 players (REITs), and here's how the have performed year-to-date (Note: I included AGNC, NLY, S&P 500, and the SNL REIT Index):

Now let's examine the portfolio (weighted average) of the 14-REIT team compared with the other benchmarks. As you can see, AGNC returned 33.44%, compared with the 14-player REIT portfolio that returned 32.46%.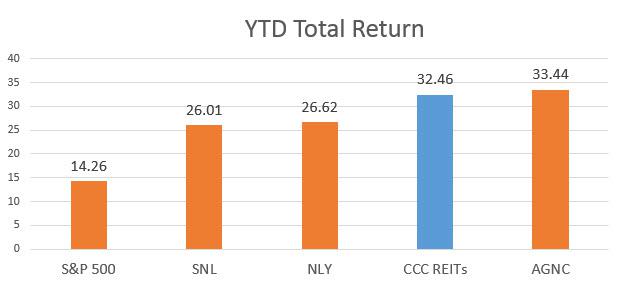 Now let's take a look at the 2-Year Total Return performance for the same companies. As you can see, the two Mortgage REITs got crushed, while just 3 REITs beat the S&P 500.

Now let's examine the portfolio (weighted average of the 14-REIT team compared with the other benchmarks). As you can see, the S&P did not get rattled by the taper tantrum last year, so that's why you see the best performance. However, the 14 stalwart REITs held up better than the peer group selected.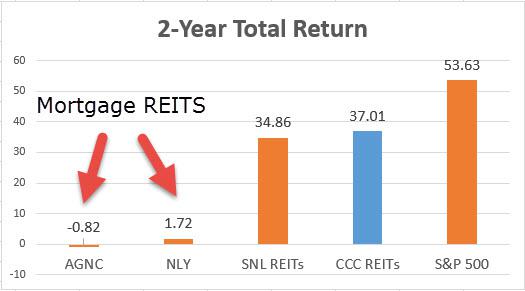 Now let's take a look at the 5-year Total Return performance. It's now much easier to see how steady and rising dividends impact shareholder performance. Clearly, NLY is the worst performer of the group (returning just 23.7% over 5 years), and a large majority of REITs beat the S&P 500 (just 3 fell below that mark).

You can see that the "Fab-14" (the group of champions and challengers) are scoring well. Here's the snapshot illustrating the 5-year Total Return performance: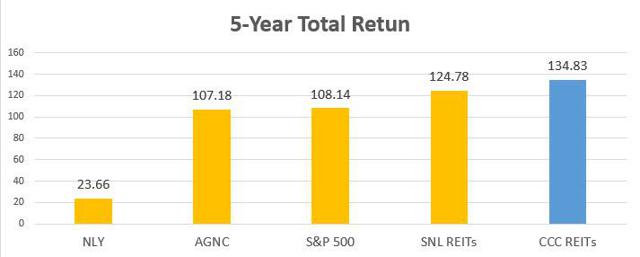 The next chart shows the power of the "buy and hold" concept. This is a snapshot for the same companies over a 10-year period. Notably, AGNC has held up well.

Now let's see who won the marathon. As noted above, AGNC performed exceptionally well compared with the peer group; however, the Fab-14 beat out all of the contestants, proving that dividend growth wins every time.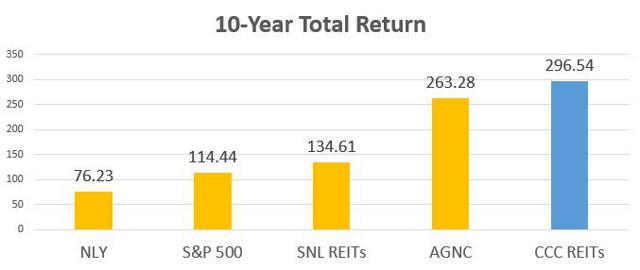 These REITs Are Built To Last
It's not just luck that these 14 REITs survived and kept paying and increasing dividends; the fact of the matter is that these REITs are all differentiated, because they have built their respective strategies around outstanding risk control.
During certain years these REITs grew their dividends by double digits, and in some years they squeezed out a fractional increase - just enough to make it to the next inning. Regardless, they all have demonstrated outstanding risk control, and deserve to be commended for their remarkable records.
Let's take a look at the most recent dividend growth:

One of the dividend safety key metrics that I look for is the company's payout ratio. That metric is a key financial tool used to determine the sustainability of the company's dividend payments. A low payout ratio is generally preferable, and a payout ratio at 100% or higher tells me that the company is paying out more dividends than profits. None of the "Fab-14" REITs are in danger:

Now let's examine the dividend yield for these respective REITs:

Finally, let's examine one of the most important metrics, and one that indicates the value of the specific REIT. In the REIT sector, it's important not to use P/E multiples, but instead to use price-to-FFO or price-to-AFFO. In addition, these multiples vary within specific REIT sub-sectors, so it's important to examine them based upon peer group values.
Remember, when evaluating REITs, you will get a clearer picture by looking at Funds from Operations (or FFO) rather than by looking at net income. Now, here are the P/FFO multiples for the "Fab-14" players:

All I Want For The Holidays Are 10 Good REITs
In closing, I did not want to end this article without providing you with some REITs to consider, so I have provided you with FREE access to a Forbes special report. There's no obligation, and all you need to receive a copy of the report is to click: All I Want For The Holidays Are 10 Good REITs.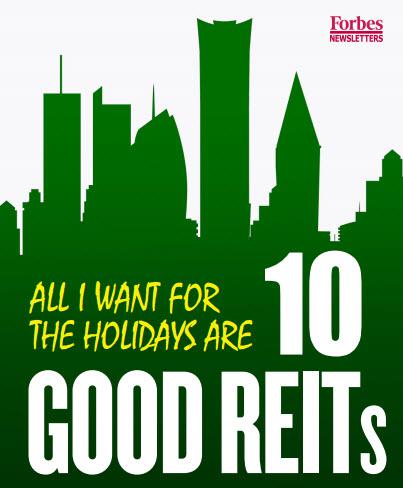 Happy Holidays!
Research: I have written articles on many of the REITs mentioned above, and you can find these articles by clicking on the REITs mentioned: Federal Realty (NYSE:FRT), HCP, Inc. (NYSE:HCP), National Retail Properties (NYSE:NNN), Digital Realty (NYSE:DLR), Omega Healthcare Investors (NYSE:OHI), Realty Income (NYSE:O), Tanger Factory Outlets (NYSE:SKT), and W.P. Carey (NYSE:WPC).
Other REITs mentioned: Universal Health Realty Income Trust (NYSE:UHT), Equity Lifestyle Properties (NYSE:ELS),Essex Property Trust (NYSE:ESS), Health Care REIT (NYSE:HCN), National Health Investors (NYSE:NHI), Urstadt Biddle Properties Inc. (NYSE:UBA), Annally Capital (NYSE:NLY), and American Capital Agency (NASDAQ:AGNC).
Disclaimer: This article is intended to provide information to interested parties. As I have no knowledge of individual investor circumstances, goals, and/or portfolio concentration or diversification, readers are expected to complete their own due diligence before purchasing any stocks mentioned or recommended.
Disclosure: The author is long O, DLR, VTR, HTA, STAG, CSG, GPT, ROIC, HCN, OHI, LXP, KIM, WPC, DOC, UDF, EXR, MYCC, BX, TCO.
The author wrote this article themselves, and it expresses their own opinions. The author is not receiving compensation for it (other than from Seeking Alpha). The author has no business relationship with any company whose stock is mentioned in this article.