High-Probability, Mean-Reversion Options Strategy Update
The month of June started with a bang for the bears. The S&P 500 (NYSEARCA:SPY) lost more than 2.3% since Tuesday's close and many options traders I know believe the market will experience a "June Swoon" to start the summer.
Of course, most of you already know the High-Probability, Mean-Reversion options strategy doesn't really care where the underlying market goes, the options strategy only cares about short-term extremes in the underlying market (S&P 500, Dow, Russell 2000, Nasdaq 100, etc.). In the highly-active world of options trading waiting for an extreme takes great patience. Discipline is of the utmost importance.
Anyone can place a directional play and do well for a time, but inevitably the trade and hope approach fails miserably. Disciplined options traders succeed. They know that less is more. Active options traders fail. They become addicted to trading and take unnecessary risks with their capital. Believe me, in my early years of trading I suffered from the same addiction.
But I quickly realized that if I truly wanted success, I would need a disciplined approach, an approach founded on simple, yet sound indicators.
I found a few indicators that suited my trading style and fit a few options strategies around them.
So far, I have only used naked calls and naked puts in my options strategy. But now, I think it is finally time I expand and offer a second options strategy. Because I have limited space within the blog, I will discuss my new options strategy in the Weekly Options Report.
You can see all of the performance results for the High-Probability, Mean-Reversion strategy here.
Daily Options Links of Interest
Summary
Not much has changed over the past few weeks - range-bound trading persists. I appears we could see the markets move sideways for a few more months. Are the summer doldrums already upon us? How long can SPY stay in this range of roughly $126 to $137? The question is, while I continue trading extremes in the HPMR strategy, how can I take advantage of the range bound movement at the same time. You guessed it – a credit spread. I will discuss this further in Weekly Options Report.
Click to enlarge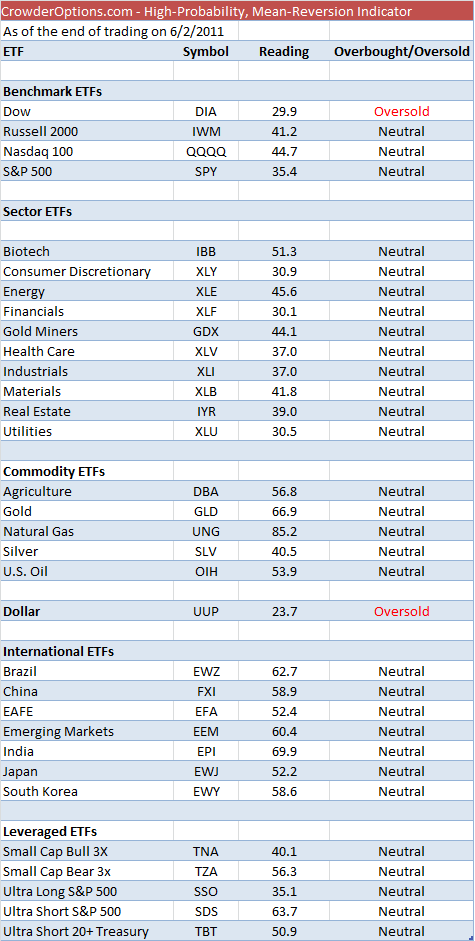 Disclosure: I have no positions in any stocks mentioned, and no plans to initiate any positions within the next 72 hours.