The British pound remains at yearly lows as reduced government expenditure, low wage pressure, and stabilizing economic growth leave investors waiting for tangible results. CurrencyShares British Pound Sterling Trust (NYSEARCA:FXB) declined over 8% since July as policy and economic uncertainty have pushed investors out of the currency.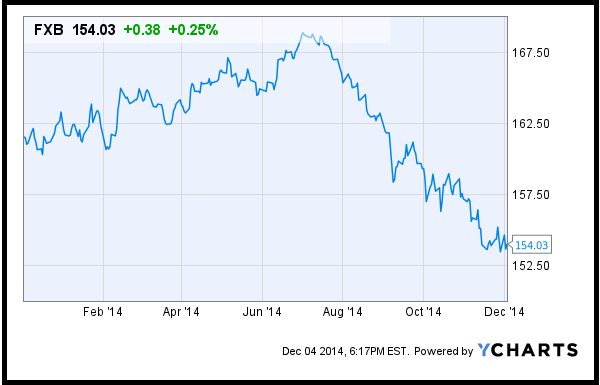 While British policymakers have reduced government spending in recent years to create a more balanced budget, investors are still awaiting a budget surplus. U.K. government spending as a percentage of GDP has fallen from 50.8% in 2010, to 46.9% in 2014, closing in on pre-financial crisis levels, as is seen in the chart below. On Wednesday, British finance minister George Osborne said that although the U.K would miss short-term budget deficit targets, the overall trajectory of his policy was set to produce surplus in the 2018/19 financial year.
"Britain's independent budget office said Osborne's plans would take public spending as a share of the economy to its lowest level in 80 years. 'Out of the red and into the black for the first time in a generation -- a country that inspires confidence around the world because it seeks to live within its means,' Osborne told parliament," according to a report by Reuters.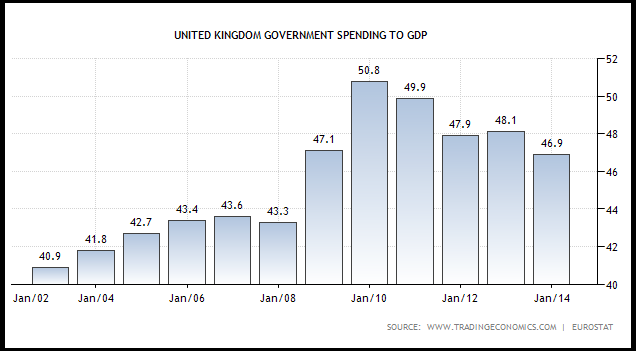 Data provided by Trading Economics
Meanwhile, government statisticians also stated that while weekly wages remain low, the figure will pick up in coming years.
"The Office for Budget Responsibility said 'meaningful' wage growth above inflation would resume in 2015 but would not return to pre-crisis levels in the next five years, contributing to much lower growth in tax revenues," according to Reuters.
While this is optimistic, wage growth has trended lower for the last four years, and will need to drastically reverse course before "meaningful" wage growth occurs. In 2007, wage growth averaged an annual pace above 4%, then falling to negative levels during the global financial crisis, as is seen in the chart below. After an initial recovery, wage growth has been stuck between 1-2% annually. This has weighed on consumer spending, and ultimately economic growth.

Data provided by the Office for National Statistics
Economic growth in the U.K is at a respectable 3.0% annual pace, but could be significantly more when wages begin to expand. In the third quarter, U.K economic growth increased at a 3.0% annual pace, below the previous quarter's pace of 3.2%, and in line with estimates for 3%. Since 2010, economic growth in the region has fluctuated between 0-3%.
Although U.K. policymakers look to have a better handle on their economy than many in the developed world, more can done. Cutting government spending is balancing the budget, but a surplus is yet to be achieved. Similarly, the economy is expanding, but the annual pace of wage growth is declining. When the U.K can finally get all cylinders of its economy growing together, the pound will advance significantly higher, until then, however, policymakers have more to figure out.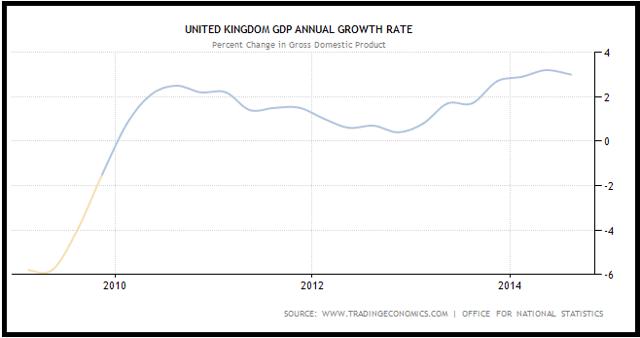 Data provided by Trading Economics
Disclosure: The author has no positions in any stocks mentioned, and no plans to initiate any positions within the next 72 hours.
The author wrote this article themselves, and it expresses their own opinions. The author is not receiving compensation for it (other than from Seeking Alpha). The author has no business relationship with any company whose stock is mentioned in this article.