The aftermarket retail industry is growing at a good pace in the U.S. despite an increase in new vehicle sales. As a result, aftermarket retailers such as AutoZone (NYSE:AZO), Advance Auto Parts (NYSE:AAP), and O'Reilly Automotive (NASDAQ:ORLY) have appreciated impressively as seen below.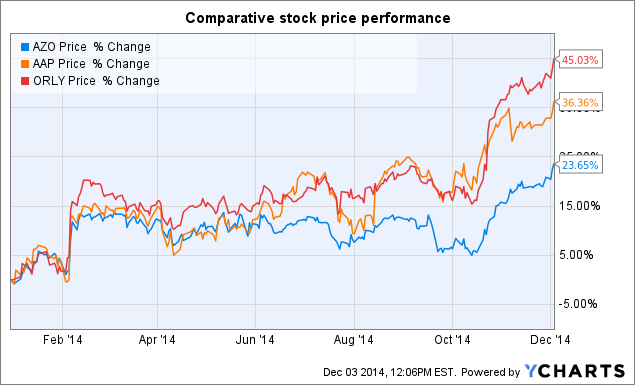 But, AutoZone has lagged the other two by some distance as the chart above shows. The company is seeing certain headwinds in the business, which is why its latest quarterly results were mixed. The company missed revenue estimates and blamed improving economic conditions for its weak performance. According to AutoZone, consumers are opting for new cars rather than repairing their old ones. As a result, it is seeing weakness in demand for its products and services.
Looking beyond the short-term weakness
However, in my opinion, this weakness is short-term in nature due to a few simple reasons. First, the average age of cars on U.S. roads is at an all-time high of 11.4 years, according to IHS Automotive. While consumers might be buying new cars and selling their old ones, the pre-owned car market is also strong. According to AutoZone management, "We have seen those traded in vehicles to be resold to new owners who are repairing or enhancing their new vehicles." Hence, consumers who buy pre-owned cars are refurbishing their rides, and this will be a catalyst for AutoZone in the future.
Additionally, strength in sales of new cars will be beneficial for the company in the long run. As the age of new cars increases, AutoZone will see an increase in its addressable market. Since new car sales are now tracking close to pre-recession levels in the U.S., the long-term opportunity remains intact for aftermarket retailers. Hence, AZO needs to focus on growing its store network, as it is lagging behind Advance Auto in this area.
A better store network and assortments will help it achieve stronger growth
As a result, AutoZone is aggressively increasing its store base. So far this year, the company has opened 148 new stores, and it is diversifying outside the U.S. as well. According to the company, 8% of its stores are outside the U.S., and it believes that this will play a strategic role in adding to its top line in the coming months.
As a part of its expansion strategy, AutoZone is going to acquire Interamerican Motor Corporation (IMC), which specializes in parts of European and Asian vehicles in the U.S. In fact, Interamerican is "the second largest distributor of OE quality import replacement parts in the United States." Currently, IMC has 17 branches, and AZO intends to expand its base going forward.
Apart from store expansion, AutoZone is also expanding its product assortments. As a result, its ALLDATA division has added several new products to its portfolio while expanding in Europe at the same time. In addition, to strengthen its sales, AutoZone is introducing a new concept called "Why every customer everywhere." The company has been analyzing its customers' shopping patterns across all its platforms for some time.
On the basis of this analysis, it will make the necessary changes in its system to meet customer requirements. Also, AutoZone will now be able to market the right products to the right customers, which will make its marketing strategy more effective in generating sales.
Focus on improving efficiency
Moreover, the company is undertaking efforts to lower its distribution costs. As such, it has opened five new warehouses at different locations that will bring its inventory in local markets closer to its customers. Hence, the company will have to spend less on distribution, which will in turn improve its earnings performance in the future. Also, AutoZone is refining its product assortments with the addition of new products to its shelves while removing unproductive ones at the same time. This strategy will also help it keep inventory costs down.
Conclusion
AutoZone might not have performed as well as its peers in the aftermarket retail industry, but the stock is the cheapest of the lot. It has a trailing P/E ratio of 18 while Advance Auto has a trailing P/E ratio of 23.6 and O'Reilly has a ratio of 26. Thus, given its cheap valuation, AZO has done well on the stock market. Additionally, the company is expected to deliver strong earnings growth in the next five years, clocking an annual rate of 13.2%. Hence, AutoZone looks like a good option to benefit from the aftermarket retail industry's growth.
Disclosure: The author has no positions in any stocks mentioned, and no plans to initiate any positions within the next 72 hours.
The author wrote this article themselves, and it expresses their own opinions. The author is not receiving compensation for it (other than from Seeking Alpha). The author has no business relationship with any company whose stock is mentioned in this article.