Louisiana-Pacific (NYSE:LPX) announced earnings in early November, and once again they missed the Zacks Consensus Earnings Estimate. This is the fourth out of the last five quarters that Louisiana-Pacific has missed the earnings consensus, with the one stand alone only meeting expectations in Q1 2014. The Revenue side has not been much better with the company missing the Zacks Consensus Revenue Estimate 2 out of the last five quarters with the beats coming in just above expectations.
Louisiana-Pacific, which currently carries a Zacks Rank #5 (Strong Sell), manufacturers building materials and engineered wood products in the United States, Canada, Chile, and Brazil. The company's products are used by homebuilders and light commercial builders. Their products include, oriented strand board sheathing, flooring, radiant barrier panels, siding and trim, I-joists, laminated veneer lumber, laminated strand lumber, and interior decorative molding.
Missing Estimates
For Q3 2014 Louisiana-Pacific missed the Zacks Consensus Earnings Estimate by -$0.08, or -200%, while the company did barely beat the Zacks Consensus Revenue Estimate by 0.57%. The earnings miss was a continuation of their pattern of missing estimates with Q2 missing by -50%, and Q4 13 missing by -200%.
The major obstacle facing Louisiana-Pacific is the Oriented Strand Board segment (NYSE:OSB). Specifically that the pricing environment is negatively impacting the top line. According to CEO Curt Stevens, "LP's financial results continue to be negatively affected by poor OSB pricing. We have seen higher demand for most of our products but less than anticipated due to anemic housing recovery." The reductions in OSB pricing accounted for a $44 million decrease in both operating results and adjusted EBITDA from continuing operations, according to the company. The OSB segment reported an operating loss of $16 million verse to income of $30 million in the year ago quarter.
Guidance
The Q3 earnings numbers caused significant negative changes in the Zacks Consensus Earnings Estimates for Q4 14, FY 14, Q1 15, and FY 15 over the past 30 days. Q4 14 dropped from -$0.04 to -$0.12, FY 14 decreased from -$0.17 to -$0.30, Q1 15 fell from $0.02 to -$0.09, and FY 15 dropped from $0.58 to $0.32.
As you can see from the Price and Consensus chart below, expectations for Louisiana-Pacific have been falling for the past many months. The negative sediment for growth is very discouraging.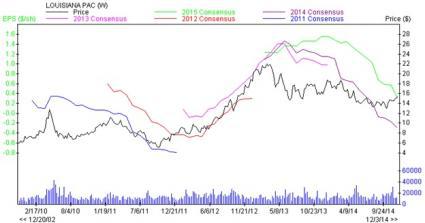 Rough Road Ahead
While the OSB issue is disconcerting, one would be equally nervous regarding the continuation of declining lumber prices, and the fact that lumber futures have been falling as well. Further management stated that they were very cautious regarding 2015 U.S. housing start-ups, estimating 100,000 units below the current consensus of 1.2 million starts. Meaning less houses, and less revenue from wood prices.
Bottom Line
Sliding wood prices, declining housing startup estimates, and poorer sales in their major OSB segment spells uncertainty and makes Louisiana-Pacific our Zacks Bear of the Day.
Other Stocks to Consider
If you are inclined to invest in the Building Product-Wood segment, you may want to consider Boise Cascade (NYSE:BCC), which carries a Zacks Rank #1 (Strong Buy), Potlatch Corp (NASDAQ:PCH), which carries a Zacks Rank #3 (Hold), or Rayonier Inc (NYSE:RYN), which carries a Zacks Rank #3 (Hold).
LOUISIANA PAC (LPX): Free Stock Analysis Report (email registration required)