Today is the annual meeting for Prospect Capital (NASDAQ:PSEC), where shareholders will be voting on a proposal to issue shares below book value. I believe there is high likelihood of this proposal passing as it has over the last four years with over 70% approval. This article discusses some of the potential impacts to shareholders if the company issues shares near the current price.
Potential NAV Dilution
The following table shows the impact to the net asset value ("NAV") per share if the company issues 45 million shares at an average price of $9.00.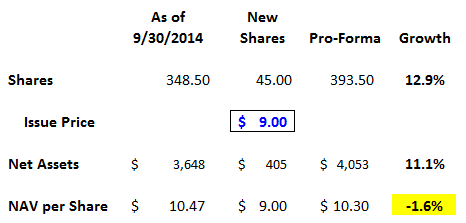 Potential Dividend Coverage
As discussed in "Prospect Capital And Required Returns," PSEC has had a weighted average yield on new originations between 9% and 10% but closer to 9% after taking into account some of the larger new loans for Pacific World, PrimeSport, Trinity, National Property, Onyx and UPRC between 6% and 8%. In my opinion, this is a good sign that PSEC is originating loans with similar or higher quality than the ones being repaid. This opinion was confirmed by the company in the following recent statement:
"Our annualized current yield was 12.1% and 11.9% as of June 30, 2014 and September 30, 2014, respectively, across all performing interest bearing investments. The decrease in our current yield is primarily the result of originations at lower rates than our average existing portfolio yield. With the market experiencing some yield compression over the past year, we have elected to accept some yield compression instead of chasing yield by accepting riskier credits."
The following table is similar to the one used in my previous "PSEC Articles" showing dividend coverage potential for new shares issued. However, I have reduced the interest expense to 4.25% that is in line with rates on recently issued debt and I have not included any additional G & A related to growing the portfolio. I have used various yields on new investments ranging from 10% to 14% to show the impacts to dividend coverage.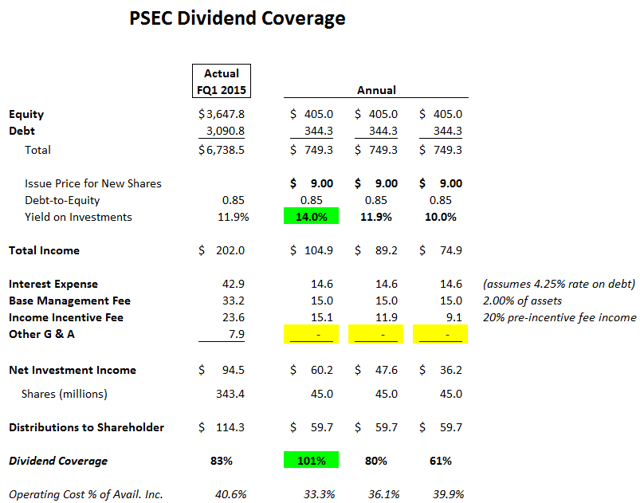 Declining NAV From Lack of Dividend Coverage
As discussed in "PSEC: What Comes Next? Part 3," there are three primary drivers to changes in NAV per share:
NII coverage of dividends
Changes in the value of portfolio investments
New shares issued at a premium/discount to book value
The following tables were provided in the latest press releases regarding the changes to NAV per share.
Corporate Rating by S&P and Kroll
As mentioned in the video from the COO, Grier Eliasek: "we risk losing our corporate rating of BBB by S&P and BBB+ by Kroll, raising the cost of our debt capital" if the proposal to issue shares below NAV does not pass. I believe there are two sides to losing a favorable rating including what the company has stated in recent SEC documents:
"As an investment-grade rated company, Prospect is required to maintain the financial flexibility necessary to withstand potential adverse market conditions in the future. Every year since 2008, we have received shareholder approval of the NAV proposal and we need your support again for 2015. Without this vote, we risk losing our corporate rating of BBB by S&P and BBB+ by Kroll, raising the cost of our debt capital. This would have an adverse impact on our earnings and ability to continue to pay stable dividends to shareholders."
In "How Standard & Poor's Analyzes U.S. Business Development Companies," S&P stated:
"Permanent equity capital is also a credit support--we review a firm's track record in issuing equity. That said, repeated dilutive equity issuances (that is, issuing below net asset value) could impede future financial flexibility."
Personal Note: This article contains two opinions regarding the company maintaining its underwriting standards and that there are two sides to the potential impact of PSEC's credit rating. All other information is directly from the company and its financial statements. The tables used in this article are based on math and does not express my personal opinion of PSEC as a potential investment. I have updated my positions to reflect changes in my holdings, but please keep in mind that some of the positions are very small and mostly for research purposes. I also have a small position in BDCL that is directly impacted by changes in over 40 BDCs, including 10% exposure to PSEC at 2x leverage.
For more information about new share issuances and dividend coverage for BDCs please see my "BDC Research Page" and for information on specific companies please visit my "Index to BDC Articles."
Disclosure: The author is long AINV, ARCC, BKCC, FDUS, FSC, FSIC, GBDC, GLAD, HTGC, MAIN, MCC, NMFC, PFLT, PNNT, PSEC, TCAP, TCPC, TICC, TSLX.
The author wrote this article themselves, and it expresses their own opinions. The author is not receiving compensation for it (other than from Seeking Alpha). The author has no business relationship with any company whose stock is mentioned in this article.