One goal of portfolio strategy is to simultaneously enhance returns while reducing overall risk through the addition of uncorrelated or even negatively correlated assets to a base portfolio. Over time this more diversified portfolio should provide superior risk and return characteristics. However, I've noted in previous articles that many assets correlated together during the Great Recession.
This article will look at some additions to a base portfolio of the SPDR S&P 500 Trust (NYSEARCA:SPY) and the new portfolio's performance, both return and risk, over time. The first consideration was to add (NYSEARCA:EEM). I also looked at adding SPDR Gold Shares ETF (NYSEARCA:GLD) to different portfolios. However, given the inherent characteristics of GLD in which it carries a very low correlation, and recent performance, the clear impact was very positive to any situation. The question here is whether this will continue. The following graphs show various portfolio returns and volatility performance. It should be noted that the volatility calculations are based on a 36 month time frame, hence the volatility graphs will begin 36 months after the return graphs. Portfolio weightings reflect initial weightings of positions, due to superior returns for some assets, these weightings would change over time.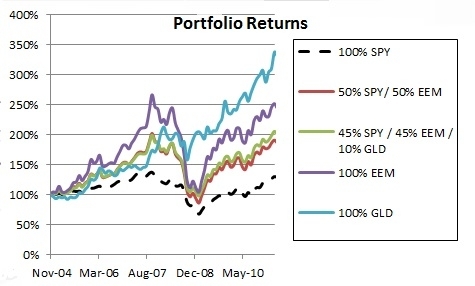 Developed from data provided by Yahoo! Finance downloaded on June 1, 2011.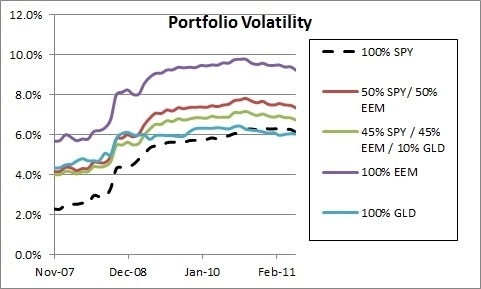 Developed from data provided by Yahoo! Finance downloaded on June 1, 2011.
The first observation is that the diversification of EEM is quite limited. The 50/50 SPY EEM portfolio's volatility was approximately halfway between the 100% EEM and the 100% SPY portfolios. Checking correlations, this becomes quite apparent since they have recently been around 90%. Previously, this correlation was lower in the high 60s and low 70s percentages prior to the onset of the Great Recession. A key question for investors is whether in the future these correlations will decline again and provide better diversification benefits.
However, EEM did provide superior return benefits, showing that on a return-for-risk basis, it was a valuable addition to the portfolio. Given the growth prospects within emerging markets, I personally continue to be bullish in the long term.
The good news from these graphs is that volatilities are starting to creep back down. The apparent peak for these portfolios was around the fall of last year. One note on this observation is that changing the time frame (36 months) would impact when this point occurs.
Results vary for Specific Emerging Markets
The initial graphs suggest that the reason for emerging markets is superior returns, not really the risk reduction benefits. However, by focusing more on individual markets, some markets show both risk reduction and return improvements. I completed the analysis by looking at 50/50 portfolios of SPY and four emerging markets: Brazil, Mexico, Malaysia and South Africa.
Emerging Market ETFs
| | | | |
| --- | --- | --- | --- |
| Ticker | Name | Assets ($B) | Dividend Yield |
| EWZ | iShares MSCI Brazil Index Fund | 13.2 | 3.7% |
| EWW | iShares MSCI Mexico Index Fund | 1.8 | 0.8% |
| EWM | iShares MSCI Malaysia Index | 1.0 | 2.3% |
| EZA | iShares MSCI South Africa Index | 0.7 | 2.4% |
Source: Yahoo!Finance downloaded on June 3, 2011.

The following graphs show the related portfolio performance and the corresponding change in portfolio volatility.
Click on charts below to enlarge: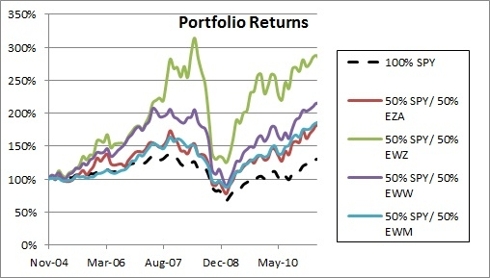 Developed from data provided by Yahoo! Finance downloaded on June 1, 2011.

It is clear that Brazil has provided an enormous boost in return and these portfolios have subsequently recovered their losses during the Great Recession and then some.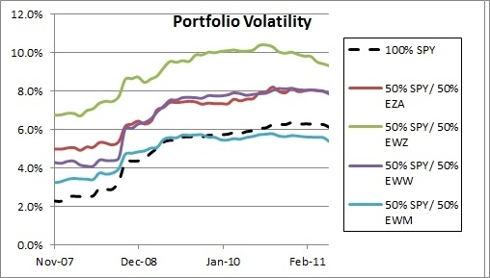 Developed from data provided by Yahoo! Finance downloaded on June 1, 2011.
This second graph shows that Brazil's top performance also corresponded to greater risk. South Africa and Mexico also had strong performances but also showed an increased risk profile. Given the similarities in volatility though, it seems that EWW was the better option based on returns. The most interesting example is EWM, Malaysia, which provided approximately the same risk as SPY and is now trending lower; however, this portfolio significantly outperformed SPY and had comparable performance to the SPY/EZA and SPY/EWW portfolios.
Conclusion
Despite increased correlations during the Great Recession, certain emerging markets remained relatively uncorrelated to the United States as measured by SPY. These markets may continue to offer opportunities to enhance a portfolio's returns and risk profile. More detailed analysis into specific stocks may offer additional portfolio improvements. I will continue to investigate EWM further.

Disclosure: I am long SPY, EWZ.

Disclaimer: This article is for informational and educational purposes only and shall not be construed to constitute investment advice. Nothing contained herein shall constitute a solicitation, recommendation or endorsement to buy or sell any security.