By Parke Shall
We last wrote about MannKind (NASDAQ:MNKD) a couple of months ago, where we asked the question of whether or not a short squeeze was possible. We talked about the appeal of going long stocks that are heavily shorted and we concluded that we'd continue waiting for more price compression before considering MannKind as a long investment.
While we still think the long-term prospect for success is still there, short-term confidence in the name hasn't been evident. Insiders aren't helping the cause, either.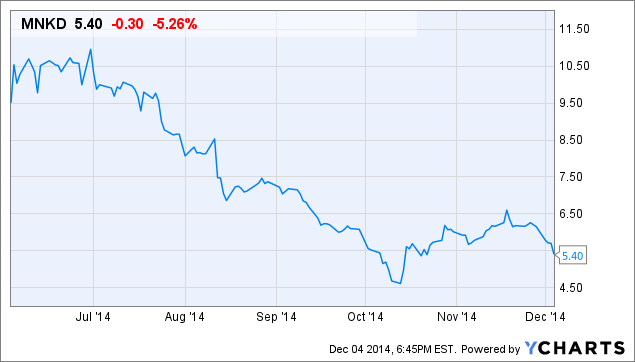 The stock has been taken down substantially again over the last week. Scheduled share sales as part of a Rule 10b5-1 plan may have been responsible. Or, perhaps it was the lack of confidence that comes with continually seeing insiders unload shares of a company that has failed to hit the fundamentals necessary to justify its market cap.
This 24/7 Wall Street article details the sales at length. Between recent planned sales and additional ones in late November, over half a million shares have recently been unloaded by MannKind insiders. While these sales were occurring, MannKind shareholders have little to show for their enthusiasm heading into an FDA decision to approve the company's inhaled insulin product, Afrezza. Shares have yet to eclipse the $11 mark they briefly passed on approval. For now, it's not looking like shareholders are going to see recourse from the stock's falling price. MNKD carries with it a plump $2.3B enterprise value and no tangible revenue. Generally, when companies are in these types of "crossing the chasm" moments, the insider play is to buy stock in order to show the market they have confidence of executing successfully in the future. In MannKind's case, we've seen just the opposite.
We continue to emphasize our point that the MannKind/Sanofi deal could potentially be a long-term success, but it would seem that the confidence of insiders isn't anything to write home about. We have no position in MNKD, and would need to see significant fundamental traction (top line growth, at the least) in order to consider a potential investment. Otherwise, we'll simply keep a close eye on the company moving forward; we're losing confidence in MannKind.
Disclosure: The author has no positions in any stocks mentioned, and no plans to initiate any positions within the next 72 hours.
The author wrote this article themselves, and it expresses their own opinions. The author is not receiving compensation for it (other than from Seeking Alpha). The author has no business relationship with any company whose stock is mentioned in this article.