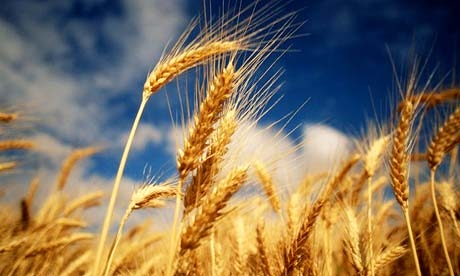 The anemic winter wheat harvest in Kansas this year may be just what the exchange traded note (ETN) iPath DJ-UBS Grains TR Sub-Index ETF (NYSEArca: JJG) needs to shoot up.
Test-cutting has begun on the Kansas-Oklahoma border for wheat crops, and high moisture levels are leading to a poor crop, meaning higher prices for whatever the farmers can salvage, reports Roxana Hegeman for Associated Press.
"This year more than others, there is just so much unknown as the combines start rolling into the fields," said Aaron Harries, marketing director for the industry trade group Kansas Wheat. "We owe that to the fact that the weather has been so variable in the last two weeks," he said. "We've had days of 100 degree temperatures and high winds and we have had some beneficial rains — and it has all come in the critical stage for the wheat when it is filling the grain kernels in the heads.".
Expectations for the Kansas crop are cautious. As fuel prices are flirting with $4 per gallon, the machinery needed to help harvest the grain are also a factor in profit. Last year, wheat bushels were at $3 , and this year they are up to $8.55 as of Thursday.
The forecast is that the crop will be 27% lower than what was seen last year, at 261.8 million bushels for 2011.
Tisha Guerrero contributed to this article.