High levels of production growth and stable geopolitics made investing in American shale plays the thing to do over the past few years. This caused most investors to pay attention to high flying domestic shale operators since oil prices recovered in 2010, effectively pushing offshore exploration companies like Kosmos Energy (NYSE:KOS) under the radar. This could have opened up a great buying opportunity in Kosmos Energy, a high-risk, high-return offshore exploration company with a market cap of $3.36 billion. Unlike similar companies like Cobalt International Energy (NYSE:CIE), Kosmos has a producing asset in Ghana that is currently generating sizeable amounts of cash flow.
Ghana's oil industry emerges
Since the 2007 discovery of the offshore Jubilee Field, Ghana's oil and gas sector has become a rising star in Africa. The Jubilee Field is estimated to hold ~500 million barrels of oil and 800 billion cubic feet of associated gas, with plenty of upside. Future phases of development could end up recovering 1.8 billion barrels of oil from the Jubilee.
Starting in late 2010, the Jubilee Field initially started producing 55,000 barrels of oil a day. As Tullow Oil (OTCPK:TUWLF), the operator, ramped up production, the Jubilee doubled its output and is now pumping out ~102,000 barrels of oil per day. Future phases of development will keep production levels strong for years to come. The FPSO (floating production storage and offloading) facility has 120,000 bo/d of capacity, which is where the partners of the project expect to ramp production up to.
Other than Tullow, Anadarko Petroleum (NYSE:APC), Kosmos Energy, Sabre Oil & Gas, E.O. Group, and Ghana National Petroleum Company all own a stake in the project. Kosmos Energy only owns one asset that is currently producing, and that is the Jubilee Field. With a 24.1% stake in the Jubilee, Kosmos is able to use its cash flow from the project to fund future exploration and development efforts.
If crude stays at ~$70 a barrel, the Jubilee would still generate $2.66 billion a year in sales at current production levels (before factoring in hedges and taxes). To reduce the impact of fluctuating oil prices, Kosmos has 1.5 million barrels of crude hedged through the end of 2014, 6.2 million in 2015, and 2 million in 2016. The average floor price of those hedges is $85 -$90, substantially above where Brent is trading today.
New fields support future growth
The Jubilee Field has room for plenty of exploration upside, particularly in the MTA area. MTA stands for the Mahogany, Akasa, and Teak fields. Two of those fields, the Mahogany and the Akasa, are oil fields. The Teak Field houses a combination of oil and gas condensate. After the Jubilee Fields starts to see production decline, the "Greater Jubilee" area will be able to push production back up. If the MTA project were to be brought online, Kosmos Energy sees the Jubilee and the surrounding area producing at least 120,000 bo/d for five to seven years.
Kosmos Energy and its partners are on track to finish appraising the MTA Development by the end of 2014, which would allow Kosmos to book additional reserves. This would act as a positive catalyst for its stock price, as it would provide a clear runway of where Kosmos can grow next. It would also give investors a much better idea of what to expect production wise from the "Great Jubilee" area. Sometime next year, Kosmos and its partners will submit a field plan for how they plan to proceed with developing the area, if they decide to do so.
If Tullow, Anadarko, Kosmos, Sabre, E.O., and Ghana are able to "de-bottleneck" their Jubilee operations, production from the area could exceed 120,000 bo/d. "De-bottlenecking" refers to improving the existing infrastructure by removing the "choke point" that is making the operation less efficient. This is substantially cheaper than building out an entire new set of infrastructure.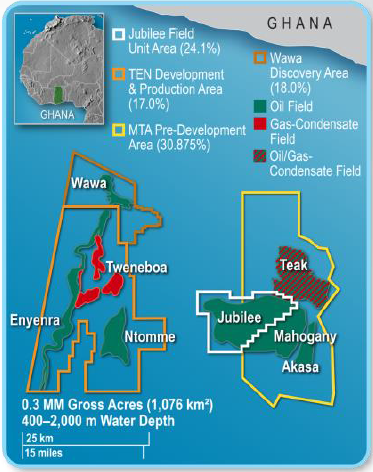 Source: Kosmos Energy Presentation
Another project in Ghana all of these partners are working on together, except E.O. Group, is the TEN Complex. Both projects are located right next to each other.
The TEN Complex
The TEN Complex stands for the development of the Tweneboa, Enyenra, and Ntomme [TEN] fields in offshore Ghana. Tullow is also the operator of this project, and is guiding for first-oil to begin somewhere around mid-2016. Once operational, the TEN Complex will have a peak production rate of 99,998 barrels of oil per day. It will take two years after first oil for the TEN Complex to reach its peak production rate.
Investors should be aware that these levels won't stay for long. By 2024, the TEN Complex will produce only 20,000 bo/d. 18 years later, and that will fall even further to 3,434 bo/d. Investors and Ghana shouldn't worry, however, as there are still plenty of chances for the industry to find more crude in the TEN Complex. New recovery technologies and more drilling data will paint a better picture of what and how much these three fields hold.
The TEN Complex will also produce a substantial amount of natural gas. Some of that gas will go to powering the FPSO. After taking that into account, the TEN Complex will still produce ~170 MMcf/d of natural gas that can be sold at its production peak in 2018. By 2026, that will decline to 120 MMcf/d, and by 2040, that will fall further to just 10 MMcf/d.
Kosmos owns 17% of the TEN Complex development, which will soon be its second producing asset. By having two different sources of cash flow, Kosmos will be able to substantially reduce its operational risk while increasing its production levels. Relying on one source of cash flow means if production is temporarily halted at the Jubilee Field, Kosmos won't have any source of income until production starts up again.
Geopolitics
Ghana is a relatively stable nation in Africa compared to its neighbors, but keep in mind that there are still geopolitical risks involved. It was only in 2008 that Ghana legitimately transferred power from one head of state to another. After Ghana's independence from Britain in 1957, the country has been plagued by coups and international interference throughout the Cold War. For instance, there was the coup in 1972 that removed Busia's government from power. This was followed by several power shifts in the late 1970s.
Then in 1981, a military government took control until 1992. 1992 marks the beginning of Ghana's current stint of democracy. A positive is that Ghana has become a fairly stable nation over the past two decades, and a stronger economy will help support stability. A coup or dramatic shift in political power could result in things like nationalization, high tax rates, a halt in construction, production being temporarily or permanently stopped, or a host of other unwanted events.
Another negative investors need to be aware of is how crude prices impact offshore E&P players.
Don't worry about lower oil prices yet
With Brent trading at ~$70 a barrel, investors are worried about the breakeven cost for large oil and gas investments. Shareholders shouldn't worry yet, as the breakeven cost of developing the Jubilee Field is ~$45 a barrel. Lower prices will reduce Kosmos' cash flow, but it won't make its only producing asset unprofitable. In Kosmos' latest quarter, the average production cost per barrel at the Jubilee Field was $10.46.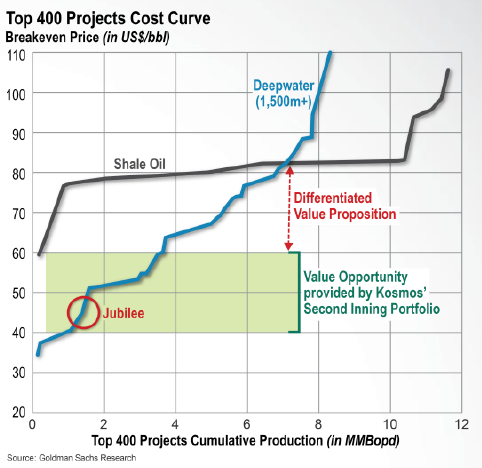 Source: Kosmos Energy Presentation
By 2016, when the TEN Complex starts up and Kosmos' current hedging program ends, it wouldn't be unrealistic to assume that oil prices will increase relative to today's levels. The oil tycoon T. Boone Pickens sees oil returning to $100 in 12 - 18 months, which may be too optimistic but he is an expert in the industry. Maybe an increase to $80 - $90 a barrel would be more realistic, as lower prices spur less investment in the oil and gas industry on a global scale. In particular, a slowdown of US and Canadian production growth coupled with higher levels of demand from Europe, China and India could help push up prices.
Exploration upside
One of Kosmos Energy's biggest potential sources of upside could come from a successful exploration well. Over the next 18 months, Kosmos plans to drill four exploration wells. Below is a list of those wells and its estimates of how much those wells could discover.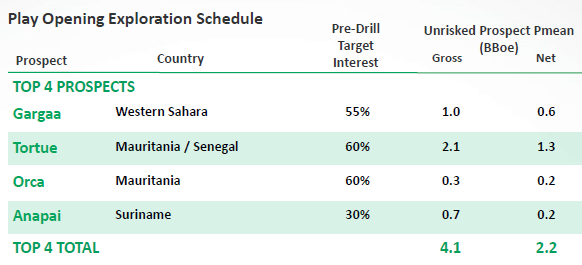 Source: Kosmos Energy Presentation
If at least one of those wells is successful, Kosmos would be worth substantially more as new reserves are booked. A high level of ownership in these wells means Kosmos can sell part of its stake in the project to help fund the development of the discovery. This allows Kosmos to reduce its financial risk while still enabling it to profit off its hard work in the future. Any one of these wells could act as a positive catalyst for its stock price. For instance, success at the Gargaa prospect would add 600 million BOE to its reserve base, which when developed would eventually produce $42 billion in sales at $70 a barrel.
For 2016 and beyond, Kosmos Energy is going to evaluate its seismic mapping activities in Ireland and Portugal to see if there are any prospects there worth tapping into. Seismic maps in Morocco have led Kosmos Energy to believe there are recoverable resources in its exploration blocks there, which is why exploratory drilling is planned for 2016.

Source: Kosmos Energy Presentation
On the negative side of things, continued "failures" would weigh negatively on Kosmos. Not only does a dry hole mean it spent a lot of money for nothing, but it also removes a future growth catalyst for the company.
Kosmos Energy has access to plenty of cash to fund its exploration efforts. At the end of its third quarter of 2014, Kosmos had $1.9 billion of liquidity. Another bullish factor is Kosmos Energy was able to reduce its net debt from $416 million in the third quarter of 2013 to $149 million during its latest quarter. As Kosmos reduces its debt load, it will free up more cash for future investments in the long run.
Final thoughts
With Kosmos Energy, investors get to bet on a high risk, high-reward exploration company with limited downside due to its producing assets in Ghana. Once the TEN Complex starts producing, Kosmos Energy will see its production levels surge north of 40,000 bo/d relative to the 25,000 bo/d it's currently producing. Also, Kosmos Energy will be able to get income from natural gas production, which will hit 29 MMcf/d in 2018. Additional upside will come from "de-bottlenecking" the Jubilee Field and the possible development of the "Greater Jubilee" area.
Farther out, Kosmos Energy has an extensive exploration program ahead. Four exploration wells will be drilled over the next 18 months, which could uncover plenty of new resources. A major find would be extremely bullish for Kosmos Energy's stock price. Due to its high ownership interests in those exploration blocks, Kosmos can always sell part of its stake to raise cash while still owning a reasonable stake in the discovery.
RBC upgraded Kosmos Energy to Outperform from Sector Perform with a $17.50 price target back on November 7, which would be a 108% return based on its December 4 closing price of $8.42. Keep in mind this was before OPEC decided not to cut production on November 27. Even so, I am inclined to agree with RBC on this one. Kosmos Energy is a great play for those willing to stomach the risk.
Author's note: This article mentions one or more companies that trade in foreign markets and/or trade over the counter. These investments come with their own set of risks. Always do your own due diligence before investing.
Disclosure: The author has no positions in any stocks mentioned, and no plans to initiate any positions within the next 72 hours.
The author wrote this article themselves, and it expresses their own opinions. The author is not receiving compensation for it (other than from Seeking Alpha). The author has no business relationship with any company whose stock is mentioned in this article.