Ambarella (NASDAQ:AMBA), the $1.65B video technology developer of automotive, sports, broadcast, wearable, and security/surveillance camera chips, shares are up over 60% year-to-date. On Thursday, the company announced Q3 EPS of $0.68 per share vs. the Wall Street consensus estimate of $0.54 per share (83.8% year-over-year increase) and revenue of $65.70M vs. the $62.66M estimate (42.8% year-over-year increase). Since going public in late 2012, Ambarella has posted nine consecutive quarterly earnings beats by at least $0.04 per share. The latest $0.14 EPS beat marked the biggest blow out quarter in the company's history.
For a complete recap of AMBA's quarter, see the Seeking Alpha transcript of the company's conference call.
Valuation
Using analyst FY16 estimates, shares of AMBA trade at a forward P/E ratio of 31.98x with 14.7% EPS growth. Revenue growth north of 20% is likely to push full year sales to the $250 million mark. If these numbers hold true into next year, the stock would trade at a rich PEG ratio of 2.18x (a PEG ratio of 2+ is considered expensive; a PEG ratio below 1x is considered cheap). We also have to keep mind that the company has consistently topped projections quarter after quarter.

Since going public, Ambarella has beat EPS estimates by an average of $0.07 per quarter. So instead of $1.72 per share, using a conservative $0.05 beat per quarter, AMBA would earn $1.92 per share for FY16 instead of $1.72, bringing EPS growth up to 28% from 14.7%. At $1.92 in earnings, the stock would trade at a relatively fair value with a PEG ratio of 1.02x.
Of the 11 Wall Street analysts covering Ambarella, eight have buy ratings and three have hold ratings. On Wednesday, just one day ahead of the earnings release, Stifel Nicolaus reiterated its buy rating and raised its price target to $62 from $47. Just as most have done in the past, look for post-earnings upgrades and price target hikes from certain firms.
One factor that has been an underlying bid this year for the stock is from the shorts. As of the last short interest update just over 7M shares were sold short, or 24.93% of the float. When taking into account the average daily volume, it would take 4.5 days to cover.
Technical Analysis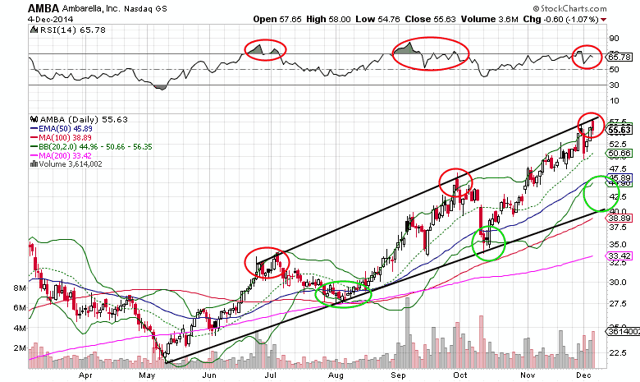 The nine-month daily chart shows the well-defined uptrending channel AMBA shares have been trading in since the May bottom of $21.60. Short-term tops in the stock have been preceded by RSI readings of 70-80 and tags of the upper end of the 6-month long channel. Both of these bearish signals have been confirmed in the last week of trading, which may mean the stock is in for a correction. On the previous two occurrences AMBA shares dropped 27.94% and 18.96% over the course of two to four weeks. In early Friday afternoon trading, AMBA was off more than 2% at $54.34
The Future
Ambarella is seeing sizable growth from IP security and wearable sports cameras. Strength in the automotive segment added to the bottom line of the third quarter, with demand in the Asian markets. Following news of the Ferguson, Missouri and other police shooting incidents, the demand for wearable police cameras has started to take off and is unlikely to slow anytime soon with President Obama's recent $263M proposal to help fund U.S. police departments for these type of cameras to monitor police officer activity.
New product models from AT&T (NYSE:T) and GoPro (NASDAQ:GPRO) camera models are likely to drive sales as well. Hero3+ models from GoPro were among the most popular items during the Black Friday weekend from the big box retailers. The advanced digital video technology Ambarella offers is not only popular among its customers, but consumers as well through increased efficiency.
Ambarella is performing at a high level and benefits from a fast-growing category, but the stock is trading at full value based on next year's earnings. This leaves little margin for error for those taking a new position in AMBA shares. In the near term, gross margins are likely to weigh on investors and could create volatility in the heavily shorted stock. Keep in mind too that AMBA shares are up 65% from the October lows, which is simply unsustainable, even for this growth company. Consider taking into account the technical signals above on the chart and waiting for a pullback off of the highs before buying the stock.
Disclosure: The author has no positions in any stocks mentioned, and no plans to initiate any positions within the next 72 hours.
The author wrote this article themselves, and it expresses their own opinions. The author is not receiving compensation for it (other than from Seeking Alpha). The author has no business relationship with any company whose stock is mentioned in this article.