Supply and demand for crude oil is not horribly out of whack, as mentioned in earlier articles. And not to the extent that media headlines suggest. In an earlier article, the fundamentals were presented based on more immediate and longer-term trends.
China, India, other Asian countries and the Middle East continue to grow, develop and buy cars. The OPEC view sees green lights ahead for consumption of its products. Even India wants the U.S. to export more of its oil. Hints of allowing U.S. crude exports are once again being considered more seriously. The case for U.S. LNG also is strengthening from various consumer nations from Asia to Europe.
On the producer side, the concept of sunk costs applies to the case of U.S. production. U.S. producers have invested time and money to develop their acreage, beginning in 2009 and even earlier. Many of them have determined where the sweet spots are after appraising and testing various wells, optimizing drilling and completion techniques, and understanding the complexion of the intervals in which they drill. For example, Pioneer's (NYSE:PXD) seven targeted layers (intervals) - Jo Mills, Wolfcamp A, B, D and the Lower and Middle Spraberry - are pretty well understood, as their presentations have detailed in 2014 (see article).
In light of lower prices, the industry appears to be shaking out the deadweight, sorting out those with healthier balance sheets, efficient approaches and better acreage holdings versus the highly leveraged with less staying power. There will be acreage sold to the benefit of those that can better produce. More scale, and thus more efficiency, will be in order.
With some drillers slowing production down, supply excesses will be quickly evaporated and prices will rise. New permits are already declining 40% in November, according to a Seeking Alpha news flash.
Bloomberg writes:
All told, U.S. oil output climbed 7.5 percent since the price rout began on June 20, reaching a record 9.1 million barrels a day in the week ended Nov. 28, according to data.
The Energy Information Administration chart (Nov. 10) below depicts the months of November and December 2014 for new oil production changes versus 2013 changes. This will look slightly different in the months ahead as the lower prices impact new production.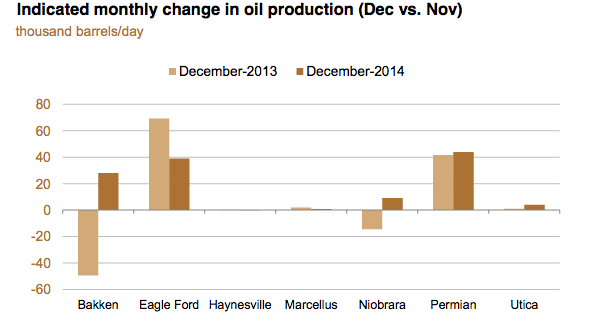 And an overall picture of U.S. tight oil production provides the scope of 2013 to 2014: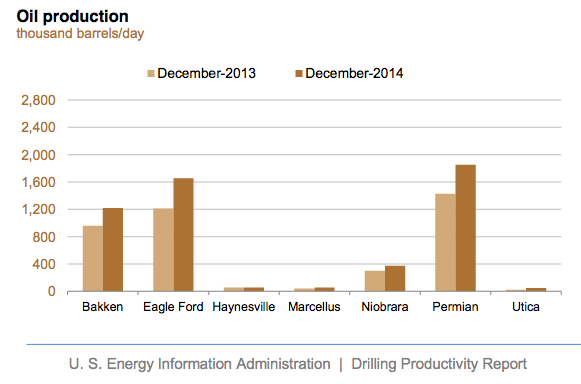 Pricing, OPEC and Geopolitics
It is possible that this new price discovery phase of global oil will be one of two scenarios:
1) More volatility will prevail as U.S. oil production moderates, leaving the pricing mechanisms back into the hands of the OPEC side, which is inherently more volatile. For example, we observed that the influence of US oil offered a buffer to price volatility in 2013. U.S. oil provided a steady stream of crude oil at a time when unplanned outages in both the OPEC and non-OPEC were at all time highs. (See article and older sources at the end of article for history). Prices will therefore bounce around more, but not in the magnitudes of the October through December period.
2) As the U.S. oil supply growth rate slows, prices will rise upward as supply tightens. Demand gets a boost from the lower oil prices, and geopolitics becomes the focal point once again. While U.S. oil will still be a part of the global oil price story, the classic demand and supply side shocks will return to levels in the pre-U.S. shale era around 2010/2011, when shale production was rising but not fully ramped up. I believe we are now past the demand shock to oil prices. As mentioned before, U.S. growth, better than expected, may even soak up some of the U.S. supply that is "deemed" gluttonous.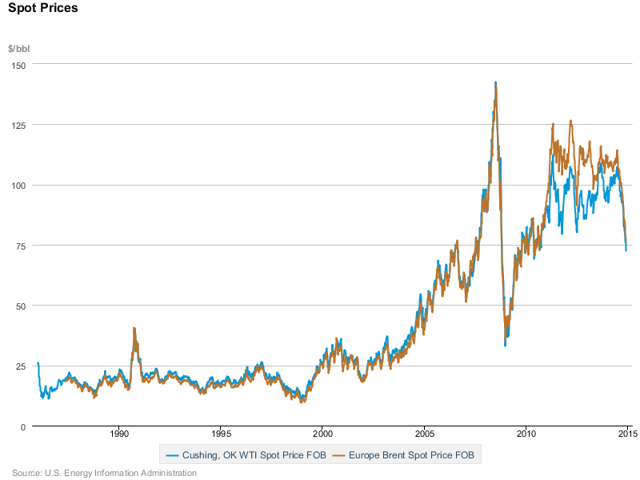 A view of OPEC spare capacity also indicates what is driving their decisions, but this projection in 2015 can change because of geopolitics. OPEC understood what it had to do from a market perspective for late 2014, but the jury is still out for the June 2015 update, the next official meeting. The team OPEC action does not mean that Saudi Arabia will not tighten up supply again as it did unilaterally in a few months across 2014 (and with price cuts unilaterally).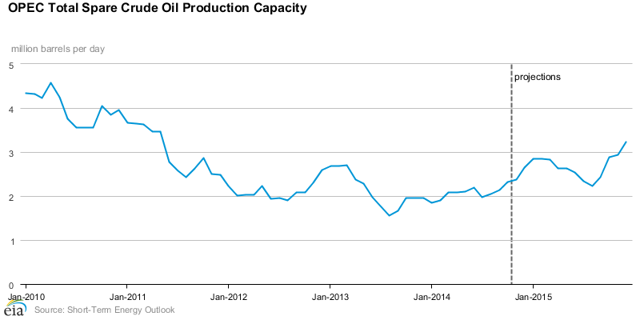 Geopolitics
The general destabilization of lower oil prices is already apparent. Venezuela, Nigeria and Russia, oil dependent economies, are already showing cracks in the fabric of their economies from falling prices. These vulnerabilities may translate into further political unrest, and already have in some cases.
The case is strong for ISIS containment for the oil-producing countries, MENA at-large, and especially Iraq and Syria with their existential threats to country and citizens. The devastation that ISIS brings only chips away at these economies that are aiming for growth. Increasingly firms that bring expertise and capital will shy away at the elevated political risk. A number of U.S. firms like Apache (NYSE:APA) and Occidental Petroleum (NYSE:OXY) have pared back their Middle East exposures in various ways. In a recent presentation about the Middle East, a veteran diplomat that has lived and served in virtually every hot spot, said that never before has the Middle East been in such a state of turmoil.
This morning on CBS King Abdullah II of Jordan, considered a moderate Arab leader, suggested that more leaders in the Middle East will increasingly join the opposition to the ISIS threat. But he also said it may take some time and patience was in order. He sees the threat like that of a World War III. For numerous reasons, the ISIS threat is far more damaging, wide reaching and entrenched than that of Al Qaeda.
Implications
The continuing effect of lower prices on U.S. liquids production will become more apparent after the first of the year. Within a brief amount of time, lower oil prices are causing dislocations. Yesterday a caller from a radio show on a panel about oil markets said that pink slips were being discussed and handed out, with more expected.
Once markets gain some confidence in the data, the behaviors of players, and their implications, more steady investment course corrections can occur. Foreign firms will once again hope to join U.S. firms in shale development as new investment opportunities may present themselves. Because of the overhang of geopolitical unknowns, I expect prices to rise rather than fall. To what degree and under what timescale will depend on the cool-headed decision-making of many actors -- in this case investors, firms and leaders.
Disclosure: The author is long APA, OXY.
The author wrote this article themselves, and it expresses their own opinions. The author is not receiving compensation for it (other than from Seeking Alpha). The author has no business relationship with any company whose stock is mentioned in this article.