E.I. DuPont de Nemours & Co. (NYSE:DD)
E.I. Dupont De Nemours & Co. is a 36B manufacturer of agricultural products, photovoltaics and consumer electronics such as TiO2, refrigerants, protection products and construction. Based in Wilmington, Delaware, the company operates in seven segments and the break down can be seen below.
| | |
| --- | --- |
| Segment | Percent of Sales |
| Agriculture | 32 |
| Performance Chemicals | 19 |
| Performance Materials | 18 |
| Safety and Protection | 11 |
| Nutrition and Health | 10 |
| Electronics and Communication | 7 |
| Industrial Biosciences | 3 |
DuPont has places to divest its performance chemicals division and is among the top ten largest chemical companies globally. As well, greater than 60% of sales are from outside North America, including 30% from developing nations. The company has operations in 90 countries and employs 57000 people.
Our metrics for the company are weak, including growth and stability prices far below market levels. Although these metrics can be troubling, there is more to the story as this company trades on a premium because of its market leading valuation and still has potential for investors going forward. This can be best summed up in our grade, which shows a reflection of the company's financial strength, economic moat, management ability and dividend/buyback trends.

Furthermore, the company's five-year price to volume performance can be seen below.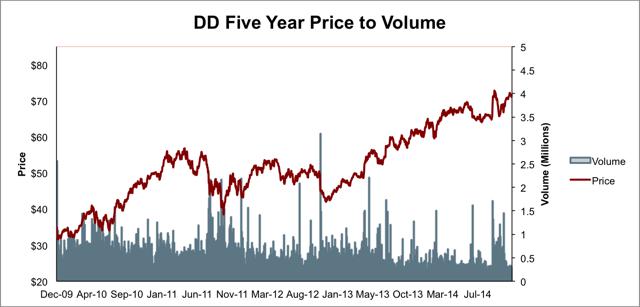 (Yahoo Finance)
Recent Fundamental Highlights
| | |
| --- | --- |
| 3Q2014 EPS | $0.54 above consensus of $0.53 |
| Revenue | $7.5B below consensus of $8B and down 3% y/y. |
| Margin Expansion | Increase of 130bps y/y |
| Cash on Hand | Down 300M from 2Q |
| Net Debt/EBITDA | Up from 0.5x at the end of 2013 to 1.3x |
| Share Repurchase Plan | 2B of the 5B share repurchases have already taken place |
Company Forward Outlook
Some key fundamental changes to the company must be analyzed when determining the potential for investors.
To begin with the company plans on parting with parts of its consumer electric business including the TiO2 and refrigerants segments. The performance chemicals (TiO2) remains on track for a mid-2015 sell-off, as Mark Newman (CFO), recently said that all key leadership appointments have been finalized. Separation costs are expected to be $0.16 this year and $0.20 next year on a per share basis. For the 3Q sales of this segment were weaker than expected with sales down 8% y/y and pricing down 3%. It becomes clear why the company finds it prudent to separate with this segment.
Recent trends in the market have led the company to market share losses in its agricultural segment. Based on preliminary USDA data, the company likely lost 1-2 points of corn market share in 2014 following a string of gains in past years. This expectation can also be applied to the soybean market. Furthermore total 3Q agricultural sales fell 4% y/y with gains in a few products being offset by larger declines in other products. For the 4Q of the year the company sees a continued challenge in this environment amid lower commodity price and weaker currencies, particularly in the US.
Finally, on the bright side for the company, the industrial biosciences and nutrition and health segments grew by at least 3% y/y each. These two segments are expected to both have 3%-4% higher volumes for the year. This has will help to offset some of the troubles in other segments of the company.
Economic Moat Trend
DuPont is a global leader in the manufacture of high-performance materials, electronic materials, specialty chemicals, and agriculture/biotech products with 2013 sales of 36B. In order to maintain this status the company's product lifecycle, data management and margins must remain intact.
The company envisages lifting corn to 50-60% of the product mix in 2014 given the launch of new product to help above and below ground insect protection. Data management will also be important as the company increased both acres served. Lastly, the company's margin trend can be seen below. Improving net profit margin will be a key focus of management in the coming year and the sales of some product categories will be important.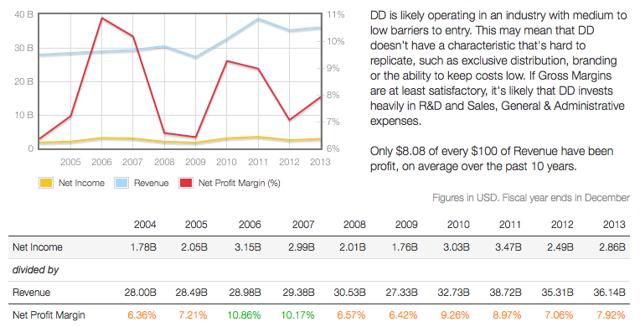 Major Risks
The company is in deep competition with another market leader - Pioneer. It will be important for the company to not lose seed market share.
As the price of inputs increase, the company's margins also decrease. It will be important to manage these costs wisely to ensure the stability of net profit margins.
The strong US dollar has been hindering the companies pricing power. As a major exporter from the US, a high dollar is hampering prices.
There has been a slowdown in the US housing recovery and DuPont will struggle is this accelerates as they are a key end market for the company.
Investment Rationale
DuPont's businesses are good free cash flow generating entities as the company is configured optimally. There are earning risks however in the near term due to weakness in the euro, some slowing off shore economic growth in Asia and Europe and from the decrease in North and South American farmer income.
These risk are more than likely offset by the benefits of company business model streamlining to increase return and free cash flow generation. DuPont currently trades at ($72.25, closing price as of Dec. 03, P/E TTM of 21.53) and provides potential for investors in the long-term as agricultural business should have improved performance, benefits from streamline are realized and the global recovery boosts earnings.
Disclosure: The author has no positions in any stocks mentioned, and no plans to initiate any positions within the next 72 hours.
The author wrote this article themselves, and it expresses their own opinions. The author is not receiving compensation for it. The author has no business relationship with any company whose stock is mentioned in this article.