By Steven Carroll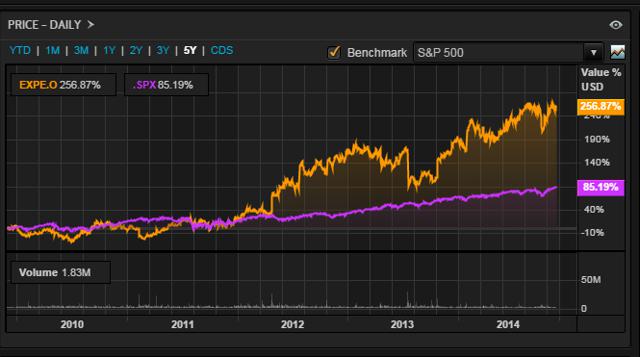 Source: Thomson Reuters Eikon
Traveling the uptrend
It's been a great time to be an Expedia (NASDAQ:EXPE) investor, with the 85% return of the S&P 500 easily eclipsed by the Internet retailer. Indeed, despite impressive revenue growth over the period (revenue moving to $4.7 billion from $2.7 billion in the last full year) the company is still only trading at a forward 12 month P/E of 18.6, hardly outrageous for a company likely to grow revenue 13% and EPS 14% next year.
Source: Thomson Reuters Eikon
Any brakes on growth?
Consumers globally are tripping over themselves to become their own travel agents and compare rates online, so what's the bear case?
In addition to the core Expedia brand, the company also owns Trivago, Hotels.com and its most recent acquisition in Asia, Wotif. Anytime you make an acquisition, management attention and company resources need to be devoted to integration - both at the technology and staffing level. Secondly, the company is still building out its offering for Trivago which requires management time / focus and lastly, and perhaps most obviously, people only travel when they're (A) employed and (B) confident in the outlook. So broader macroeconomic issues and consumer confidence are going to play a major role in the growth trajectory.
At the equity level, out of 26 analysts, no one can bring themselves to rate the company worse than a hold - four strong buys, nine buys and 13 holds is already pretty optimistic. Of course many a cynic/realist will tell you a hold is just a sell in disguise. We won't get into the dynamics of the equity research industry here.

Source: Thomson Reuters Eikon
Interesting shorts
The last point to make from an equity standpoint is that there's a significant amount of short interest. The hedge fund industry sees the overvaluation and thinks that it's a good play in the event of any growth hiccup or broader market correction. About 8% of the stock is held short, compared to a 52-week high of 9.5% - so while that's an amber caution it's certainly not flashing red.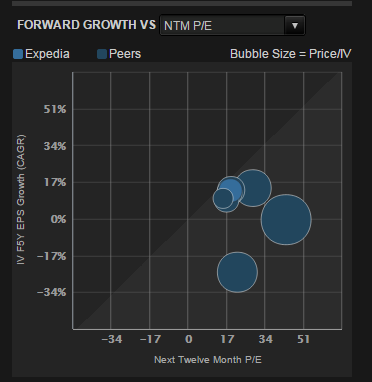 Source: Thomson Reuters Eikon
Cleared for takeoff?
So speaking of the equity - what level of growth is built into the current price? Is the market already anticipating the earnings growth or is there some level of mispricing? Well, it depends how bullish you are. According to StarMine's Intrinsic Value model, the hotels and entertainment services sector is trading at an overvaluation of around 68%. By comparison, EXPE is only trading at a modest premium to fair value - 11%. However, if you're a glass half empty person - (a value investor) - that's probably enough to throw you off. The bubble chart above gives a picture of the relative value terrain - and it's interesting to see that EXPE (the solid blue bubble) is at the higher end of five-year forward growth, yet at the low end in P/E terms. So you get a lot more growth than some of the other firms, but the size of the bubble indicates the price / intrinsic valuation ratio - so big is bad.
More attractive multiples than Amazon
For the investor looking to gain exposure to the sector without the nose bleed multiples of an Amazon (NASDAQ:AMZN) or LinkedIn (LNKD), this is probably an exciting play. However for the more value-oriented investor, it's still not cheap. But with this market at all-time highs, few stocks can legitimately claim that title.
Disclosure: The author has no positions in any stocks mentioned, and no plans to initiate any positions within the next 72 hours.
Business relationship disclosure: Alpha Now at Thomson Reuters is a team of expert analysts that are constantly looking at the financial landscape in order to keep you up to date on the latest movements. This article was written by Steven Carroll, independent commentator and analyst. We did not receive compensation for this article, and we have no business relationship with any company whose stock is mentioned in this article.