Need some extra space for your growing horde of stuff? You're certainly not alone, but wouldn't it be a treat to actually make some money off of this ongoing problem? This article highlights 4 high yield preferred shares that offer you steady income, and also a bit of price gain potential.
We first wrote an article about storage giant REIT, Public Storage, (NYSE:PSA), in late August. At the time, PSA's common shares were trading at $175.75. They've since gone up to over $184.
PREFERREDS: PSA's preferred shares have risen nicely in 2014, but there are still 4 issues that are trading below their $25 liquidation value. They all go ex-dividend on December 11, 2014.
Our High Dividend Stocks By Sectors Tables also track these shares.
This table's final column indicates the % gain between their present prices and the $25 liquidation price: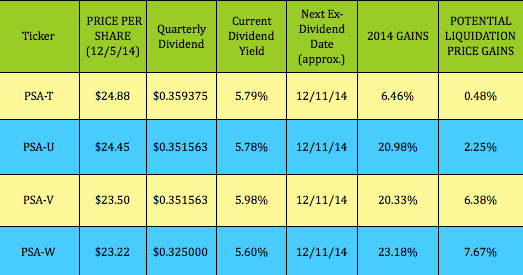 These are all cumulative shares, with enough time left before their call dates, to give you several quarterly distributions. In the table below, we've calculated your potential profits, including the difference between the current price/share and the $25 liquidation price, up to the liquidation date (i.e. if PSA redeems these shares on their respective call dates, here's what your profits would be).
As you can see in the table's far right column, the shares that are the furthest below the $25 liquidation price offer the most potential profit, if called at the liquidation date, even though they may not have the highest current dividend yield:

Notes: PSA isn't obligated to call these shares in on the call date - that date is merely the first time they're allowed to call them in. However, if they don't call them in, they have to keep paying you the quarterly distributions. As a REIT, PSA's preferred and common distributions don't qualify for the 15 to 20% qualified dividend tax rate.
PSA amply covers the distributions on all of its preferred shares: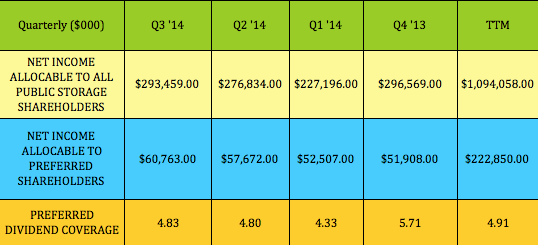 Options: Our Covered Calls Table and Cash Secured Puts Table don't yet feature any option-selling trades for PSA, as the option yields aren't that attractive.
Here's a map of PSA's facilities in the US and Europe: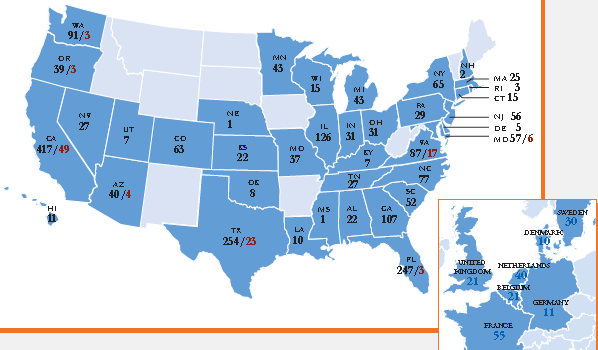 PSA has a large market share in several of the top 10 US cities: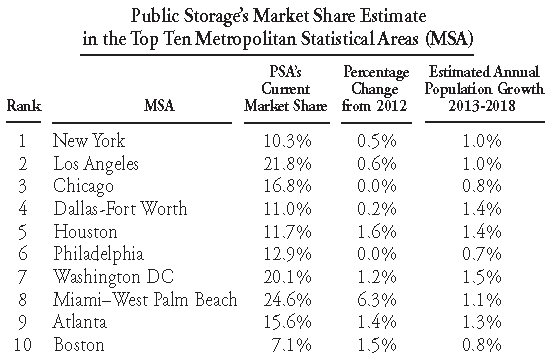 (Source: PSA website)
Common Distributions: PSA's common shares also trade ex-dividend on 12/11/14. PSA has an impressive 5-year dividend growth rate of over 30%:

Steady Quarterly Growth: For the most part, PSA has been chugging right along over the past 4 quarters, with steady gains in FFO, Revenue, and Revenue/Available Square Foot. Net Income was flat in Q3 2014 however: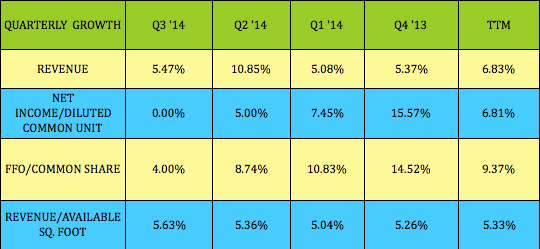 Here are the actual $ numbers from the most recent 2 quarters: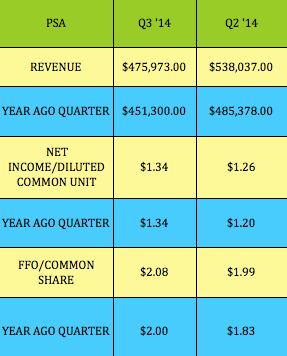 PSA vs. Competitors' Valuations: There are 3 other publicly traded storage stocks- CubeSmart, (NYSE:CUBE), Sovran Self Storage, (SSS), and AMERCO, (NASDAQ:UHAL).
PSA isn't a deep value play at all - like many industry leaders, PSA's common shares command a premium Price/Book. The common shares also have a much higher Price/Sales value.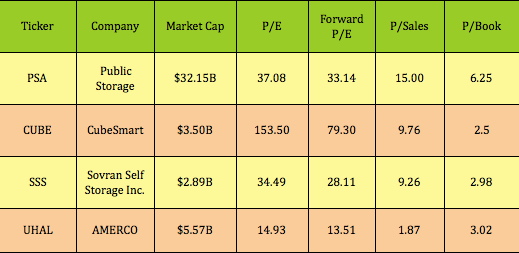 However, PSA's common dividend yield, Management Efficiency ratios, miniscule debt load, and high Operating Margin do compare favorably with the other 3 storage stocks: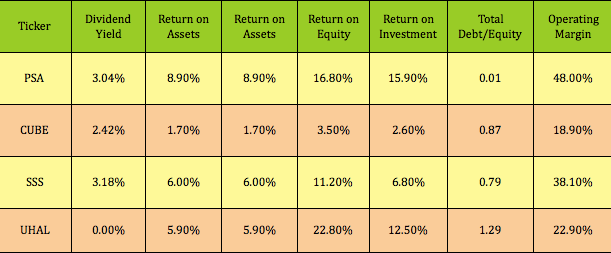 All 4 of these storage stocks have had strong market support in 2014: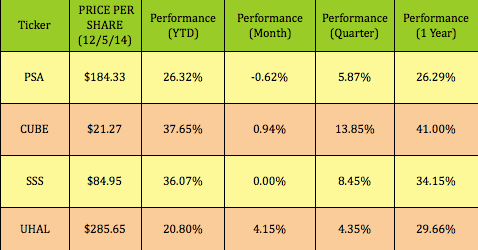 All tables furnished by DoubleDividendStocks.com, unless otherwise noted.
Disclaimer: This article was written for informational purposes only.
Disclosure: The author is long PSA. The author is long PSA-V preferred shares, not the common shares.
The author wrote this article themselves, and it expresses their own opinions. The author is not receiving compensation for it (other than from Seeking Alpha). The author has no business relationship with any company whose stock is mentioned in this article.