Silver has been on fire for the last couple of years, substantially outperforming most other assets, including gold. After a significant correction in the price of silver, a question every investor faces right now is: How far will this correction last, and should I buy now in anticipation of higher prices or have we already reached the top?
From all signs it appears that the bull market is far from over, despite this recent correction. There will be volatility and more corrections to come. But with that said you must absolutely invest with the big picture in mind. It is easier to buy if you know that the fundamentals are working in your favor.
Looking at the bigger trend you will see this sell-off for what it is – a temporary price correction within the context of the bigger trend. To understand the fundamentals at play we will need to look at supply and demand to see why higher prices are behind the horizon.
Demand
Most demand for silver comes from applications in industry, including, electronics, solar panels, medical devices and other things. Consumption of silver in electronics has doubled since 2000, while consumption of silver in solar panels is up more than six times. Other usage of silver such as silverware has been declining, and with the shift to digital photography, the use of silver in photography has gone down as well. But as a whole, demand from industrial applications has been rising.
Furthermore, much of the rise in silver is due to its growing role as a monetary metal as a result of investor worries about the economy. Silver has been used as money for thousands of years and with debasement of the world's major currencies, inflation fears, and looming sovereign debt crisis, silver is once again seen as a safe haven and the "poor man's gold."
The chart shows the different components of silver demand. The overall trend is up, and industry is finding ever more applications for silver, including electronic circuits, solar panels, water purification and medical devices.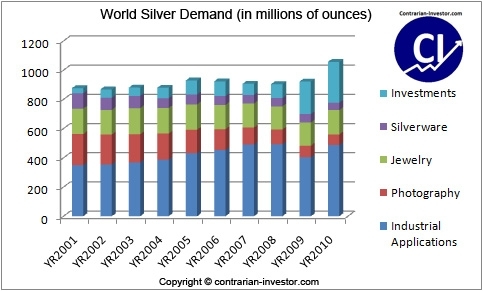 Supply
Supply of silver from mine production has been increasing over the past decade due to a ramp up in production as a result of higher silver prices. In spite of an increase of supply from mining, production alone can't meet worldwide demand, and the supply gap has come from scrap silver that has been re-melted and entered back into the market.
Although recycled scrap silver is currently able to supply the gap left by a shortage in production, many applications that use silver are difficult and expensive to recycle. The vast majority of silver in electronics such as phones, televisions, computers and household appliances end up in landfills without ever being recycled, while other applications such as solar panels are in service for decades before they can be recycled. To put it simply, a large part of the silver that is consumed won't be returning to the market anytime soon.
The chart shows the shortfall of mine production vs. demand. The gap is mainly made up from scrap metal coming back into the market along with some government sales.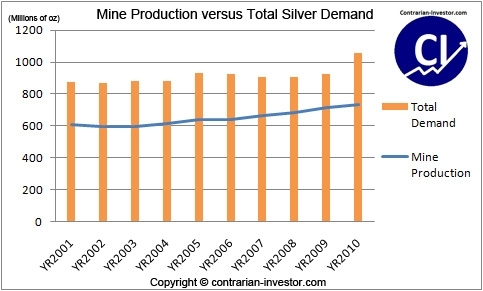 Because most products containing silver are consumed without ever being recycled, there is more "above ground" stock of gold than silver, despite silver being 16 times more abundant in the ground. Net silver supplies from "above ground" stock is estimated to be around 142.9 million ounces, which is a far cry from the 5.3 billion ounces of "above ground" inventories of gold.
Backwardation in Physical Silver Market
Backwardation refers to the market condition where the price of a forward or futures contract is trading below the present spot price of the underlying commodity due to a shortage of physical supply or other situations. Silver has been in backwardation for an extended period of time and many producers of silver have length back logs and extended lead time for physical delivery. The U.S. Mint, for example is not able to keep production up with demand, and it experiences delivery delays of three to four weeks among silver eagles with premium hikes of more than a dollar. As a result, many silver dealers are reluctant to take large orders of silver eagles because they don't know when they will get products and what the premiums will be at the time of arrival.
Conclusion
The big picture is clear. Not only are the fundamental supply and demand forces favorable for silver, but a growing number of investors are turning to silver for protection against inflation and currency debasement. Then add the fact that almost no government has any remaining silver reserves and you have a strong case for a continued bull market in silver.
Investment Implications
There are multiple ways to participate in the ongoing bull market in silver, including ownership of physical silver, ETFs and stocks. The following investment vehicles are popular among silver investors.
iShares Silver Trust (NYSEARCA:SLV)
ETFS Silver Trust (NYSE:SIVR)
Global X Silver Miners (NYSEARCA:SIL)
Silver Wheaton Corp (SLW)
PowerShares DB Silver (NYSE:DBS)
UBS E-TRACS CMCI Silver ETN (NYSEARCA:USV)
ProShares Ultra Silver (NYSEARCA:AGQ) (leveraged 2X)
Disclosure: I have no positions in any stocks mentioned, and no plans to initiate any positions within the next 72 hours.