By Tom Roseen
In spite of the upbeat U.S. economic news toward the end of the flows week ended Wednesday, December 3, 2014, conventional fund investors were net sellers of equity funds (ex exchange-traded funds) for a second week in a row, withdrawing a net $4.3 billion from the group. Domestic equity funds, handing back some $3.4 billion, witnessed their fifth week of net outflows in six-and their largest weekly net redemptions since December 18, 2013.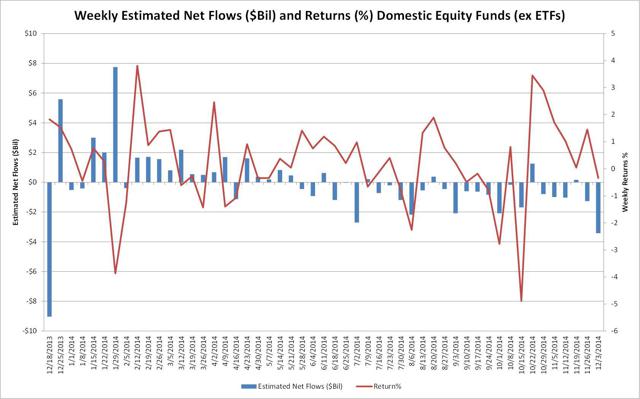 Source: Lipper, a Thomson Reuters company
It's interesting to note that on the last trading day of the flows week, a rebound in oil and gold prices lifted the energy, materials, and industry sectors and catapulted the S&P 500 and Dow Jones Industrial Average to their forty-eighth and thirty-third record close of the year, respectively, yet investors still appeared to favor nondomestic equity funds over domestic funds. Nondomestic equity funds suffered only $0.9 billion of net redemptions-handing back money for a fourth consecutive week.
On the domestic side investors turned their backs on large-cap funds and small-cap funds, redeeming a net $1.8 billion and $0.6 billion, respectively, for the week. On the nondomestic side international equity funds witnessed $0.8 billion of net redemptions, while the emerging-market equity, Pacific ex-Japan, Pacific region, and Japanese fund classifications attracted net new money totaling a little over $75 million. This was in spite of investors learning that China's factory activity had lost momentum and that Moody's had downgraded Japan from Aa3 to A1, questioning Japan's ability to meet its fiscal year goals and grow its economy.