Last week was tough on oil and gas. The majority of the names in this space were down. There were a few bright spots, as some names were bucking the trend. If these names continue to push higher in the face of a market heading lower, it could be for one very important reason. This reason is more resource, and it rings true with these three stocks.
Click to enlarge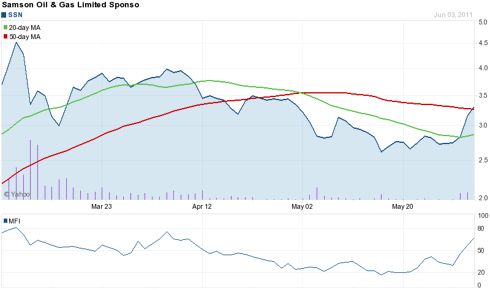 The first name is Samson Oil and Gas (NYSEMKT:SSN). It started the week at $2.79/share. It hit a low of $2.70 on May 31st and has been heading upward ever since. By the end of the trading week, Samson was trading at $3.30/share. This closing price was four cents above the 50 day moving average. This change in momentum would not have been so strange if not for the large pullback from its 52-week high of $4.75. Since this high, there has been very little if any information about its Niobrara leasehold. Its Bakken acreage has been progressing as planned, although there had been some difficulties in time frames with respect to well completion. These difficulties had been seen by other companies in the area, and are not exclusive to Samson.
On May 31st Samson reported it had fully paid off its debt facility. This was $21 million. Samson is now debt free and has a cash balance of $61.2 million. This information was not spectacular, but it seemed investors were looking for any reason to buy Samson. There was another reason for the Samson move. On June 1st, an article titled Samson Oil and Gas: Primed for Future Growth highlighted a valuation of $3.83/share for the company based on Chesapeake's (NYSE:CHK) well estimates of the DJ Basin. On June 2nd, Samson advised on its Hawks Springs project. It received notification from Chesapeake of two wells to be drilled by the southern boundary of Hawk Springs. This proposal must be responded to by July 12th for Samson to participate. The wells will be drilled in September and October, with Samson's interest being 12.5% on one and 25% on the other. This creates a good scenario for Samson. It sold this acreage to Chesapeake for cash and a royalty payment. With right to first refusal, Samson will use the cash paid to the company by Chesapeake to use as a buy in on an acreage it already knows through 3-D seismic. For more information on the possible value of this acreage read this article. There are several reasons to like Samson. Its participation in Chesapeake's acreage will create significant revenues. More importantly is a comment made by Samson after the sale to Chesapeake. This comment stated Samson kept the best acreage in this area. Given the high price paid by Chesapeake, and later by Marathon (NYSE:MRO) (acreage adjacent to Samson's) would lead me to believe that Chesapeake's estimate is correct, and Samson's is even better.
Click to enlarge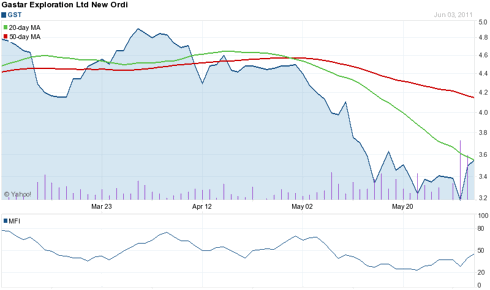 Gastar Exploration (NYSEMKT:GST) has a market cap of $223.74 million. Its shares hit a low of $3.08 on June 2nd. By the close of June 3rd Gastar was at $3.55. This is a discount to its 52-week high of $5.77. Gastar is a play on liquids production in the Marcellus shale. It has 73000 net acres here. Gastar has net resource potential of 1.9 Tcfe to 2.0 Tcfe. It also has 19200 net acres in the Deep Bossier play. There is the possibility of oil in Glen Rose and Eaglebine formations. Both locations have low break even levels with respect to production costs. It plans to drill 28 operated gross Marcellus horizontal wells in 2011. Gastar will also participate in seven additional Marcellus horizontals with Rex Energy (NASDAQ:REXX) this year. Gastar is currently operating a $141 million gross drilling program. Its Marcellus ultra-rich window should produce very good results. Gastar estimates this location could produce a net PV-10 value with carry of approximately $8.7 million. Without carry this number decreases to $6.5 million. These numbers assume a 4200 foot lateral at a cost of $5.63 million. NYMEX pricing of 5-5-11 is used. Gastar also has a possible 124 locations in the oil window of the Eagle Ford.
Investors will have to wait until August for its operated Marcellus production. Its JV with Rex Energy will provide production numbers sometime in the fourth quarter. In summary, Gastar is a value play. Its Marcellus holdings could be worth more than its current share price. Be patient as it could take months for this price realization to occur. I would pay close attention this week to Gastar's share price with respect to its 20-day moving average. At the close last Friday, it was still trading below this indicator.
Click to enlarge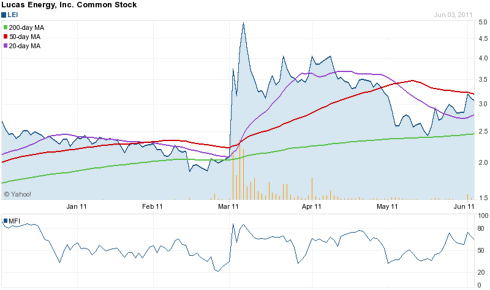 Lucas Energy (LEI) has done well in the short term because of Marathon. The reasons for this are two-fold. The first was its JV with Marathon (which was signed in April), that covered its Eagle Ford and Buda formations in Wilson County, Texas. Lucas has held back some information for strategic reasons, but Marathon's participation legitimizes this leasehold. Marathon will hold 50% ownership at a lower depth, while Lucas will maintain 100% at shallower depths. The second is Marathon's $3.5 billion purchase in the Eagle Ford. Estimates place cost per acre between $20,000 and $25,000. Lucas has 14,200 net acres in the Eagle Ford oil window. Lucas paid between $300 and $400/acre with its initial investment.
There was a large jump in Lucus' stock price on Wednesday. At the beginning of trading last Monday, it opened for trading at $2.98/share. At the close on Tuesday, Lucas was trading for $2.84. On Wednesday, it traded as high as $3.44/share. Lucas closed at $3.08 on Friday. The most important factor to observe is its May 17th bounce off of the 200 day moving average. It recently broke through its 20 day moving average, but failed to break the 50 day. Due to Lucas' small market cap, it has significant leverage to the Eagle Ford oil window (99% oil). If it is determined that its acreage is in the high end of estimated ultimate recovery, it could be a home run.
All three stocks did well last week and look to be heading higher. I believe these companies represent a value at these levels.
Disclosure: I am long SSN, GST.
Additional disclosure: Sources: Chesapeake, Samson, Marathon, Lucas. Gastar. This is a list of small-cap companies that have recently seen an up trend with regards to share price. It is only a list and not a buy recommendation.