Zayo Group (NYSE:ZAYO) is a leading provider of raw bandwidth infrastructure and bandwidth infrastructure solutions. The company's IPO was priced at $19, and the stock closed at $22 on its first day of trading in October. As of Friday's close, ZAYO trades for $26.78. We believe the stock is undervalued and could rise substantially in the next year. In this article we'll delve deeper into the company's growth drivers.
High-Margin Business Growing Faster
Zayo generates high-margin revenue by providing raw bandwidth infrastructure by leasing its fiber-optic networks metropolitan areas as well as between cities. This is its primary growth driver. It leases fiber-optic cables to large customers, such as wireless telecom companies and financial services companies. In addition to leasing its fiber-optic cables, it operates 27 datacenters. Providing raw bandwidth infrastructure is a high-margin business with recurring and non-recurring revenue from long-term contracts that last from three to 20 years.
With the advent of big data, cloud computing and Video-on-Demand or VoD, the need for bandwidth expansion has become obvious. Zayo owns optical fiber-based bandwidth infrastructure assets that connect the largest U.S. and European cities, as well as many tier 2-5 markets in the U.S. Since bandwidth is a scarce resource, we firmly believe Zayo's bandwidth infrastructure assets have the potential to generate tremendous profits. We'll discuss more about this in the company's valuation segment.
Stable Low-Margin Business Complements Main Business
The company also offers bandwidth infrastructure solutions over its metro, regional and long-haul fiber networks that generate decent revenues, although it's a relatively low-margin business. The business, which the company calls Lit Services, includes wavelength, Ethernet, IP and SONET services. In addition to serving carriers and banks, this segment also caters to sectors such as healthcare, education and government institutions.
Although providing bandwidth infrastructure solutions is a shorter-term contract compared to physical infrastructure, we believe this business helps the company complement its primary physical infrastructure business. Furthermore, this business generates stable recurring revenues that can be used to fund capex for building physical infrastructure.
Zayo's Valuation
Zayo's revenue and adjusted EBITDA both are currently growing at a CAGR of 30%. We believe the company's massive fiber-optic network has the potential to support the adjusted EBITDA growth, although revenue growth may taper off to mid-teens going forward. The company is well-positioned to charge higher prices for its physical infrastructure. As a result, adjusted EBITDA may continue to grow at 30%, even if revenue growth falls.
In its S-1 filing, Zayo noted that its adjusted EBITDA margin on incremental revenue is approximately 70%, which results in overall adjusted EBITDA margin of nearly 60%, far higher than actual EBITDA margins of peers like Cogent Communications (NASDAQ:CCOI) and Level 3 Communications (NASDAQ:LVLT). However, since adjusted EBITDA doesn't reflect non-cash stock-based compensation expenses which are significant for Zayo, we believe Zayo's actual EBITDA margin could be at par with peers. Zayo says it offers the industry's best performance-based equity incentives for employees.
Nevertheless, we'd like to attach an EV/adjusted EBITDA of 15x to Zayo, since adjusted EBITDA is expected to grow at 30%. Based on FY 2014 adjusted EBITDA of $654 million, the company's enterprise value comes at $9.8 billion or $41 per share with 239 million shares outstanding. After adjusting for debt-load, $40 is our one-year target price for Zayo.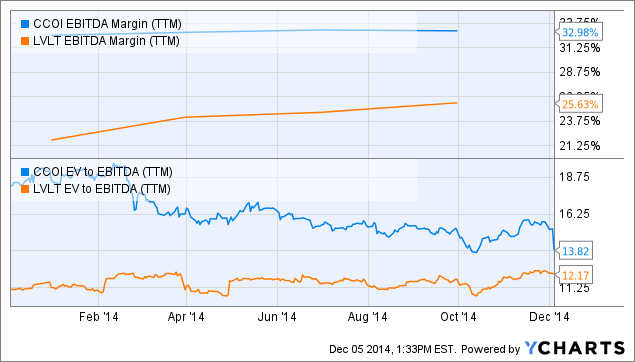 Final Words
In addition to demand for Internet bandwidth, Zayo's performance-based equity incentives for employees and work culture are its additional growth drivers. We'd recommend buying the stock at the current price.
Business relationship disclosure: The article has been written by a BB Research stock analyst. BB Research is not receiving compensation for it (other than from Seeking Alpha). BB Research has no business relationship with any company whose stock is mentioned in this article.
Disclosure: The author has no positions in any stocks mentioned, and no plans to initiate any positions within the next 72 hours.
The author wrote this article themselves, and it expresses their own opinions. The author is not receiving compensation for it (other than from Seeking Alpha). The author has no business relationship with any company whose stock is mentioned in this article.