This note compares two fashion retailers, Inditex (OTCPK:IDEXY) and H&M (OTCPK:HNNMY). Best known for its Zara brand, Inditex has been listed in Spain since 2001 while H&M has been listed in Sweden since its IPO in 1974. Both companies stock are available as ADRs under IDEXY and HNNMY. All the figures and data used have been sourced from Inditex's and H&M's annual reports. The calculations are the authors own.
For both companies margin performance was strong over the five-year period. The averages for Inditex were a gross margin of almost 59% and net margins of close to 14%, while for H&M the equivalent margins were over 60.5% and just over 15%.
Average returns on equity were just over 27% for Inditex, while the average for H&M was just over 39%. The ROE figures should be read in the context of neither company carrying much debt on their balance sheets. H&M has none, while Inditex's financial debt was less than 1% of total assets over the period.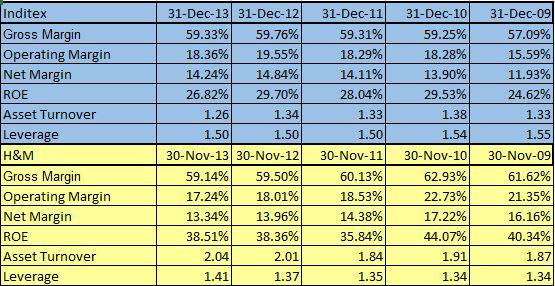 Source: Created by author.
The consistent margin and profitability performance was achieved in a period when both companies grew substantially in terms of presence in markets both in number of stores and online. Over the five-year period H&M delivered on their stated aim to increase the number of stores by 10%-15% per year. In the period from 2009 to 2013, the number of physical stores increased from 1,988 to 3,132. By the end of the period the company reached 53 markets.
For Inditex, there was also very considerable expansion. At end of year 2009, Inditex reported 4,264 stores globally in total abd this grew to 6,340 by year-end 2013. The figures for numbers of markets in this period was 74 countries at the start and 87 by the end. The online presence also expanded and reached 25 markets by the end of 2013.
Did the expansion moves have an impact on top-line performance and on operations? Compound annual growth in revenue over the five-year period was just over 8.5% for Inditex, while H&M delivered just over 4.8%. The expansion also had an impact on the geographic dispersion of revenue. For example, Inditex became less dependent on its home market over the five-year period. Sales attributed to Spain dropped from over 30% to 20%, while Asia and rest of the world (excluding America) grew from just over 12% to 20%. H&M also saw growth in Asian revenues. China's contribution to net sales grew from 1.5% in 2009 to over 4.5% in 2013, while the relative weight of net sales contribution from H&M's largest country by sales (Germany) fell.
In order to measure the strength and consistency of operating performance, the numbers below look at inventory turnover and days of inventory. These metrics were chosen given the exposure that fashion retailers have to inventory going stale.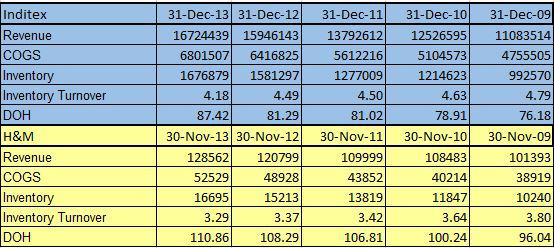 Source: Created by author.
By these measures, Inditex performed better than H&M. The figures indicate that Inditex held its inventory for shorter periods and turned it over more frequently, pointing toward less likelihood of discounting. For both companies the two measures deteriorated over the period, but some negative impact can be justified in such large expansion phases.
Some of the differences may also be attributed to business model approaches. While both companies design their goods, H&M buys products from independent suppliers but Inditex takes a different approach. Large amounts of their goods are produced in-house with a logistics and supply chain management approach that is frequently mentioned favorably both in the media and in academia. (There are many articles available online on this topic, such as this one.)
What about shareholder returns and cash flow generation? Adjusting for the effects of splits, the share counts were constant over the period as neither company was a net issuer or buyer of stock. The H&M dividend held steady at a rate of SEK9.50 since 2010. For the last three years the dividend payout when measured against earnings was over 90%. This figure looks better when compared to cash flow from operations, but when capital expenditure is subtracted, free cash flow per share was less than the dividend in three of the five years.

Source: Created by author.
The total dividend for Inditex doubled over the equivalent period -- this figure includes extraordinary dividends that were paid out every year. Using this total, the retention rate of earnings dipped from 0.43 to 0.37 over the period. The company produced ample cash flow from ops to cover the payment, but the story changes a bit when compared to free cash flow.

Source: Created by author.
Due to the lack of debt on both company's balance sheets, only capital expenditure (mainly PP&E and intangibles) was subtracted from cash flow from operations for the free cash flow calculation. Capital expenditure more than doubled over the five-year period for Inditex, while the H&M's 2013 capex was more than 40% greater than in 2009. While there is reason to believe the capex spend will drive revenue growth in the future, it does raise questions about how sustainable the simultaneous dividends and expansion plans are.
While this article is focused on two companies in particular, they certainly do not operate in a vacuum. Competition is fierce in fashion retail and it's a dynamic environment. Looking at some European examples, competition developed rapidly over the period whether it be in online fashion from the likes of ASOS in the U.K. or Zalando in Germany or on the street where, for instance, Primark's low price offering has grown considerably in Germany (H&M's biggest market by net sales).
In summary, both companies had strong performance metrics over the period with a heavy focus in investment. Of the two companies, the stronger revenue growth and operating efficiency, coupled with superior dividend coverage, makes a more convincing case for Inditex.
Disclosure: The author has no positions in any stocks mentioned, and no plans to initiate any positions within the next 72 hours.
The author wrote this article themselves, and it expresses their own opinions. The author is not receiving compensation for it. The author has no business relationship with any company whose stock is mentioned in this article.
Editor's Note: This article discusses one or more securities that do not trade on a major U.S. exchange. Please be aware of the risks associated with these stocks.