Overview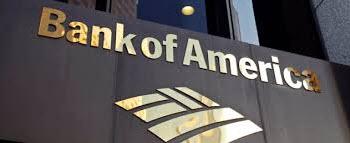 Bank of America (NYSE:BAC) has had an array of positive developments come to the fore recently. On top of this, the November Nonfarm Payrolls came in at over 321,000 versus consensus estimates of only 225,000. Furthermore, the previous month's jobs number was revised upward to 243,000 from a previously announced 214,000. The unemployment rate remained steady at 5.8%. I believe 2015 is setting up to be an exemplary year for the bank. Bank of America CEO Brian Moynihan recently stated,
"The company has resolved complex legacy issues, refocus bank strategy, improved efficiency, de-risk the balance sheet and build capital. Simultaneously, Bank of America has maintained leading positions in retail and commercial banking, while enhancing its scale and reach in global banking, markets and wealth management."
I believe 2015 will be a banner year for Bank of America. The bank is managing costs and investing in new growth businesses. Furthermore, some very positive developments have taken place for the bank recently. In the following section I will lay out my bull case.
Current Chart
(Source: finviz.com)
Steepening yield curve
The yield curve denotes to the variance among short-term and long-term interest rates. Usually, short-term rates are lower than the long-term rates. As short-term rates rise and long-term rates lower or stay the same, the spread begins to narrow. Currently, the yield curve is at its flattest in years. The Fed's zero interest rate policy has caused the yield curve to continue to flatten over the past six months to its lowest point in years. Nonetheless, with the blow out jobs report this morning, I see the yield curve steepening throughout 2015. This will provide the bank with the opportunity to improve the net interest margin which should boost profits substantially.
Housing market positive news
New guidelines for mortgage loans quietly took effect on December 1st. The new rules are the result of an agreement reached between the banks and GSEs meant to clarify exactly when lenders could be called to task for mortgages sold to Fannie Mae (OTCQB: OTCQB:OTCQB:FNMA) and Freddie Mac (OTCQB: OTCQB:OTCQB:FMCC) that default. Since the financial crisis, Fannie and Freddie have forced banks to repurchase billions of worth of mortgages. This has caused many banks wary of making new loans to people with less than stellar credit. In fact, word on the street is Bank of America and a few other banks are pushing back on the new guidelines asking for more assurances prior to opening the mortgage flood gates. I see this as good news for all.
2015 year-over-year comparisons should be impressive
The major anchor around Bank of America's earnings per share in 2014 was legal settlements. Below is a comprehensive chart detailing the tremendous progress the bank has made regarding its legal woes.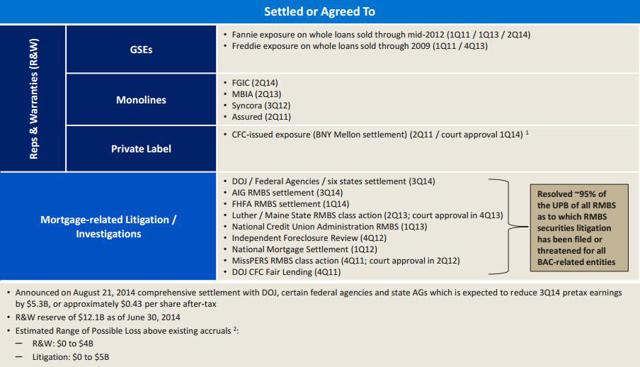 (Source: bankofamerica.com)
The fact of the matter is the bank has resolved 95% of the company's legal issues as of now. Furthermore, the bank recently lowered its estimate of maximum probable losses from legal issues exceeding present reserves from $5 billion to $3.1 billion. I see this as great news for 2015 year-over-year comparisons. The bank should hit its stride in 2015 due to the synergies from the cost reduction and avoidance program taking hold. At the same time there will no longer be huge legal bills to pay as well. This should provide a significant boost to EPS in 2015 versus 2014. This is never a bad thing.
Fundamentals are improving
There are several positive fundamental trends in play for the company heading into 2015. A majority of business segments recently reported higher net income year-over year. The bank originated $14.9 billion in residential home loans and home equity loans in the third quarter. The bank issued more than 1.2 million new credit cards in the third quarter. The bank's Global Wealth and Investment Management division reported record revenue and record earnings. Finally, the bank's tangible book value per share increased 4% year-over-year to $14.13 per share. You can read the full transcript here. These positive fundamental improvements may lead to the company to increase the dividend payout next year. At some point the stock may appear on some dividend growth investor's radar screen I suspect.
Bank of America appears undervalued on a relative and historical basis
BAC has a current price to tangible book value ratio of 1.1.

(Source: scottrade.com)
Bank of America's stock has historically traded for closer to two times tangible book value. This implies the stock may be trading at a 50% discount to historical levels. Furthermore, EPS and profits are expected to improve significantly over the next year now that a majority of the banks legal issues have been put to bed. On a relative basis, the bank is trading for a significantly lower valuation than the industry and peers. Bank of America trades for approximately 1.1 times book value while the industry trades for 1.6. This implies the stock may have over 36% upside.
Downside risks
Macroeconomic and geopolitical risks
Any further troubles in China, Europe or the Middle East and the markets as a whole could be negatively affected. No stock will be immune. The current global "wall of worry" seems to be growing taller. This concern is amplified by the fact the market is still near all-time highs. This is a potent combination. Even so, the global economic issues do not appear to be affecting the US economy as much as in the past.
Regulatory risk
The Fed intends to impose a capital surcharge on banks tougher than the international standard, according to Fed Governor Daniel Tarullo's prepared remarks for the Senate Banking Committee. Those banks with heavier reliance on short-term funding like overnight loans will be the focus. I don't feel this will have much of an impact on Bank of America, but you never know.
Conclusion
It appears to me that 2015 is setting up to be a banner year for Bank of America. Most of my analysis has been based on the bank putting its mortgage woes behind it and the bank's improving fundamentals. On top of all this, the bank has had several new positive catalysts materialize recently. Taking all these facts into consideration, I'd say the reward far outweighs the risk of owning the stock at this time. Moreover, with the stock trading at a significant discount to its peers you have substantial margin of safety at this time. Bank of America is a buy in my book.
Disclosure: The author has no positions in any stocks mentioned, and no plans to initiate any positions within the next 72 hours.
The author wrote this article themselves, and it expresses their own opinions. The author is not receiving compensation for it (other than from Seeking Alpha). The author has no business relationship with any company whose stock is mentioned in this article.
Editor's Note: This article discusses one or more securities that do not trade on a major U.S. exchange. Please be aware of the risks associated with these stocks.