As I was putting the final touches on this month's commentary, the market sold off on June 1 (the S&P fell the most since August) which begs the question – is the recovery over?
The trigger for the sell-off was the decline in the ISM report. The Institute for Supply Management does a survey each month and asks manufacturers across the USA about their business conditions. A number above 50 means that business is expanding, a number below 50 means that it is contracting.
The number that day was 53.5 (so a majority of the respondents said that business was expanding) – however the prior month's number had been 60.4, so the decline was considered disappointing. This chart shows the last 20 years of data for this particular indicator.
[Click to enlarge]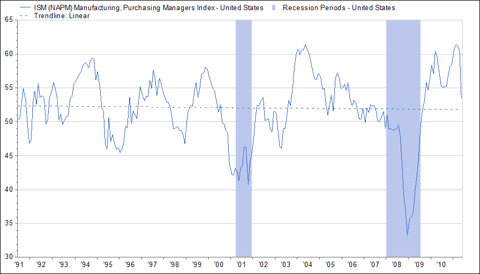 The interesting thing is that the 20-year average for this number is just under 52. The reports for March and April were amongst the highest numbers ever reported, so an index number of 53.5 is not bad news. Most American manufacturers are saying that business is good (and statistically speaking, it's better than usual).
The other major threat is 'energy costs'. The funny thing about this is that everyone looks at crude oil prices as being the culprit, but I haven't heard of many businesses or people that consume crude oil. Gasoline, however, is a different story.
Oil prices are roughly where they were at the beginning of 2008, but gasoline prices are about 20% higher (and that's after falling 50¢ a gallon over the last month). What would cause gasoline prices to rise faster than crude oil prices? Supply and demand.
Over the last few months, US refineries have been under-capacity for a number of reasons (including weather). The resulting higher fuel prices have been difficult, for sure – but not quite the death knell for the US economy. As the industry moves toward full capacity, fuel prices will moderate, even as crude oil advances.
And what about the ongoing budget dramas in state legislatures and Washington? To put things in perspective, the value of the US stock market has grown $2.6 trillion over the past eight months, while government debt has grown by about $1 trillion. I don't – for a minute – believe that a solution to the deficit is beyond reach. This is a wealthy and productive country.
It will not be a smooth ride (it never is), but the US economy will continue to grow – but not quite as fast as the rest of the world.
In looking at the last eight months, the US stock market has outperformed the markets in the rest of the world. Non-US stocks have advanced about 11%, while US stocks have advanced 18%. Emerging markets have barely budged, posting only a 4% gain.
For a manager with a global outlook, this hasn't been fun. However, some key metrics indicate that the US market has become overbought relative to the rest of the world.
Change over the Last Eight Months

USA

World ex-USA

PE Ratio

Rose from 13.3x to 13.7x

Declined from 12.2x to 11.5x

Dividend Yield

Declined from 1.9% to 1.7%

Unchanged at 2.7%

Price to Book Ratio

From 2x to 2.3x

From 1.7x to 1.8x

Change in Market Cap

+$2.6 trillion

+19%

+$4 trillion

+13%
While emerging markets are looking oversold:
| | | |
| --- | --- | --- |
| | P/E | Dividend Yield |
| Brazil | 11.1x (lowest in 9 mos.) | 3.9% (highest in 28 mos.) |
| Russia | 5.4x (lowest in 12 mos.) | 2.1% (highest in 3 mos.) |
| India | 12.6x (lowest in 26 mos.) | 1.2% (highest in 21 mos.) |
| China | 11.9x (lowest in 26 mos.) | 2.0% (highest in 12 mos.) |
| Indonesia | 14x (lowest in 3 mos.) | 2.4% (highest in 12 mos.) |
| Latin America | 12.2x (lowest in 13 mos.) | 3.3% (highest in 25 mos.) |
| Turkey | 9.7x (lowest in 9 mos.) | 3.1% (highest in 11 mos.) |
To take advantage of these valuations, we've positioned ourselves partly in emerging markets and partly in global stocks with mostly non-US exposure. The outlook for corporate profits and economic growth is good – that fact, coupled with these valuations, should be good news for the portfolio.