The U.S. Treasury, running short of cash, today announced a 6-day, $15 billion cash management bill to carry it through to June 15 tax collections and settlement of new notes and bonds.
The government is massively overshooting Treasury Borrowing Advisory Committee (TBAC) borrowing estimates issued in May. I have been pounding the table since then that the government's and the TBAC's economic assumptions have been way too optimistic. This week alone the government is $24 billion over the TBAC estimate for what it would need.
Debt ceiling issues notwithstanding, revenue is way behind projections. The U.S. government is headed for a budgetary collapse. Buyers of long-term Treasuries are whistling in the graveyard. Treasuries should be a good short if they close above 3.05 on the 10 year yield this week: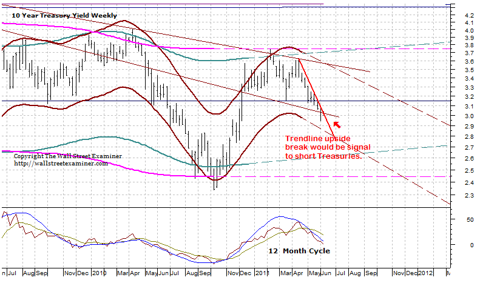 One way to short Treasuries is with ProShares Short 20+ Year Treasury ETF (NYSEARCA:TBF). I don't like the ultra-short ETFs; due to daily compounding, they suffer severe slippage over longer periods during counter-trend moves.
Disclosure: I have no positions in any stocks mentioned, and no plans to initiate any positions within the next 72 hours.