Offshore rig owner Transocean LTD (NYSE:RIG) has seen its stock cut in half as Brent Crude has dropped from over $100 to $66 in just a few months.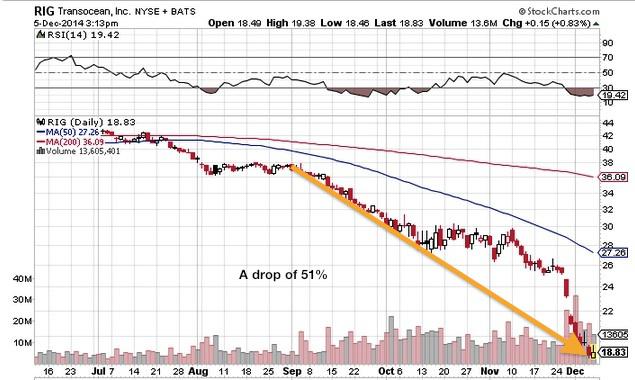 SharpCharts
Most offshore rig owners have seen price action similar to what Transocean has faced over the last couple months. Basically, with oil prices sharply lower, deepwater and ultra deepwater projects make less economic sense than they did before. Some projects, no doubt, are not profitable at these oil prices. As a result, rig owners face a looming oversupply scenario, a scenario that was already brewing before oil dropped as much as it has.
Many know that there is a substantial number of deepwater rigs, or floaters, which are over 30 years old that are still operating. Scrapping these older, marginally profitable rigs would go a long way to alleviate the oversupply situation. Furthermore, because of the Macondo Incident in 2010, an accident where oil spewed from a deepwater wellbore, E&P operators are demanding high specification rigs with upgraded safety equipment. As a result, rigs five years and younger tend to have considerably higher specifications than do their older counterparts. Many believe that the older, lower-spec rigs will therefore not fetch profitable day rates and will have to be scrapped.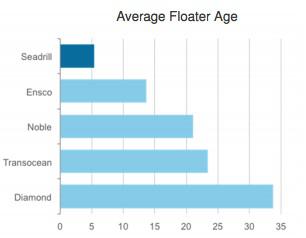 Courtesy of Seadrill Investor Relations
As for Transocean, most of its ships today are floaters. Transocean's fleet age is close to the industry average, or perhaps slightly above the average. However, we can see that there are other lessors in far worse shape than Transocean is. This article will take a look at Transocean's current situation and what might be next for the company's floater fleet in 2015 and beyond.
"No Fire Sales"
At the Cowen Ultimate Energy Conference, Transocean said that, despite the difficulty, there would be no 'fire sales' of its rigs. For example, Transocean currently has seven floaters under construction, which, given the supply situation, is probably seven too many. However, five of those seven already have contracts, and the other two are in early phases of construction. Transocean therefore faces no market speculation until 2017.
Next year Transocean will fund its construction activity from operational cash flow, disposition of non-core assets, and drop downs to Transocean Partners (NYSE:RIGP). Management does not expect having to go to debt markets in what will likely be unfriendly times to do so.
Transocean's fleet, despite being relatively old, is still profitable at today's prevailing dayrates. Let's look at a few real-time examples. Transocean's deepwater Cajun Express recently secured a deal for $487,000 per day, which is down significantly from the previous contract of $596,000. Another of Transocean's floaters, the Enterprise, recently went for $399,000 per day, well below the $615,000 per day netted in the previous agreement. While these two deals were at substantially lower rates, Transocean's average floater operates at a $180,000 operational breakeven (no counting interest payments).
Transocean will have three floaters coming off contract shortly. The GSF Explorer rolled off contract last month. Its previous dayrate was only $412,000. According to RIGZONE, GSF Explorer is now warm stacked. Considering that the ship was built in 1973, I'd say there is a good chance that this one will be retired.
The Deepwater Pathfinder rolls off of contract in April of next year. The Pathfinder is sixteen years old, and its last contract was for $681,000 per day. There's no doubt that Transocean will have to take a substantially lower contract for Pathfinder. Discoverer Enterprise rolls off its contract in January. That ship is fifteen years old and its latest contract was at a dayrate of $585,000. Again, Transocean will almost certainly have to settle for a lower dayrate.
To get an idea of what newer dayrates might look like, management is seeing ultra deepwater day rates between $300,000 and $450,000, so while Transocean probably will find contracts for Deepwater Pathfinder and Discoverer Enterprise, they will be at much lower dayrates. Still, there is no immediate need to stack many ships, and so Transocean will not likely be taking much supply off the seas anytime too soon.
To get a good idea of just how bifurcated this market is, Seadrill (NYSE:SDRL), which has the youngest fleet of all the major rig owners, recently snagged contracts for two of its floaters for dayrates of somewhere around $500,000 in a long-term deal with Petrobras. These dayrates are well above anything that Transocean's older fleet will likely achieve.
"Pulling a Seadrill"
Speaking of Seadrill, that company 'suspended' its dividend over the Thanksgiving holiday, despite previous assurances by management that Seadrill's dividend was sustainable until 2016. Naturally, there are worries that other rig owners will follow suit. What about Transocean? A commenter on Seeking Alpha recently quipped that he hoped Transocean wouldn't "pull a Seadrill" and suspend the dividend.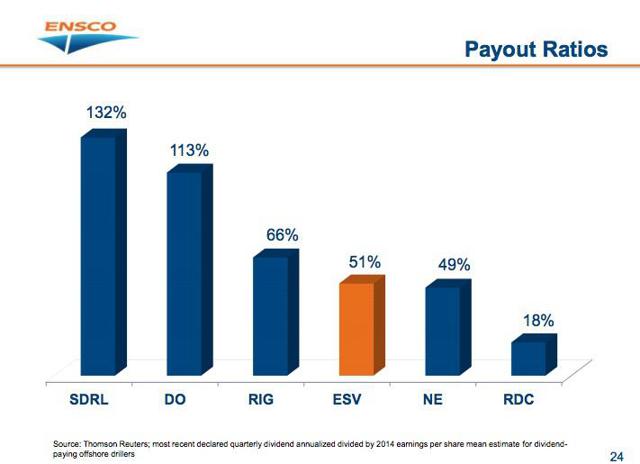 Courtesy of Ensco Investor Relations
From the looks of it, Transocean's dividend is OK for the time being. On a trailing twelve-month basis, Transocean's dividend is only 66% of earnings; not bad. And remember, this is a company with 48 high-specification floaters and only a handful of them have expiring contracts anytime too soon. As long as Transocean can manage its credit rating, I suspect that the dividend will be just fine through 2015 at the very least. Over the last few quarters, Transocean has been cash flow positive and capex has fallen and more than half of the company's debt does not mature until 2019 or later.
Some closing thoughts
As a rig owner, Transocean is not yet at the point where it would need to cut its dividend or idle too many rigs. Granted, things are not good, but Transocean should be OK for now. Looking at the entire space, I believe that Ensco is now the best of breed name. Ensco has the best cost structure, a fairly young fleet, and has a very safe dividend payout ratio. Yet, Ensco's dividend yield is still quite generous. Those willing to put in new money can now afford to be very picky in this space, and so I would recommend new investors go straight to the best name; Ensco.
Rig owners that aggressively expanded their fleets a few years back are now clamoring for competitors to idle older floaters. Though Transocean's fleet is older, the company needs to idle none but a few rigs even in this low-price environment. Five of the company's ships under construction have already secured contracts. Early next year, two more ships will come available. Judging by the latest comments, management seems willing to accept lower rates for both of those floaters.
Disclosure: The author is long SDRL.
The author wrote this article themselves, and it expresses their own opinions. The author is not receiving compensation for it (other than from Seeking Alpha). The author has no business relationship with any company whose stock is mentioned in this article.